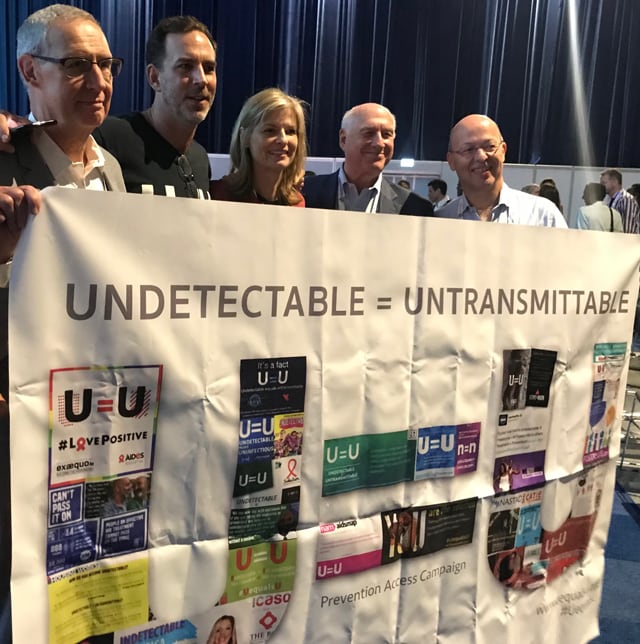 Carl Dieffenbach, Bruce Richman, Alison Rodger, Mike Cohen, and Pietro Vernazza at the International AIDS Conference.
AMSTERDAM — "If you're on suppressive ART, you are sexually noninfectious. The risk is zero," said Alison Rodger, MD, from University College London, here at the International AIDS Conference 2018.
Rodger made the statement after presenting results from PARTNER2 that showed zero linked transmissions after nearly 77,000 condomless sex acts between serodiscordant gay couples in which the HIV-positive partner had a suppressed viral load.
The findings were greeted by questions, applause, tears, photos, and a handshake from officials from the National Institutes of Health.
For physicians hesitant to talk to their patients about the data, "the time for excuses is over," Rodger said.
Researchers here said that after decades of planning and studying, it feels like the end of an era.
"I see this as a graduation ceremony," said Myron Cohen, MD, from University of North Carolina at Chapel Hill, who stood on a similar stage in 2011 and announced similar results for heterosexual couples from the landmark HIV Prevention Trials Network 052 study (N Engl J Med. 2016;375:830-839).
"This is the full realization of very large investments in this hypothesis that, for me, started in the 1990s," Cohen explained.
The Upper Limit of Confidence
PARTNER2 followed the 2015 PARTNER study, showed zero linked transmissions from 53,000 condomless sex acts in gay and heterosexual couples, as reported by Medscape Medical News.
But in that study, the finding was not as robust for gay couples as it was for heterosexual couples. There just weren't enough gay men in the study and they hadn't been followed for long enough.
PARTNER2 was designed to "provide equality of evidence for gay men as we had for heterosexuals," Rodger explained.
It assessed the protective effect of suppressive treatment to see if it would hold up for HIV-negative gay men who had receptive anal sex with HIV-positive partners without a condom.
The researchers also wanted to see whether the results would match the upper confidence interval of 0.46 per couple-year of follow-up reached by heterosexual couples in PARTNER. For the gay men in that study, it was nearly double that, at 0.84.
The 972 serodiscordant gay couples enrolled in PARTNER2 were recruited from 75 sites in 14 European countries. All men completed sexual behavior questionnaires. Every 6 to 12 months, the HIV-positive men underwent viral load testing and the negative men underwent HIV testing.
If a study participant became infected, researchers conducted phylogenetic testing to determine whether the transmission was linked to his partner.
The team used three methods to ensure that no linked transmissions were missed: Sanger sequencing and Illumina deep sequencing; a blast search of GenBank; and, to control for sequences from other studies of confirmed linked transmissions, a comparison of viruses from the newly diagnosed man and his HIV-positive partner.
During the study period, 27% of HIV-positive men and 23% of their initially HIV-negative partners reported having been diagnosed with a sexually transmitted infection (STI). Of the study participants, 37% reported being in open relationships and engaging in condomless sex with other partners.
"Reassuringly, we only lost 5% of couple-years of follow-up because the positive partner's viral load was measured at over 200 copies," Rodger reported. "This indicates a very high level of virologic control."
During the study period, there were 15 HIV seroconversions, but in all these cases, when the sequences of the two partners were mapped, the viruses were genetically distant from one another.
Eleven of the men reported condomless sex with other men.
"These are really the main results of the study," said Rodger. "There were zero linked transmissions — zero linked transmissions — across all kinds of sexual behavior."
In total, the men had condomless sex 77,000 times with no linked transmissions in 1600 couple-years of follow-up. And the upper confidence interval for gay men engaging in condomless anal sex? That was at 0.23 per couple-year of follow-up.
"So I think we've confirmed it," she said. The room broke into applause.
"How Do You Know Someone Hasn't Become Detectable?"
The findings were met with general praise, but there were some questions for Rodger.
Some members of the audience asked how many people used drugs. The answer was very few and, even if they did, there were no transmissions with suppressed viral loads.
Others wanted to know the transmission rate for people with viral loads between 200 and 1000 copies/mL. Those data will be forthcoming at future conferences, Rodger reported.
Cohen asked how many of the HIV-positive men were newly virally suppressed. We're worried about the window between treatment initiation and 6 months of suppressed viral loads, "where we occasionally see transmissions," he explained.
PARTNER2 did have some participants who had been on suppressive therapy for only a few months, Rodger noted, "but we didn't include their data in the study if they weren't virally suppressed." When they were, they did not transmit the virus.
"How do you know that somebody hasn't become detectable? And how frequently do you think viral load testing is needed for monitoring people as undetectable?" asked one woman, who explained that "a lot of the resistance among clinicians to change their recommendations" is related to these questions.
At this, Rodger paused and put on her clinician's hat. "Everyone is different, aren't they?" she said. "We all know as clinicians that we have patients who need more frequent monitoring."
"It really depends on the patient population you're dealing with. In our populations, when someone's suppressed, they stay suppressed," she added.
Handshakes and Tears
During the presentation, Cohen sat in the back of the large hall next to Pietro Vernazza, MD, from Cantonal Hospital St. Gallen, Switzerland.
Vernazza made headlines at this conference in 2008 when he published a statement advising Swiss clinicians that patients with undetectable viral loads, no STIs, and monogamous partnerships don't need to use condoms because they couldn't transmit the virus.
The reaction this year "was different," he said, as he looked around the room.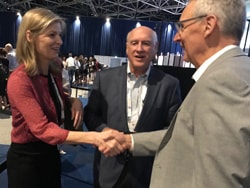 He and Cohen walked to the front of the room, shook hands with Rodger, activists from the U=U campaign, and Carl Dieffenbach, PhD, head of the Department of AIDS at the National Institutes of Health. They all took photos, holding a banner that said, "Undetectable = Untransmittable."
Amid the glad-handing and smiles, Tina Bruun, RN, from the University of Copenhagen in Denmark, pushed her way into the small group. She had been coordinator of the PARTNER study since 2008. When asked what this day was like for her, she smiled and teared up.
"It's just.... It's amazing," she said.
She pointed to Bruce Richman, the HIV-positive head of the Prevention Access Campaign and progenitor of the U=U campaign, and said, "When he says, 'Now I can relax...,' this is just great."
The National Institutes of Health funded the PARTNER2 study. Rodger has disclosed no relevant financial relationships. Cohen reports receiving advisory board honoraria or travel reimbursement from Janssen Global Services, Roche Molecular Systems, and Merck Research. Vernazza reports receiving consultancy fees from Gilead Sciences, Tibotec, and Bristol-Myers Squibb.
International AIDS Conference 2018: Abstract WEAX01. Presented July 25, 2018.
Follow Medscape on Twitter @Medscape and Heather Boerner @HeatherBoerner
Medscape Medical News © 2018 WebMD, LLC

Send comments and news tips to news@medscape.net.
Cite this: Undetectable HIV Is Untransmittable and the 'Risk Is Zero' - Medscape - Jul 27, 2018.