CHICAGO — Aggressive lowering of systolic blood pressure (SBP) to 120 mmHg significantly reduces the risk for mild cognitive impairment (MCI), new research shows.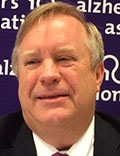 Investigators found a relative risk reduction for MCI of 19% for individuals whose SBP was targeted to 120 mmHg compared to those whose target SBP was 140 mmHg.
Although observational studies have shown cognitive benefits of blood pressure control, "this is the first time in history that a randomized controlled trial has shown that we can reduce the occurrence of mild cognitive impairment with blood pressure lowering," said author Jeff Williamson, MD, professor of internal medicine and head of the geriatrics section, Wake Forest School of Medicine, Winston-Salem, North Carolina.
"It means that blood pressure control is not only good for the heart but good for the brain," Williamson said at a press briefing here at the Alzheimer's Association International Conference (AAIC) 2018.
Landmark Study
The landmark Systolic Blood Pressure Intervention Trial (SPRINT), showed that this targeted approach to blood pressure control significantly reduced rates of cardiovascular disease. The findings led to updated recommendations from the American Heart Association.
The current study, known as the SPRINT Memory and Cognition in Decreased Hypertension (SPRINT MIND) study, began in the fall of 2009. Patients were recruited from about 100 medical centers and clinical practices throughout the United States and Puerto Rico.
Treatment was stopped in August 2015 after a median follow-up of 3.26 years because of the benefit for patients with cardiovascular disease, but cognitive assessment continued until last month.
The current analysis included 4678 patients who were randomly assigned to an intensive group (SBP target of 120 mmHG) and 4683 who were assigned to a standard group (SBP target of 140 mmHg).
Study participants had to be aged 50 years or older (there was no upper age limit). At baseline, the average age was 67.9 years. About a third were older than 75 years, and about a third (35.6%) were women.
The study population was "diverse," said Williamson. About 30% were African American, and more than 10% were Hispanic.
At baseline, SBP ranged from 130 to 180 mmHg. The average SBP was 140 mmHg, "so not extremely high," commented Williamson.
Study participants also had to have at least one additional risk factor for cardiovascular disease. Those in the intervention group were monitored monthly for the first 3 months and then every 3 months. Additional visits were scheduled for patients who did not meet the treatment goal.
Blood pressure drugs were provided at no cost to the patients. Williamson noted that more than 90% of these drugs were generic. All patients in the study were encouraged to make lifestyle modifications.
The mean follow-up period was 4 .5 years. Patients were treated for on average of 2.5 years. More than 92% of the study participants completed at least one follow-up cognitive assessment.
A panel of 15 experts in geriatrics, neurology, and neuropsychology adjudicated the results.
"Highly Significant" Risk Reduction
The study showed a 15% relative risk reduction in dementia, but it was not statistically significant (P = 1.0).
The story was different for MCI. There were 285 events in the intensive group and 348 in standard group. This, said Williamson, translated to a 19% relative risk reduction, which was "highly significant" (P = .01). The absolute reduction, he noted, was 1.5%.
MCI is "not trivial," said Williamson. It can have a significant impact on quality of life, especially in "an increasingly complex society." Patients with MCI may have difficulty with activities of daily living, including interacting with family members.
Combining the outcomes of MCI plus probable all-cause dementia provided a significant relative risk reduction of 15% (P =.02) for the intervention.
Williamson stressed that there is no evidence that intensive blood pressure control harms the brain.

Indeed, this was suggested by findings of a related analysis of a subgroup of SPRINT participants who underwent MRI. At the press briefing, Ilya M. Nasrallah, MD, PhD, assistant professor of radiology at the Hospital of the University of Pennsylvania, in Philadelphia, provided results from the SPRINT MRI analysis, which included 454 participants for whom almost 4 years of follow-up data were available.
This analysis showed significantly lower increases in volume of white matter lesions in the intensive group than in the standard group (the mean difference at the end of the trial was 0.64 cm3; P = .004).
There was no significant between-group differences in total brain volume change (the mean difference was 2.54 cm3; P = .16.)
In a question-and-answer session following the briefing, Williamson noted that although some analyses have not yet been completed, there is currently no indication that diastolic blood pressure changes affect the brain.
He also noted that, "interestingly," there was no difference in results for patients older or younger than 75 years. "The intervention had equal effects regardless of the age of the people in this trial," he said.
Asked about the potential economic impact of the intervention, Williamson noted that on average, a person in the intervention group took 2.8 blood pressure medications per day, whereas those in the standard group took 1.8 per day, so patients in the intervention group took on average one additional pill per day.
He stressed that hypertension is a "highly prevalent" condition that affects 60% to 70% of people older than 60 years.
First Disease-Modifying Strategy
Although the intervention had a "small impact" with regard to absolute reduction of MCI, the relative risk reduction was a significant 19%, he said.
"When you have a condition that 60% to 70% of the population possesses, you have a huge public health impact," he said.
Asked if blood pressure drugs could now be called disease-modifying agents, Williamson said he preferred to use the word "strategy."
"This is the first disease-modifying strategy to reduce risk for MCI," he said.
Asked whether the results would have been stronger with regard to the dementia outcome had the strategy continued, Williamson noted that the direction of the effect for MCI and the combined outcome was the same and that even the magnitude was the same (15%), "so we draw encouragement from that."
He added that it is possible that continuing to lower blood pressure for longer than 2.5 years might significantly reduce the occurrence of dementia.
Williamson predicted that these new findings will have "a huge effect" on primary care. Asked at what age this blood pressure lowering strategy should be introduced, he said he could not comment regarding patients younger than those in the trial.
"This is one of the frontiers of medicine — determining how soon to start medicines. It can be expensive to take these drugs and to follow patients for long enough. The best advice is to follow the evidence, which is that this applies to people with a cardiovascular risk factor who are 50 and above," he said.
Practice Changing
Commenting on the study, David Knopman, MD, professor of neurology, Mayo Clinic, Rochester, Minnesota, and chair, Alzheimer's Association Medical and Scientific Advisory Council, said that to be able to see an effect after only two and half years "is quite remarkable.
"This is going to change clinical practice, not for me as a neurologist but for people in primary care. The benefits at the population level will be substantial," he said.
Also sharing his views, James Hendrix, PhD, director of global scientific initiatives at the Alzheimeer's Association, agreed that these new results "are going to be impactful.
"It's really exciting that we are learning more and more about the relationship between heart health and brain health," he said.
Hendrix stressed that aggressively treating blood pressure "is something we can do today" through diet and exercise and with hypertension drugs that are already available.
"We don't have to wait for a great new drug" to come on the market, he said.
Laurie M. Ryan, PhD, program director, AD Clinical Trials, National Institute on Aging, which helped fund the study, noted that the results are "hot off the press," in that the latest evaluations were analyzed only very recently.
"It's still preliminary and hasn't been peer reviewed," but the new study "is clearly showing that managing blood pressure is important," she said.
Ryan, too, stressed that "this is something you can do now" and that blood pressure is a "modifiable" risk factor.
This is particularly important, noted Ryan, because currently there is no treatment for dementia.
The SPRINT study was sponsored by the National Institutes of Health. The investigators have disclosed no relevant financial relationships.
Alzheimer's Association International Conference (AAIC) 2018. Abstracts 27525 and 27526, presented July 25, 2018.
For more Medscape Psychiatry news, join us on Facebook and Twitter.
Medscape Medical News © 2018

Cite this: Aggressive Blood Pressure Lowering Cuts MCI Risk - Medscape - Jul 25, 2018.