To study global trends in the incidence of appendicitis, the authors of a previous study published in Annals of Surgery reviewed 120 reports from various global regions, looking at current and past incidence rates.[1] Peak incidence rates in the United States, Europe, and Oceania occurred in the middle of the 20th century. After 1990, appendectomy rates have gone down in these regions by about 1.5% each year (95% confidence interval, -2.2% to -0.9%). However, during this same period, rates of both perforated and nonperforated appendicitis have not shown significant changes.
Appendectomy Decline: Questions Remain
This systematic review points out that in "westernized" countries, appendectomy rates have declined with the change beginning at the end of the 20th century and continuing into the 21st century. This has not led to any change in the frequency of perforated appendicitis and may be related to more accurate diagnostic tests provided by ultrasound examination or CT.[2]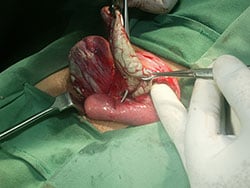 A recent report from the Swedish National Patient Register reported a 93% decline in the frequency of negative appendectomy rates—a finding which would also go along with more accurate diagnostic tools.[3] In contrast, in newly industrialized countries, appendicitis, rather than declining, may actually be rising. Although about 150 years have elapsed since surgeons first operated for appendicitis, there are still many unresolved questions about both the etiology and the management of this disease.
Follow Medscape Surgery on Twitter for more surgery news: @MedscapeSurgery
Medscape General Surgery © 2018 WebMD, LLC

Any views expressed above are the author's own and do not necessarily reflect the views of WebMD or Medscape.
Cite this: Albert B. Lowenfels. Decline in Appendectomy Incidence: Due to More Accurate Diagnostic Tools? - Medscape - Aug 01, 2018.