CHICAGO — Sex-adjusted cutoffs for verbal memory tests could result in earlier detection of Alzheimer's disease (AD) in women and improved diagnostic accuracy for both women and men, new research suggests.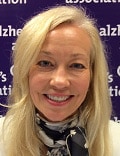 Memory impairment is typically the first cognitive sign of AD. Women usually score better than men on verbal memory tests, but this is not taken into consideration when using such tests to diagnose AD, determine the stage of the disease, or track effects of new therapies, said lead author Pauline M. Maki, PhD, professor of psychiatry and psychology at the University of Illinois, Chicago.
Currently, results of verbal memory tests are adjusted for age and education only, but if this new research is confirmed, such adjustments may also be made with regard to the sex of the patient, Maki told Medscape Medical News.
"That could mean that you will more accurately diagnose women, and you won't label men as having amnestic mild cognitive impairment when they're perfectly normal," she said.
The study was presented here at the Alzheimer's Association International Conference (AAIC) 2018.
"Female Advantage"
AD is the fifth leading cause of death among women and the eighth leading cause of death among men. Two thirds of patients with AD are female.
There are several sex-specific risk factors for AD, Maki said at a press briefing. One such factor is early surgical removal of the ovaries, a major source of estrogen. The procedure is associated with a 70% increased risk for cognitive impairment or AD. The APOE genotype is a stronger risk factor for women than for men, she said.
Clinical decline is more rapid for women with AD than for men, she added.
Verbal memory tests — learning and identifying words from a list — are the most commonly used tests for diagnosing AD and for staging the disease. This is the first cognitive area to be affected by the disease.
"It turns out that there is a lifelong female advantage in verbal memory," said Maki. "It's true of my 9-year-old daughter compared to her 9-year-old peers, and it's true of my 90-year old grandmother compared to her 90-year old peers."
Men's strength is in visuospatial capabilities, which are not as affected in AD.
Masking Early Signs
From the Alzheimer's Disease Neuroimaging Initiative data, Maki and her colleagues showed that for amnestic mild cognitive impairment (aMCI), which is an early stage of AD, men and women have the same level of AD pathology, but women's verbal memory is better.
"We determined that across three different Alzheimer's disease biomarkers — volume of the hippocampus, Alzheimer's pathology on PET [positron-emission tomography] scans, and the amount of glucose metabolism — women were performing better than men at the same level of pathology," said Maki.
"It appears that women are sustaining their memory functioning despite having that pathology," she said.
The downside to that is that it could mask the early signs of AD and decrease the likelihood of the disease being diagnosed in women, she said.
Maki said the investigators wondered about the impact of adjusting verbal tests for sex as well as for age and education level — two other factors known to affect dementia risk.
"What if we account for the fact that women should be performing better than men and men should be performing worse than women, and apply that cutoff to a new set of data?" she asked.
To illustrate this, she used the example of a list of words in which, under the current system, the cutoff to denote dementia for both sexes would be remembrance of four words. Under a sex-adjusted system, there would be a higher cutoff for women (for example, remembrance of five words) and a lower cutoff for men (remembrance of three words).
Reclassification Validated
The study showed that using a sex-adjusted approach, 9% of women (72 of 764) were reclassified from being normal to having aMCI. Conversely, about 10% of men (96 of 941) were reclassified from having aMCI to being normal.
To determine whether these classification shifts were correct, the investigators assessed the level of cortical amyloid beta in those who were reclassified.
"Women who were reclassified from normal to having this early stage of Alzheimer's disease showed the very pathology in their brain that you would expect," said Maki.
"Conversely, men who were reclassified from being early stage of Alzheimer's disease to being normal didn't show that Alzheimer's disease pathology," she said.
This validated the reclassification and showed that both men and women "benefited diagnostically," said Maki.
She stressed that there is no cure for AD and that prevention is the key. "It's about identifying individuals who are at increased risk...to prioritize them," she said.
Maki's team has received a grant that will enable them to continue their investigations. If the results of the current study are replicated, sex-specific cutoffs for verbal memory tests could be in the works.
Important Work
Susanne Craft, PhD, who is on the Alzheimer's Association Medical and Scientific Council and who chaired a media briefing on this and related topics, said the new study is "very important work.
"Women have an innate advantage with respect to verbal memory that might disguise the existence of Alzheimer's disease pathology," said Craft.
"This could have a really negative impact in terms of being diagnosed at later stages, when these women may be more resistant to therapies," she added.
The study was funded by the National Institute on Aging, the National Institutes of Health, and the Alzheimer's Disease Neuroimaging Initiative. Dr Maki has received speaking honorarium from Mylan.
Alzheimer's Association International Conference (AAIC) 2018. Abstract 22972, presented July 23, 2018.
For more Medscape Psychiatry news, join us on Facebook and Twitter.
Medscape Medical News © 2018

Cite this: Sex-Adjusted Memory Test Improves Alzheimer's Diagnosis - Medscape - Jul 24, 2018.