Caps May Influence Physicians' Treatment Approach
Medical liability reform—specifically, caps on noneconomic damages—appears to have an effect on at least one area of clinical practice: coronary artery disease (CAD) management, according to a study published online in JAMA Cardiology.[1]
In looking at the testing and treatment of CAD, researchers compared the practice of doctors in nine states that had adopted damage caps between 2002 and 2005 with that of doctors in 20 states without such caps. In all, the team studied 36,647 physicians in "new-cap" states and 39,154 physicians in "no-cap" states.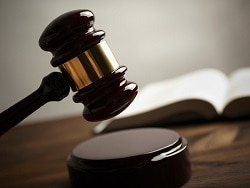 In new-cap states, the authors say, the population tends to be younger, and includes more minorities and people with lower incomes. These states also have fewer physicians per capita, and have lower managed care penetration.
Physicians in both new-cap and no-cap states performed a similar number of ischemic evaluations for possible CAD. After these evaluations, however, the former group did both fewer initial invasive angiographies (-24%) and revascularization procedures (-23%) than physicians in no-cap states, while also ordering more noninvasive stress tests (7.8%). Even after stress testing, doctors in new-cap states referred 21% fewer patients for follow-up angiography than doctors in the no-cap control group.
On the basis of these findings, researchers concluded that doctors "substantially altered their approach" to CAD management in states where damage caps had been adopted. Indeed, although the number of initial evaluations stayed the same, disease testing and follow-up were significantly affected.
What broader interpretation do these findings suggest? The authors posit that when physicians "face lower malpractice risk"—in the form of reduced medical malpractice damage exposure because of state-imposed limits on awards—they "tolerate greater clinical uncertainty in coronary artery disease testing and treatment."
Medscape Business of Medicine © 2018 WebMD, LLC

Any views expressed above are the author's own and do not necessarily reflect the views of WebMD or Medscape.
Cite this: Wayne J. Guglielmo. Does Malpractice Reform Affect Clinical Practice? One Study Says Yes; More - Medscape - Jul 27, 2018.