Medical errors have become an accepted if unfortunate part of medical care, but physicians may greatly underestimate how much they contribute to the problem.
"The average clinician is making a lot of mistakes that they are unaware of," says Dr Art Papier, a dermatologist and medical informatics specialist. How many doctors fall into this category?
All but the "master diagnosticians," who represent less than 1% of practicing clinicians, he says. That would mean that 99% of doctors regularly make errors that they never realize they made.
"We don't really understand how many mistakes we're making," he says.
Papier points to analyses of malpractice claims[1] that show diagnostic errors are the largest cause of lawsuits, not bad outcomes of surgeries or baby deliveries as many people believe. And many of the missed diagnoses that lead to lawsuits are for common diseases such as cancer.
"Patients come in with common things," he says, "but we are frequently fooled by variant presentations of common diagnoses."
When working up a patient with chronic headache, for example, a clinician might consider all the usual pathologic causes but fail to uncover the fact that the patient was exposed to carbon monoxide at work, Papier says.
"We ask questions about what we know; we don't ask about what we don't know."
Human Intelligence Plus Artificial Intelligence
Fortunately, new decision support tools are available that can help streamline the diagnostic process and help clinicians more reliably get to the right answer, much like guidance systems routinely help drivers find addresses they never visited before.
Some of these tools employ artificial intelligence (AI), which are techniques that enable computers to mimic human behavior, or they use machine learning, a subset of AI that uses statistical methods to enable machines to improve as they solve more problems.
The US Food and Drug Administration (FDA) has approved three AI-based tools this year for use in the clinic. The LVO Stroke Platform flags signs of stroke on computed tomography scans. The IDx-DR device can be used by primary care clinicians to screen for diabetic retinopathy. The third device, OsteoDetect, is used to diagnosis wrist fractures in adults.
Other tools are not regulated by the FDA, based on the level of decision-making still left to the clinician. Some are apps available for download to a smartphone, including one developed by the Centers for Disease Control and Prevention for coagulation and bleeding disorders, called the PTT Advisor.
Papier, who frequently speaks about the role of AI in the future of medicine, is partial to an app produced by his company, VisualDx, which was highlighted by Apple CEO Tim Cook. The app uses Apple software called Core ML, which enables machine learning locally on the device itself rather than sending patient information out into the world, which would violate HIPAA regulations.
VisualDx was founded in 1999 before many of the technologies it now employs were even available, but the core idea remains the same: to build a database of clinical knowledge and images — including dermatologic images — that can be used at the point of care to help clinicians make accurate diagnoses. It is currently used at more than 1700 hospitals and clinics around the world and at more than half of all US medical schools, according to the company's website.
Although the app can be used for nondermatological diagnoses as well, skin presentations are a top need for primary care and emergency physicians and advanced practice providers, says Papier, CEO of VisualDx.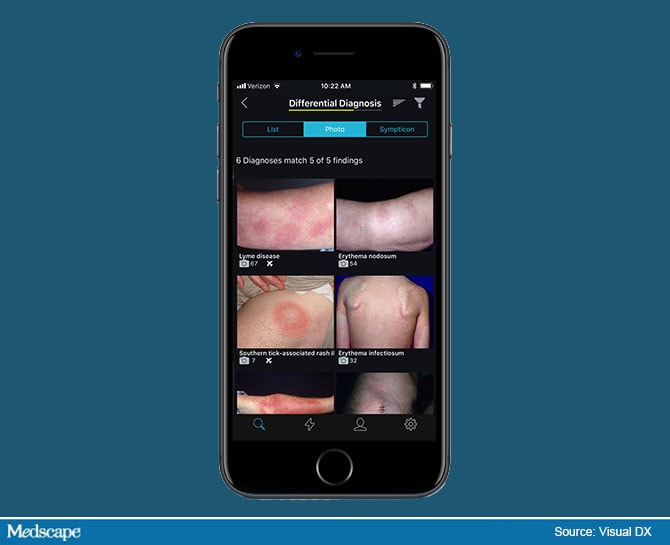 Even with a decision-support tool, the fundamental part of diagnosing a skin problem is describing what you see, "and it's well known that non-dermatologists cannot describe a skin exam," Papier says. How can a clinician look up a diagnosis if the description is not correct, if even the terms used in the search are not correct?
With VisualDx, the clinician takes a picture of the patient's skin with an iPhone camera, and the app responds by providing the terms for the three most significant features. The user then accepts or rejects those suggestions based on whether they match what the user is seeing. "There's a guidance effect to the way we're using machine learning," Papier says.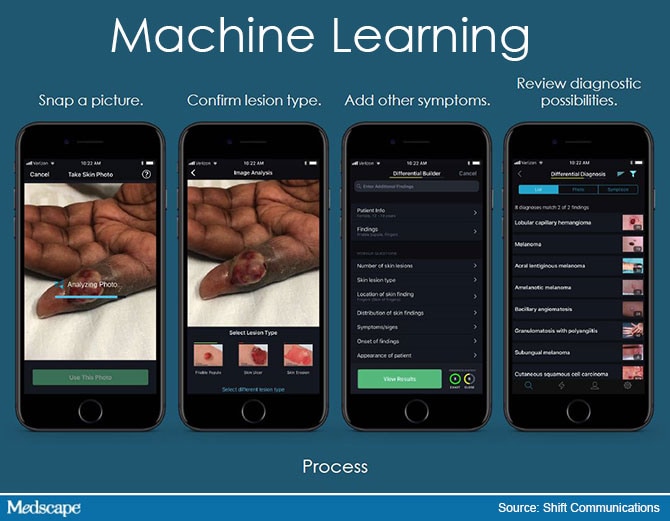 New Model: Clinician, Patient, Plus Machine
The climate for using these tools at the point of care has changed dramatically in the past 20 years, Papier says. Back then, many physicians viewed them as a crutch and would not have wanted patients to know that they needed to look up information.
"Now, patients like decision support if you use it with them and you talk to them," he says. "Doing these searches in front of them shows that you care." Many patients have done their own internet searches about their health problems and recognize how much information is available, so they consider it appropriate for their clinician to look for the latest information as well, he says.
"Clinicians today are going through a transition from memory-based skills to technology enhanced skills," Paper says. That said, not everyone is jumping on the bandwagon. At medical schools that have adopted his app, for instance, many students use it regularly while some of the older professors refuse to even consider it.
Papier says he understands the skepticism, and admits that his app returns some false positive and some false negative results just like routine lab tests do. He applauds efforts to scrutinize new technologies before they are adopted, but he cautions clinicians against rejecting them wholesale.
"That's like saying we're not going to use ultrasound because we just believe in the stethoscope," he says.
"The history of medicine is to create devices to aid and augment our ability to see into the body and to see relationships," he says. "We need to move away from the hype of AI but also away from the fear of it.
"It's not artificial intelligence, it's augmented intelligence."
Medscape Business of Medicine © 2018 WebMD, LLC

Any views expressed above are the author's own and do not necessarily reflect the views of WebMD or Medscape.
Cite this: Christine Wiebe. 99% of Doctors Need Diagnostic Help - Medscape - Jul 26, 2018.