CHICAGO — About 8% of senior members of sexual minorities in northern California have dementia, a rate that is comparable to that among their heterosexual counterparts in the same region, the first dementia prevalence data in this population show.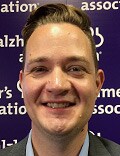 These preliminary results are the first to describe the prevalence of dementia in older adult members of sexual minorities, author Jason Flatt, PhD, MPH, assistant professor, University of California, San Francisco, told Medscape Medical News.
The research is important because it encourages psychiatrists and others to "really think about providing more inclusive care and targeted screening for this community," said Flatt
"There needs to be greater outreach," and physicians need to ask patients about their sexual orientation and gender identity if they want to learn about potential disparities or differences in dementia risk, he said.
The study was presented here at the Alzheimer's Association International Conference (AAIC) 2018.
First Insights
Although it has been estimated that more than 200,000 adults who are members of sexual minorities, not including transgender individuals, are living with dementia, until now, little was known about the prevalence of dementia in this population.
Experts predict that by 2030, nearly 5 million adults aged 60 years and older in the United States will identify as lesbian, gay, or bisexual (LGB).
For the new study, investigators examined the medical records of almost 200,000 adult members of Kaiser Permanente Northern California from January 1996 to December 2015. These included records for 4337 LGB individuals (25% lesbian, 37% homosexual men, and 38% bisexual).
Study participants were drawn from among participants in the Kaiser Permanente Research Program on Genes, Environment, and Health.
Researchers found that 8.0% (343) of the LGB group had been diagnosed with dementia; none of these cases were related to HIV infection. This, said Flatt, compares to about 8.5% to 9% among heterosexual Kaiser members in the same geographical area.
Dementia diagnoses were based on International Classification of Diseases, 9th Revision codes. Patients with mild cognitive impairment were not included, said Flatt.
He emphasized that these new statistics represent a "crude prevalence" of dementia. In addition, he noted that the mean age of the LGB cohort at the end of the study was 69.2 years, which was younger than the heterosexual group, at 71.4 years.
"We didn't adjust for the age difference," which "can often affect prevalence," said Flatt.
"This prevalence really is just a crude measure of the number of cases. What we need to do is actually account for the age differences, compare them more to their heterosexual peers, which we did not do for this first round, and really look over time to see if we can estimate what risk looks like and whether it differs," he said.
The study uncovered some interesting differences between the LGB and heterosexual groups.
Although 62.5% of the LGB cohort had at least a college education, this was true of only 40.4% of the heterosexual group. Flatt noted that higher education "is one of the main ways" to protect against dementia.
"Academic environments are safe places for LGBT people. They tend to be more open-minded and understanding," he said.
Modifiable Risk Factors
The seven modifiable risk factors for dementia include hypertension, depression, diabetes, smoking, midlife obesity, cognitive inactivity, and physical inactivity.
In this study, 73% of the LGB cohort had hypertension, which was about the same percentage as in the heterosexual group. But in the LGB group, 35% were diagnosed with depression, which was a significantly greater percentage than among the heterosexual group, at 28.1%.
In addition, the rate of posttraumatic stress disorder (PTSD) was almost double in the LGBT group (1.9% vs 1.0%). Patents with PTSD have a twofold to threefold increased risk for dementia, said Flatt.
The study did not account for these and other risk factors, such as substance use, but investigators plan to evaluate this in future research.
The study did not include transgender individuals. Flatt noted that data from medical records would underrepresent transgender patients and convey only information on "the more extreme side" of this community.
"Not every transgender person would go through medical procedures related to their trans identity," he said.
But Flatt noted that other research has found that the prevalence of dementia among transgender seniors is 18%.
LGB patients face a number of barriers, including stigma, poverty, and social isolation. Compared to heterosexuals, they are less likely to marry or have children and are twice as likely to live alone.
"The family dynamics are not the same, and there are not the same support structures," said Flatt. He added that more research is needed on the unique risks of the LGB community.
He also noted that the LGB group in the study included racial and ethnic minorities and that the data provide researchers with a unique opportunity to understand whether they are at a "double disadvantage."
"Some identify as lesbian, gay, or bisexual and may also be African American or Latino, which are communities that experience higher rates of dementia," he said.
As they age, these and other LGB patients may be reluctant to move into a nursing home for fear of discrimination. In interviews with 20 LGBT seniors, Flatt said he was told they fear going into a setting where they will not be welcomed, having "to go back in the closet," and losing their friends and community supports.
Room for Improvement
This is something the Alzheimer's Association has been hearing as well, and it is a concern, Joanne Pike, DrPH, chief program officer, the Alzheimer's Association, told Medscape Medical News.
"The elders we are seeing today, the baby boomers, are almost the first generation able to live openly" as LGBT, "but then as they are moving into assisted living, not having an inclusive environment could be affecting the services they receive, and they may feel like they then need to pull back who they are," she said.
The Alzheimer's Association has been working with Services and Advocacy for Gay, Lesbian, Bisexual, and Transgender Elders (SAGE). Recently, the two organizations jointly issued recommendations on improving dementia services for the LGBT community.
The transgender community is one area where "we need to learn more" about providing better services, said Pike.
Commenting on the research findings, Pike said it is important to gather information about the prevalence of dementia for the LGB community because it gives experts an idea of what specialized services are needed.
"Knowing who has dementia, what the rate of dementia is gives us a better understanding of where we may need additional supports, where we can shore up services and really understand where there's opportunity to build culturally competent and inclusive environments," Pike said.
Dr Flatt has disclosed no relevant financial relationships.
Alzheimer's Association International Conference (AAIC) 2018. Presented July 22, 2018.
For more Medscape Psychiatry news, join us on Facebook and Twitter.
Medscape Medical News © 2018

Cite this: First Prevalence Data on Dementia in Sexual Minority Seniors - Medscape - Jul 23, 2018.