Bayer said today it will voluntarily discontinue sales of its controversial Essure permanent birth control implant in the United States at the end of this year, citing business reasons.
In a statement, Bayer said the decision is based on a decline in US sales of Essure in recent years and the company's concluding that the Essure business is no longer sustainable. Sales of the device were halted outside the US in the fall of 2017.
Despite today's action, the company said it continues to stand by the safety and effectiveness of the device and said women who currently have Essure in place may continue to "confidently rely on the device." They stated that they will "continue to support women with Essure and their healthcare providers."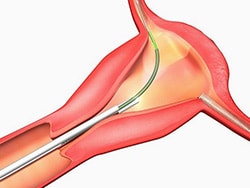 Marketed as a nonsurgical alternative to tubal ligation, Essure is a small, flexible metal coil that fits into each fallopian tube through the cervix and uterus. The ensuing inflammation and scarring permanently seal each tube within 3 months. But the device has had a troubled history.
After approval in 2002, the US Food and Drug Administration (FDA) began receiving reports of adverse events with the device. This led the agency to add a boxed warning to the Essure label about the risk for implant perforation, device migration, allergic reaction, pain, and other possible adverse events. A patient decision checklist was also added to the label. These actions led to a decline of about 70% in sales of Essure in the United States.
In April of this year, the FDA ordered restrictions on the sale and distribution of Essure in an effort to ensure that all women who are considering the device be provided with adequate information to make informed decisions — something that wasn't happening, the agency said.
Since approval, Essure is estimated to have been used by more than 750,000 women worldwide.
Bayer said it will continue to enroll patients in the Essure postmarketing surveillance study and will work closely with the FDA to ensure appropriate follow-up.
In a statement regarding Bayer's announcement to pull Essure from the US market, FDA Commissioner Scott Gottlieb, MD, said that the postmarketing safety of Essure will continue to be a "top priority for the FDA. We expect Bayer to meet its postmarket obligations concerning this device."
Gottlieb stressed that, even after Essure is no longer being sold, the FDA will "remain vigilant" in protecting women who've had the device implanted. The agency pledged to continue to monitor reported adverse events and communicate publicly any new findings or concerns.
Gottlieb said women who have been using Essure successfully to prevent pregnancy should continue to do so. "Those with Essure who suspect they may be having symptoms related to the device, such as persistent pain, should consult with their doctor on what steps may be appropriate for them to take," he said.
"Device removal has its own risks. Patients should discuss the benefits and risks of any operation or procedure with their health care providers before deciding on the best option for them," Gottlieb noted.
Cite this: Bayer to Halt US Sales of Essure Permanent Contraceptive - Medscape - Jul 20, 2018.