Fully automated psychological therapy delivered by an avatar virtual reality (VR) coach proved highly successful in helping people with a long-standing fear of heights overcome the phobia, results of a randomized controlled trial show.
The study, which is the first to use VR technology as a treatment without a therapist, provides a proof of concept for how some psychological therapies might be delivered in the future, the investigators note.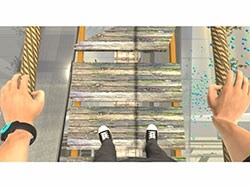 "We need greater numbers of skilled therapists. Far too many people who would benefit from psychological therapies don't receive them. VR therapies that do not require a therapist have the potential to dramatically increase access to psychological interventions," team leader Daniel Freeman, PhD, from Warneford Hospital and the University of Oxford, United Kingdom, told Medscape Medical News.
"Our VR treatments feature a virtual therapist. A friendly, computer-generated avatar, voiced by a real person, carefully guides the patient through the therapeutic work, helping them practice techniques to overcome their difficulties. Treatment is personalized, with users able to interact with the virtual coach," said Freeman.
The study was published online July 11 in the Lancet Psychiatry.
Clear Benefit
Participants included 100 adults who on average had been suffering from acrophobia for 30 years and who were not receiving any psychological therapy. Fear of heights was defined as having a score of more than 29 on the Heights Interpretation Questionnaire (HIQ). Forty-nine participants were randomly allocated to receive automated VR therapy, and 51 were assigned to usual care (control), which was typically no treatment.
VR therapy consisted of about six 30-minute sessions that were conducted two to three times a week during a period of 2 weeks. In the first session, participants discussed their fear of heights with the virtual coach. They then entered a virtual office complex which had 10 floors and a large open atrium, where the participants performed activities that challenged their fears and that helped them learn they were safe. The virtual coach encouraged the participants to try to experience real heights between sessions.
The benefits of VR treatment over usual care were clear. The mean change in the HIQ score after the 2-week treatment period (the primary outcome) was -24.5 in the VR group and was -1.2 in the control group, an adjusted difference of -24.0 (95% confidence interval [CI], -27.7 to -20.3; Cohen's d = 2.0; P < .0001).
The benefit was maintained at 4-week follow-up (mean change in score, -25.1 in the VR group vs -1.5 in the control group; adjusted difference, -24.3; 95% CI, -27.9 to -20.6; Cohen's d = 2.0; P < .0001). The number needed to treat to reduce fear of heights by at least half was 1.3. No adverse events were reported by any of the participants.
"The clinical benefits shown were better than would be expected from receiving the best face-to-face therapy," Freeman told Medscape Medical News.
"On average, fear of heights came down by two thirds. Three quarters of people showed at least a halving in their fear of heights. Afterwards, people even found they could go to places that they wouldn't have imagined possible, such as walk up a steep mountain, go with their children on a rope bridge, or simply use an escalator in a shopping center without fear," he said.
The researchers note that a limitation of study is that it did not compare automated VR therapy to standard psychological therapies currently used to treat phobias, such as counseling, psychotherapy, or cognitive-behavioral therapy.
In addition, study participants referred themselves to take part in the study, so they may not be representative of all people with fear of heights. The study also relied on questionnaires to assess fear of heights and did not test behavior in real-world scenarios.
"Impressive" Results
Writing in a linked comment, Mark Hayward, PhD, University of Sussex, United Kingdom, notes that the results are "impressive" with regard to engagement (90% of participants received the full course of treatment) and outcomes (large between-group effect sizes were maintained at follow-up).
"These findings," writes Hayward, "are good news for people struggling with a fear of heights (and possibly other similar anxiety disorders)," but what they mean for the psychological treatment of people with more severe and enduring mental health problems, such as psychosis, remains to be determined.
The answer may be on the way. Freeman's team has received major funding from the UK's National Health Service (NHS) to take this research forward for patients with severe mental health problems.
"We are programming a full automated treatment that's easy to use, engaging, and right for patient needs. We'll be conducting a large multicenter clinical trial in NHS trusts across the country to demonstrate the benefits of the VR treatment for patients with schizophrenia," Freeman told Medscape Medical News. The researchers are also developing automated VR treatments for depression and anxiety.
The study was funded by Oxford VR and the Oxford Health Biomedical Research Center of the National Institute of Health Research. Dr Freeman is a consultant clinical psychologist in the Oxford Health NHS Foundation Trust and chief clinical officer of Oxford VR. Dr Hayward has disclosed no relevant financial relationships.
Lancet Psychiatry. Published online July 11, 2018. Full text, Comment
For more Medscape Psychiatry news, join us on Facebook and Twitter.
Medscape Medical News © 2018

Cite this: Fully Automated Avatar Therapist Successfully Treats Phobia - Medscape - Jul 12, 2018.