ORLANDO — Canagliflozin (Invokana, Janssen) was not associated with an increased risk for below-knee amputations in an observational study of more than 700,000 patients with type 2 diabetes.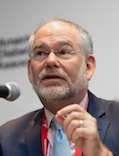 Results of the OBSERVE-4D study (Canagliflozin vs Other Antihyperglycemic Agents on the Risk of Below-Knee Amputation for Patients with T2DM — A Real-World Analysis of >700,000 US Patients) were presented as a late-breaking poster on June 25 here at the American Diabetes Association (ADA) 2018 Scientific Sessions by John B. Buse, MD, PhD, director of the Diabetes Center at the University of North Carolina School of Medicine in Chapel Hill.
In the study, which involved patient-level data from four US administrative claims databases, no increased risk for amputation was seen among patients taking canagliflozin compared with other sodium-glucose cotransporter 2 (SGLT2) inhibitors or other glucose-lowering drugs. Similar results were found for the subset of patients with diabetes and established cardiovascular disease.
Moreover, patients taking canagliflozin and other SGLT2 inhibitors also experienced a reduction in hospitalizations for heart failure.
Concern about amputations with the use of canagliflozin was solidified with the final results of the Canagliflozin Cardiovascular Assessment Study (CANVAS), in which there was a two-fold excess risk for below-knee amputations among patients taking canagliflozin, although the absolute risk was low (6.3 vs 3.4 cases/1000 patient-years).
These findings were presented at last year's ADA meeting, but prior to that the US Food and Drug Administration had already placed a black-box warning about amputations on the canagliflozin label based on CANVAS interim data, and the European Medicines Agency had placed warnings on all SGLT2 inhibitor drug labels.
No such signal has been seen for other SGLT2 inhibitors at this time.
SGLT2 Inhibitors Very Promising but Amputation Is "Fly in the Ointment"
At a press briefing here in Orlando, Buse emphasized canagliflozin's cardiovascular and renal benefits. In CANVAS, cardiovascular events were reduced by 14% and the rate of renal decline by 40% in patients taking the agent.
"The SGLT2 inhibitor class is exceptionally promising. Probably 60% to 70% of people with type 2 diabetes will die of cardiovascular disease, heart failure, or kidney failure, and this class of drugs has been shown to reduce those outcomes substantially," Buse emphasized.
But, he also acknowledged, "Lower-extremity amputation is arguably the 'fly in the ointment' in an otherwise very, very attractive set of results from clinical trials and real-world evidence."
Asked to comment, briefing moderator Robert H. Eckel, MD, professor of medicine at the University of Colorado Anschutz Medical Campus, Aurora, said, "I think retrospective real-world data are informative but they're not conclusive. I think you just have to be cautious here."

But, he added, "I look at this as a class effect. I think there's a signal there, but this doesn't affect my prescribing pattern, and not because I have a conflict of interest with Janssen." He said he basically prescribes "whatever drug is covered by the third-party payer."
Buse noted that in CANVAS the amputations occurred primarily in people with risk factors for amputation, including prior amputations, peripheral vascular disease, severe neuropathy, or high HbA1c.
"If I had a patient with a prior amputation and had a choice of an SGLT2 inhibitor, I would pick one that doesn't have amputation in the label. It would be crazy to do otherwise."
However, he said, "I think that in the vast majority of the US population with diabetes who haven't had prior amputations and don't have those kinds of risks — and particularly in those with clinical cardiovascular disease where the benefits are huge — that's the population where we really just have to help [clinicians] feel comfortable with the idea that the benefits far, far, far outweigh the risks."
And, Eckel added that of course, for all patients with diabetes, clinicians need to assess the feet for lesions and perform routine sensory testing.
"These are all important strategies for the physician to pick up patients who may have neuropathy and/or peripheral vascular disease. These should be routine, and there are guidelines for how often it should be done."
But both Buse and Eckel also noted that because of the label warnings, physicians are obligated to discuss the amputation risk with all patients, regardless of risk status.
No Amputation Signal Seen in Over 700,000 Patients
OBSERVE-4D used de-identified patient-level data from four US administrative claims databases, including 142,000 new canagliflozin users, 110,000 users of other SLGT2 inhibitors, and 460,000 users of other glucose-lowering medications, with median treatment exposure less than 6 months.
Hazard ratios for amputation with canagliflozin were 0.75 (P = .30) compared with users of all non-SGLT2 inhibitor drugs and 1.14 (P = .53) compared with other SGLT2 inhibitors. Among patients with established cardiovascular disease, those hazard ratios were 0.72 (P = .29) and 1.08 (P = .85), respectively.
At the same time, canagliflozin was associated with a reduced risk of hospitalization for heart failure, with hazard ratios of 0.39 (P = .01) for canagliflozin versus all non-SGLT2 inhibitors and 0.90 (P = .28) for canagliflozin versus other SGLT2 inhibitors.
For patients with established cardiovascular disease, those hazard ratios were 0.44 (P = .00) and 0.70 (P = .06), respectively.
Buse acknowledged that the low number of patients with more than 6 months of follow-up is a limitation "and further study will be required to fully understand the issue."
However, he also noted that in CANVAS the amputation risk had already clearly emerged by 6 months, "so I think if there was a real difference in amputation rates we'd be able to detect it...This is not the final word, but it's by far the biggest word on the subject yet."
Overall, he said, "I think in the highest-risk patients [for amputation]...you really have to think about it twice."
"But for people with prior cardiovascular disease, and particularly people with prior heart failure, I think the benefit is enormous."
Buse receives research support from, owns stock in, and/or is an advisor for Adocia, ADA, AstraZeneca, Dexcom, Elcelyx, Eli Lilly, Fractyl, Intarcia, Lexicon, Metavention, National Institute of Diabetes and Digestive and Kidney Diseases, National Institute of Environmental Health Sciences, NovaTarg, Novo Nordisk, Sanofi, Shenzhen Hightide Biopharmaceutical, VTV Therapeutics, Boehringer Ingelheim, Johnson & Johnson, National Center for Advancing Translational Sciences, National Heart, Lung, and Blood Institute, Patient-Centered Outcomes Research Institute, and Theracos. Eckel has served as an expert witness and consultant for Sanofi and Regeneron, and is on an advisory board for Novo Nordisk.
American Diabetes Association 2018 Scientific Sessions. June 25, 2018; Orlando, Florida. Abstract 4-LB.
For more diabetes and endocrinology news, follow us on Twitter and on Facebook.
Medscape Medical News © 2018 WebMD, LLC

Send comments and news tips to news@medscape.net.
Cite this: New Study Finds No Link Between Canagliflozin and Amputations - Medscape - Jun 25, 2018.