LISBON, Portugal — Although elderly patients with ischemic stroke have worse functional outcomes than younger patients after thrombectomy, a substantial proportion do quite well, a retrospective registry study suggests.
More and more studies report the effectiveness of mechanical thrombectomy for large-vessel occlusion strokes, but patients age 80 years and older have been under-represented in these trials.
"This new study brings additional insight to this topic," Ary Severino Lopes De Sousa, MD, neurology resident, Central Lisbon Hospital Center, Portugal, told Medscape Medical News.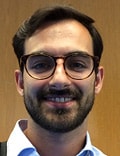 "We found that for patients over 80 who undergo mechanical thrombectomy, functional outcome at 3 months is indeed worse compared to younger patients. However, a substantial proportion — one out of three — are able to carry out daily tasks after treatment, with no or mild impairments from their stroke."
The study was presented here at the Congress of the European Academy of Neurology (EAN) 2018.
Rising Stroke Incidence
Worldwide, the population is aging, De Sousa told delegates. It's predicted that by 2100, 22.3% of population will be aged 65 years or older, he said.
As the population gets older, the age-dependent incidence of stroke increases. In 2014, the American Heart Association reported that stroke in those older than age 85 years made up 17% of all strokes.
De Sousa and his colleagues carried out a retrospective analysis using a local registry. The study was conducted at the cerebrovascular unit at Lisbon Hospital Central.
Researchers selected consecutive patients who underwent mechanical thrombectomy for anterior-circulation acute ischemic stroke. Patients had good prestroke functional status, defined as modified Rankin Scale (mRS) score of 2 or under.
The analysis included 208 patients: 134 younger than age 80 years and 74 aged 80 years and older. The two groups were similar in terms of the proportion of women, stroke severity, National Institutes of Health Stroke Scale (NIHSS) score, location of the arterial occlusion, use of intravenous tissue plasminogen activator (IV tPA), onset to needle time, and onset to groin puncture time.
The older patients had more signs of current ischemia on the admission CT scan (36.5% vs 21.6%; P = .02).
In terms of risk factors, only previous transient ischemic attack differed between the groups, with these attacks more frequently reported in the very old (6.8% vs 0%; P < .01), although, as de Sousa noted, the numbers were very low.
Functional Outcome
The primary endpoint was poor 3-month functional outcome, defined as mRS score of 3 or more. Here, 67.3% of older patients had a poor outcome compared with 46.3% of the younger patients (odds ratio [OR], 2.4; 95% confidence interval [CI], 1.3 - 4.6; P < .01 vs younger patients).
However, de Sousa stressed that 32% of the very old had a good functional outcome. "This means that one out of three very old patients were functioning independently at 3 months."
When the researchers compared the very old patients to a group more similar in age, 60 to 79 years, "we still find a significant difference between the two groups in terms of functional outcome at 3 months, with an OR of 2.0," although lower than in the total population, said de Sousa.
Besides age older than 80 years, the researchers found that moderate to severe stroke, defined as NIHSS score above 15 (OR, 2.6), and significant cerebral edema (OR, 8.6) were also predictors of poor functional outcome at 3 months when they looked at all patients 18 years and older.
"When we look just at the patients over 80 years, we found that only moderate to severe stroke was a predictor of 3-month poor functional outcome, with an even higher OR of 3.4," said De Sousa.
Insignificant variables included sex, site of vessel occlusion, IV-tPA use, onset to needle time, and onset to groin puncture time.
As for secondary endpoints, the study showed no significant differences between the groups in terms of hemorrhagic transformation, defined as parenchymal hematoma types 1 and 2 (PH1 and PH2); in cerebral edema in the intra- and/or extracellular spaces of the brain; or in 3-month mortality for any reason.
While death was more common in the very old patients (OR 1.9), De Sousa emphasized that the OR was not significant.
The results of this study support recommendations for thrombectomy to those very old patients who can benefit from it, said De Sousa. Further research is needed to identify factors that are associated with their favorable outcome, he added.
After the presentation, session co-chair Christian Enzinger, MD, associate professor, Department of Neurology, Medical University of Graz, Austria, who is also in the Department of Radiology, said the finding that one in three elderly stroke patients has a good outcome after thrombectomy is news "we can tell our colleagues from interventional radiology."
Enzinger asked whether the researchers considered using an imaging-based score, such as ASPECTS (Albert Stroke Program Early CT Score), to assess involvement of early ischemic changes.
"That's our next step," said De Sousa.
Andrew Chan, a geriatric neurologist at the Queen Elizabeth Hospital, Hong Kong, wondered whether the researchers collected data on cognitive function.
The registry does not have this information, although patients already diagnosed with dementia who have significant impairment are not recommended for thrombectomy treatment, said De Sousa.
Chan also inquired whether the researchers had any data comparing mechanical thrombectomy with IV thrombolysis in the very old.
Only data comparing mechanical thrombectomy with bridging (IV thrombolysis plus thrombectomy) and not just with thrombolysis are currently available, "but we can look into that," said de Sousa.
The researchers have disclosed no relevant financial relationships.
Congress of the European Academy of Neurology (EAN) 2018. Session #O206. Presented June 17, 2018.
For more Medscape Neurology news, join us on Facebook and Twitter
Medscape Medical News © 2018 WebMD, LLC

Send comments and news tips to news@medscape.net.
Cite this: Elderly Stroke Patients May Benefit From Thrombectomy - Medscape - Jun 18, 2018.