Strange Case Takes an Even Stranger Twist
A Baton Rouge man—whose mother filed a medical malpractice lawsuit against the hospital and doctors who treated him before his death from an apparent heart attack—may have actually been murdered, according to a strange story reported by the Advocate, among other news sources.[1]
During the week leading up to his death, Damian Skipper, who worked with the US Environmental Services in Louisiana, had been in and out of Baton Rouge General Medical Center, Bluebonnet, with abdominal problems. His doctors believed that he had a virus and each time sent him home.[2] After his death on June 30, 2015, from what hospital officials said were natural causes—a heart attack—no autopsy was performed.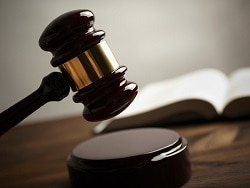 In 2016, Skipper's mother, Linda, filed a suit against the hospital and her son's treating doctors. In that suit, she quotes her son as speculating before his death that his abdominal distress might be related to food poisoning. As for the cook, he pointed his finger at the woman he lived with and who claimed to be his wife, Meshell Hale, of Slaughter, Louisiana.
Linda Skipper requested that the East Baton Rouge Coroner's Office exhume and autopsy her son's body to determine whether he had in fact been poisoned. The office said that it "would not oppose a family-funded exhumation and autopsy," on the condition that a judge rule that Damian Skipper's parents, and not Hale, were his legal next of kin.[1] For reasons that remain unclear, that determination was never made, and Linda Skipper's medical malpractice case was dismissed.
It's at this point that the saga of Damian Skipper takes an even stranger turn.
Six months after Skipper's death, New Orleans police read an obituary notice that caught their eye: A man who, several days earlier, had died in a suspicious truck fire in the city was Meshell Hale's legal husband, Arthur Noflin. Noflin was living in Baton Rouge at the time, but not with his estranged wife. Further investigation revealed that before his fiery death, Noflin had reportedly been experiencing abdominal symptoms similar to those that Skipper had complained of. In addition, less than a year before he died, Noflin had changed his $750,000 life insurance policy to name Hale as the sole beneficiary.[2]
Two months later, New Orleans police and investigators from the Baton Rouge sheriff's department obtained a warrant to examine Hale's electronic devices and financial records. When they did, they found multiple Internet searches related to barium acetate poisonings; they also discovered that, before Skipper and Noflin died, Hale had made multiple purchases of the chemical, which investigators consider a powerful poison. Investigators further noted that Hale had received $10,000 from Skipper's life insurance policy, despite no record of their ever having been legally married.
On the basis of the evidence, which includes a toxicology report on Skipper's now-exhumed remains, Baton Rouge police have issued a warrant for Hale's arrest, believing that there is "probable cause necessary to pursue the count of second-degree murder against her."[1]
At press time, New Orleans police hadn't indicated whether Hale was also wanted in connection to her legal husband's death. But one thing that's indisputable—for now, at least—is that the situation remains highly mysterious. Noflin's mother, Rosalie, who never knew Hale or Skipper personally, said of her son's ex-wife, "Once she's arrested [for Skipper's death], that's a start. I don't know. It's such a bizarre situation. I don't know what's going to become of this."[1]
Medscape Business of Medicine © 2018 WebMD, LLC

Any views expressed above are the author's own and do not necessarily reflect the views of WebMD or Medscape.
Cite this: Wayne J. Guglielmo. From Medical Malpractice to Murder Accusations; More - Medscape - Jun 22, 2018.