A Family at Wit's End
A healthy 17-year-old is referred by his pediatrician for evaluation of recurrent methicillin-resistant Staphylococcus aureus (MRSA) soft tissue infections. He was well until approximately 6 months ago when he spontaneously developed a painful boil on the lower abdomen (Figure).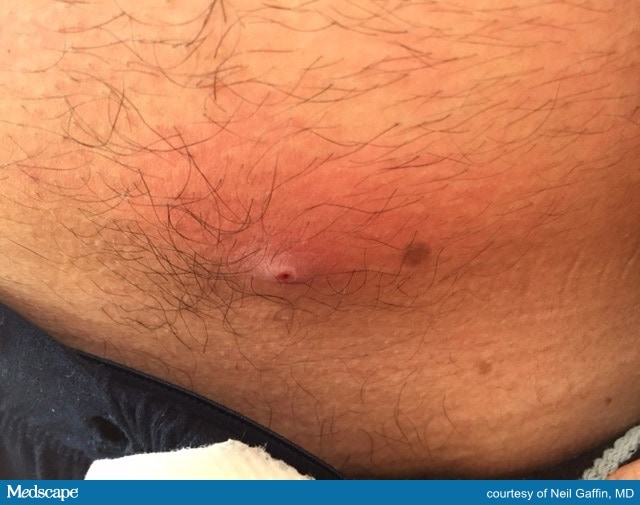 Figure. Abdominal skin infection.
After incision and drainage, the wound culture revealed MRSA. He was also started on a 7-day course of trimethoprim sulfamethoxazole (TMP-SMX). However, 1 month later, he developed another lesion, this time on his right buttock. This second lesion was managed similarly to the first. Over the ensuing 5 months, he developed several more skin and soft tissue infections (SSTIs) at different sites.
The patient lives at home with his parents and two younger siblings, ages 12 and 15. He is active in sports. Neither family members, friends, nor teammates (as far as the family knew) have had similar skin infections. His parents are at wit's end and want to know how to "stop this."
Physical exam reveals a well-developed male adolescent. Other than several areas of mild post-inflammatory hyperpigmentation at the previous skin infection sites, his exam is normal.
Medscape Infectious Diseases © 2018 WebMD, LLC

Any views expressed above are the author's own and do not necessarily reflect the views of WebMD or Medscape.
Cite this: Recurrent Skin Infections in a Teen: How Would You Manage? - Medscape - Jun 07, 2018.