GOTHENBURG, Sweden — Stroke patients selected for thrombectomy using simple noncontrast computed tomography (CT) had a similar rate of good outcomes as those selected by the more sophisticated CT perfusion imaging, in a new registry study.
However, the researchers also found that use of either imaging modality alone excluded a similar number of patients who could potentially benefit from thrombectomy.
The SELECT study was presented by Amrou Sarraj, MD, McGovern Medical School at The University of Texas Health Science Center, Houston, at the 4th European Stroke Organisation Conference (ESOC) 2018.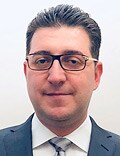 "We found no difference in clinical outcomes in patients for whom clinicians use the regular CT scan or the CT perfusion scan results to make the decision to treat with thrombectomy," Sarraj reported.
"The results show that simple imaging, while not perfect, may be good enough. This basic technique is faster, which means patients could potentially be treated more quickly," he said. "The advanced imaging of CT perfusion isn't available everywhere, so this could open up the door to identify more people for potential treatment, especially in remote areas."
In an interview with Medscape Medical News, he said some may look at these results and suggest that CT perfusion is not necessary, "but this is not a straightforward conclusion."
In their study, all patients received both imaging modalities but clinicians documented which modality was used to make the treatment decision. "In 87% of cases the decision made on the regular CT scan alone was good," he said. "In these cases, there probably was no need to do CT perfusion as well, but in about 10% of cases the CT perfusion scan identified patients who benefitted from thrombectomy who were not detected by the initial CT scan."
He said their results have two major implications. First, in transfer hospitals that may not have CT perfusion imaging, the decision to transfer for thrombectomy can be based on the regular CT scan. "That is a very impactful healthcare conclusion," he said. "And second, if there isn't access to CT perfusion imaging in certain hospitals where thrombectomy is performed, the clinical outcomes may be just as good as in the hospitals who do have it."
The patients in the current registry were within 24 hours of stroke onset and so included the later cohort, who are selected for thrombectomy based on target mismatch — when there is just small area of dead brain tissue but a large threatened area. But Sarraj noted that mismatch can be defined with regular CT by using clinical symptoms to identify those with a large area of threatened brain tissue. If CT perfusion is used, then both parts of mismatch are defined by imaging because it is possible to see more clearly the area of tissue under threat.
"Certain clinicians prefer to see this on CT perfusion, but others are satisfied using the normal CT scan alone — and the benefit of selecting patients on the normal CT alone is that it is faster," Sarraj explained. "However, our results suggest that there are about 10% of patients who may be suitable for thrombectomy and will not be identified by regular CT scan but will be found on CT perfusion. So CT perfusion is useful for finding these patients."
In his presentation, Sarraj pointed out that previous randomized trials of thrombectomy have used specific imaging modalities in different windows, leaving unanswered questions about which imaging modality is optimal and how to treat patients who do not meet the criteria of the prior trials.
The SELECT trial is the first study to evaluate this question in a prospective fashion with prespecified criteria and definitions for the different imaging profiles, as well as a prespecified analysis by treatment window (early vs late), he noted.
For the cohort study, consecutive patients with anterior circulation large-vessel occlusions up to 24 hours after symptom onset were enrolled from nine centers.
Patients underwent both noncontrast CT and CT perfusion imaging with mismatch determination by using RAPID software. The imaging modality used to choose treatment was documented by treating physicians before thrombectomy.
A blinded independent core lab adjudicated the imaging profiles and rated a regular CT scan as signaling a good candidate for thrombectomy if there was an ASPECTS score of 6 or higher; a CT perfusion scan was considered good if the core volume was below 70 mL, the mismatch volume was 10 mL or greater, and the mismatch ratio was greater than 1.2.
The primary outcome, 90-day modified Rankin Scale (mRS) score of 0 to 2, was compared between patients selected by noncontrast CT and those selected by CT perfusion, as well as for different noncontrast CT and CT perfusion profiles.
Of 445 patients enrolled in the study, 341 received thrombectomy, 13% had internal carotid artery occlusions, 62% had M1 occlusions, and 18% had M2 occlusions.
Results showed that physicians reported noncontrast CT as the modality used to make the treatment decision in 41% of patients and CT perfusion in 59%. Good outcome rates were similar in the two groups, with 53.7% of those selected by noncontrast CT achieving an mRS score of 0 to 2 at 90 days compared with 54.2% of those selected by CT perfusion.
Further analysis showed that 18% of patients would have been excluded from thrombectomy on the basis of undergoing only one type of imaging and that 42% of these patients had good outcomes.
Of patients who were excluded by noncontrast CT but qualified by CT perfusion, 52% had a good outcome after thrombectomy compared with 28% with the same imaging profile who did not receive thrombectomy.
And of those excluded by CT perfusion but qualifying by noncontrast CT, 28% had a good outcome after thrombectomy compared with 0% with the same imaging profiles who did not receive thrombectomy.
Thrombectomy did not confer good outcomes in patients with poor imaging profiles on both CT and CT perfusion.
Table. SELECT: Results by Different Imaging Profiles
| Imaging Profile | Patients (%) | Patients With Good mRS 90-d Outcomes (%) |
| --- | --- | --- |
| Good CT, good CTP | 80 | 58 |
| Good CT, poor CTP | 7 | 28 |
| Poor CT, good CTP | 10 | 50 |
| Poor CT, poor CTP | 3 | 0 |
There was no interaction of imaging modality and outcome with time (0 to 6 hours vs 6 to 24 hours; P = .97).
The current study did not randomly assign patient selection by imaging modality, and the researchers are now planning a second randomized trial — SELECT 2 — to look at the same question.
Premise "Probably Correct"
Commenting on the current study for Medscape Medical News is Michael Hill, MD, University of Calgary, who has been involved in the recent trials of thrombectomy in stroke.
"Overall, the premise of the study is probably correct. Among patients with proximal large vessel occlusion (LVO), simple imaging selection is all that is required," Hill said. The caveat is that not all patients have proximal LVO and while you can suspect clinically, you may not know that until you do the imaging.
"Thus, minimally you need a noncontrast CT and a CT angiogram," he added. "CT perfusion can be extremely helpful in selected cases but may not be additionally helpful for the 'obvious endovascular therapy cases,' ie proximal LVO."
But Hill pointed out that an alternate perspective is to perform CT perfusion in all patients to standardize. "This is also a good choice and many are choosing this approach, with subsequent automated image analysis with RAPID or MiSTAR or another system."
He believes a randomized trial of diagnostic modalities with a clinical 90-day outcome will be very difficult to do well. "The intervening treatment will always confound the interpretation of the effect of imaging. I think we are not ready for such a randomized trial yet, exactly because treatments vary and the treatment is not mature enough yet. This problem is a clear confounder in the current study."
Hill said his personal perspective is in agreement with the SELECT study conclusions: that simple imaging is all that is needed to make a clinical decision in most cases.
"But I reserve the right to make in-the-moment decisions on using more advanced imaging CT perfusion and MRI depending upon what the simple imaging shows," he concluded. "Overall, I have found in clinical experience to date that it is quite rare that the additional CT perfusion or MRI imaging actually makes a difference to my decision-making."
The SELECT study was funded by McGovern Medical School at UTHealth through an unrestricted grant from Stryker Neurovascular.
4th European Stroke Organisation Conference (ESOC) 2018. Presented May 18, 2018. Abstract
For more Medscape Neurology news, join us on Facebook and Twitter
Medscape Medical News © 2018 WebMD, LLC

Send comments and news tips to news@medscape.net.
Cite this: Simple Imaging May Be Enough for Stroke Thrombectomy Selection - Medscape - Jun 05, 2018.