The first attempt worldwide to have graphic cancer warnings on bottles of alcoholic drinks has been effectively stamped out by pressure from "Big Alcohol."
Pressure from the alcohol industry has ultimately dealt the research project "a huge blow," according to one of the study's coinvestigators.
As previously reported, the 8-month joint research project of Public Health Ontario and Canadian Institute for Substance Use Research (CISUR) was launched on November 22, 2017, to test three large warning labels.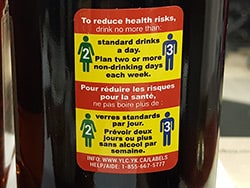 Featuring a yellow background and red borders similar to those seen on cigarette packages, the labels were scheduled to appear on a rotating basis on all bottles of alcohol sold at the only liquor store in the city of Whitehorse. The store accounts for 65% of total alcohol sales in the Northern Territories.
The first label, which ran in the lead-up to the 2017 December holidays, highlighted the association between drinking and increased risk for cancer. It read: "Chief Medical Officer of Health Advises Alcohol Can Cause Cancer, including breast and colon cancers."
However, on December 19, 2017, just 4 weeks after it began, the study was suspended by the Yukon Liquor Corp. Although the research resumed in early April, the length of the study had effectively been cut in half.
In addition, the label referencing alcohol's association with cancer risk was removed. Labels with general health warnings remain, but the label specifically highlighting the fact that drinking alcohol can increase the risk for several cancers is gone.
Paradoxically, it was media reports that the alcohol industry had lobbied the Yukon Liquor Corp to shut down the government-funded study that moved the whole project into the spotlight.
"The attention this has received has caught us completely by surprise," Tim Stockwell, PhD, director of CISUR at the University of Victoria in British Columbia, Canada, told Medscape Medical News.
"We will find changes in awareness and we'll find strong public support for our findings," he predicted.
"I think it's a huge blow because the current evidence shows that the effect of warning labels on behavior is very, very slight," said Stockwell. "But that's mainly research done in the United States with standard size black and white labels with tiny print that hasn't changed in about 40 years. Our labels are like, 'Wow. If ever there was a label that could change behavior, it's ours.'"
Without warning labels, "there is a sense that the issue cannot be very important or that the risk cannot be very great," he added. In Whitehorse, for instance, only 25% of people interviewed at the beginning of the study were aware that alcohol was a risk factor for cancer.
After the Globe and Mail, a national Canadian newspaper, reported evidence that the alcohol industry had lobbied the Yukon Liquor Corp to ditch the study, Stockwell admitted in an interview with the Canadian Broadcasting Corporation on May 24 that he wasn't surprised.
"[We] knew this was going on, but it's a relief to see it finally…in the glare of full daylight so everyone can see what was actually going on," he said in the interview. "The only reason that they [the Yukon Liquor Corp] discontinued the cancer warning labels was because they didn't have the resources to fight the alcohol industry in court."
The lobbying of "Big Alcohol" against health warning labels that could reduce drinking is reminiscent of the activity of "Big Tobacco" against measure to reduce smoking, and Stockwell predicts that this battle too will be just as fraught and lengthy.
Heath Warning Labels Remain
For now, the study is continuing with its two remaining warning labels. One sets out recommendations based on Health Canada's low-risk drinking guidelines, which were developed by the Canadian Centre on Substance Abuse and Addiction and published in 2011.
As per the guidelines, the label advises women to drink no more than two standard alcoholic drinks a day and men to drink no more than three standard alcoholic drinks daily. Consumers are also advised to "plan two or more non-drinking days each week."
The third label, which has not yet been tested, explains standard drink sizes. It also provides consumers with a tool to help them calculate the amount of alcohol contained in a single unit of beer, wine or spirits.
Unlike similar labels in Australia and New Zealand, however, the Canadian label doesn't give consumers the exact number of standard drinks in the container they're actually holding, said Stockwell. "People will have to do the math."
Rotating the labels every few weeks was designed to maintain consumers' attention. "Just changing the labels prompts people to keep looking," he noted.
Labeling alcohol containers reinforces existing knowledge about the adverse health effects of alcohol and highlights the more serious and less well-known harms, such as cancer, Stockwell pointed out. "Labels can help governments in their duty to care for and warn citizens of foreseeable risks."
Labeling alcohol containers also places the warnings directly in front of consumers at highest risk. "The greater your risk, the more likely you are to be warned," Stockwell told Medscape Medical News. "There aren't many strategies that can achieve that."
In February and March, the researchers conducted unscheduled follow-up interviews with consumers who had been interviewed at baseline. Preliminary data suggest that the cancer warning labels displayed in the first 4 weeks had an impact. "It looks like we did get some cancer awareness," Stockwell said.
An estimated 3000 alcohol-attributable cancer deaths occur in Canada each year, he pointed out. This figure is expected to increase, especially for cancers with a dose-dependent relationship with alcohol, such as prostate cancer and skin cancers.
"Given the dearth of knowledge about cancer risks among the public, I think it is important for clinicians to be informed and that they share their knowledge with their patients," said Stockwell.
Over the past 5 years, concern about the increased risk for cancer associated with alcohol use has also been growing internationally, he pointed out, emphasizing that even moderate alcohol consumption can increase cancer risk.
In a statement released on February 2, 2 days before World Cancer Day, the European region of the World Health Organization specified that drinking alcohol has been linked to seven cancer sites: bowel (colon and rectum), breast, esophagus, larynx, liver, mouth, and upper throat.
In its recommendations for cancer prevention, the World Cancer Research Fund/American Institute for Cancer Research took the matter a step further. The organization noted that strong evidence also links alcohol consumption to stomach cancer and concluded that: "For cancer prevention, it's best not to drink alcohol."
Follow Medscape Oncology on Twitter: @MedscapeOnc
Medscape Medical News © 2018 WebMD, LLC

Send comments and news tips to news@medscape.net.
Cite this: Warning of Cancer Risk on Alcohol Gone After Industry Lobby - Medscape - May 30, 2018.