WASHINGTON — Simplified electronic health records systems, more manageable work shifts, and increased teamwork can combat burnout among healthcare professionals, according to presenters at a National Academy of Medicine (NAM) event last week. NAM also highlighted poetry and art — in part by presenting paintings, photographs, and poems in a temporary gallery located here — as tools for working through feelings of grief, despair, exhaustion, and frustration often seen in the medical field.
Estimates vary a bit on the prevalence of burnout among healthcare professionals. But these statistics point to a persistent and important public health issue, even beyond the much-noted cases of residents in New York leaping to their deaths in recent years.
More than 50% of US physicians report significant symptoms of burnout, a syndrome characterized by a high degree of emotional exhaustion and depersonalization (cynicism), and a low sense of personal accomplishment at work, NAM said, citing published research. This burnout appears nearly twice as prevalent among physicians as US workers in other fields after controlling for work hours and other factors, NAM has said.
Just this week, Medscape Medical News reported on research presented at this year's American Psychiatric Association meeting showing that physicians experience the highest suicide rate of any profession.
At NAM's May 2 meeting on what it calls "clinician well-being," Rahul Sharma, MD, emergency physician-in-chief at New York Presbyterian Weill Cornell Medicine in New York City, pointed to Medscape research on burnout in the medical profession. In a 2017 Medscape report, emergency medicine topped the ranking with about 59% of respondents in the field reporting burnout. This field remained near the top of list for burnout among medical specialties in Medscape's 2018 rankings, with about 45% of emergency department physicians reporting burnout. Across specialities, about 42% of physicians said they feel burned out, while 15% reported feeling depressed, according to the more recent Medscape survey.
"With burnout numbers that high, it's clear that it's not an individual problem, but it's a problem of the work environment," Sharma said.
The NAM last year started a major initiative to combat burnout among physicians, nurses and other healthcare professionals, known as the Action Collaborative on Clinician Well-Being and Resilience.
More than 60 organizations have committed to addressing the causes of deep exhaustion and periods of despair seen in the medical profession. With this effort, NAM (formerly the Institute of Medicine) intends to replicate the kind of success of its earlier campaign to address the root causes of medical errors: the 1999 "To Err Is Human" report. It is credited with helping spark system-wide changes in US medical practice.
The Art of Healing
The May 2 event also included a display of paintings, photographs, and videos from a project called Expressions of Clinician Well-Being. NAM had called on clinicians, their families, and patients to express their experiences with burnout with visual and written images.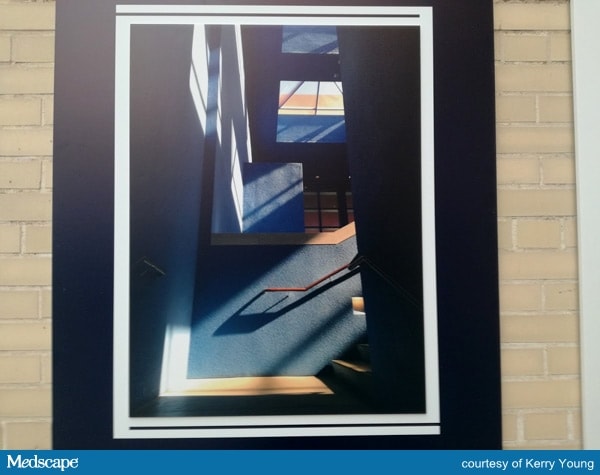 Photograph shown at event gallery titled "Sanctuary" by Valerie Gribben, taken by her after a "particularly exhausting day working at the hospital." NAM
This project also includes poems, such as "Worth Fighting For" by Vanessa Downing, PhD. In this poem, she asks:
"What would you call a person who
Sees death and disease coming
And volunteers to interfere
To interrupt
To postpone
To irritate and confront its process
Not gods (Although we love accusing them of confusing themselves with such)
But warriors maybe
Agitators
Who leave pieces of themselves on the battlefield without knowing it."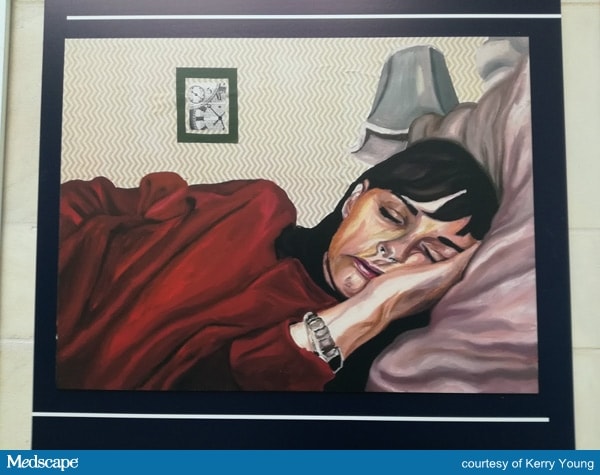 Painting by Alex Gordon titled "My Husband, The Doctor," an image of the physician's wife who "falls asleep, waiting" while her husband logs long hours at the hospital. NAM
Another poem selected for the NAM project was "Night in O.R. #5." In it, Rishi Doshi, MD, writes of seeing "tired hands tick 2 a.m." and envying a patient on the table …
"not for the tubes in his veins
or the scarlet stains on white gauze
not for his mechanical breaths
or the temporary chemical death
but for his muscles' limp repose
the calm of the amnestic deep
I wish it were me, and not him
whose wounds could be healed
in sleep."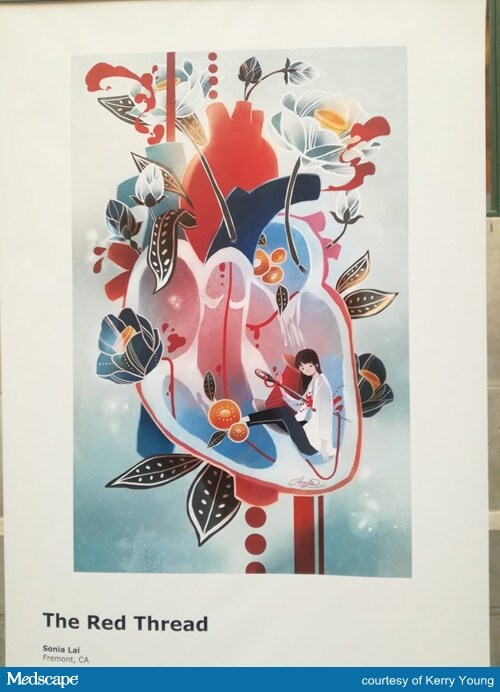 Painting by Sonia Lai titled "The Red Thread." NAM
Better Shifts
During the panel discussion, Sharma of New York-Presbyterian outlined specific steps taken within that hospital to address burnout. These included making 30-minute breaks possible for emergency department physicians and considering how the timing of late shifts affect personal lives.
A shift that ended at 1:30 am, for example, means a physician will miss both dinner and breakfast with families, so this was changed to a 12 am cutoff, he said. There is also a peer support group for clinicians who become involved in malpractice suits because this can be "one of the most isolating times of your career," Sharma said. Meditation and mindfulness trainings and massage chairs in the staff lounge are also part of this antiburnout effort, for which many of the ideas come from staff, he said.
"You can't just tell people what to do to improve wellness. You actually have to get feedback from them," Sharma said. "And you, as a leader, have to sit back and say 'Alright, let me see if this is possible.'''
Simplifying electronic health records (EHRs) is another way to ease burnout among medical staff, according to presenters at the NAM conference. Laura Nevill, RN, MS, ANP-BC, a consultant, talked about helping Erlanger Health System, based in Chattanooga, Tennessee, with a switch to an EPIC system. Erlanger earlier had had several different systems in place. Officials wanted a switch to a health record that moved seamlessly within different parts of the system, she said.
"Learn From Each Other"
Panelists referred repeatedly during the daylong event to the value of teamwork in combating burnout. In speaking of Erlanger's experience with switching EHRs, Nevill said that the health system also wanted to use new approaches in its recordkeeping to
build a team-based approach. Allowing more kinds of professionals to initiate protocols within the EHR could spare physicians and other providers from some recordkeeping tasks, she said.
"This was a daunting change. This was very different for them. They were working in silos and now we were really encouraging them to work as a team and share. Some of the providers had trouble with this," Nevill said, adding that some of the time-sparing steps sounded good to them. "But they were a little anxious that people were making decisions for them."
A more collaborative approach allows even seasoned healthcare professionals to continually gain fresh insights, said another panelist, Susan J. Corbridge, PhD, APRN, the associate dean for practice and community partnerships in the College of Nursing at the University of Illinois at Chicago.
"When you work as a team, as a high-functioning team, you really learn from each other," she said. "I've been a nurse practitioner for over 20 years and I learn something new every day."
Keeping Pace
The collaborative approach also can help smaller practices survive in an era of increased subspecialization, said Mark DeFrancesco, MD, who is a member of one of the five working groups for NAM's Action Collaborative.
DeFrancesco sat in the audience for a session at the May 2 meeting on redesigning workflow to help primary care specialists. A former president of the American College of Obstetricians and Gynecologists (ACOG), DeFrancesco said he and his colleagues often serve as the de facto primary care physicians for many women. Yet, at the same time, specialists in obstetrics and gynecology must keep up with new technology.
"You've got robotic surgeries, You've got minimally invasive surgery. Everybody can't do everything like they could do 30 years ago," DeFrancesco said.
At his practice in Connecticut, there's been increased use of what he calls "collaborative providers," such as midwives and advanced practice registered nurses.
"Everybody's working to the top of their licenses," he said. "We're not doing this across our whole group. But ultimately we're doing it more and more."
Panelist Rebecca Shunk, MD, thanked DeFrancesco for both his comments and the way he spoke about his colleagues in his practice.
"I was worried that the 'M' word would come out," Shunk said. "I was so impressed that you did not use the word 'midlevel.'"
DeFrancesco replied that he had not used this term in many years. Nurse practitioners object to the terms "midlevel" and "extender" for their role. Clinicians need to remember that their choice of words matters in terms of building a cohesive team, Shunk, who is co-director at the Center of Excellence in Primary Care Education at the San Francisco VA Medical Center in California, later explained to Medscape Medical News.
"Calling someone a 'midlevel' implies you believe they are not practicing a high level. This is clearly not the case," Shunk wrote in an e-mail. "We need all team members practicing together. When we use disrespectful language it limits our ability to create cohesive high functioning teams."
Medscape Medical News © 2018 WebMD, LLC

Send comments and news tips to news@medscape.net.
Cite this: Fighting Clinician Burnout Through Art, EHRs, and Teamwork - Medscape - May 10, 2018.