The Drinking Man's Diet
At the other end of the extreme diet spectrum in the 1960s, The Drinking Man's Diet: How to Lose Weight with a Minimum of Willpower—a 50-page paperback published in 1964 by the aerial photographer Robert Cameron (1911-2009)—generated a dedicated following of its own.[25]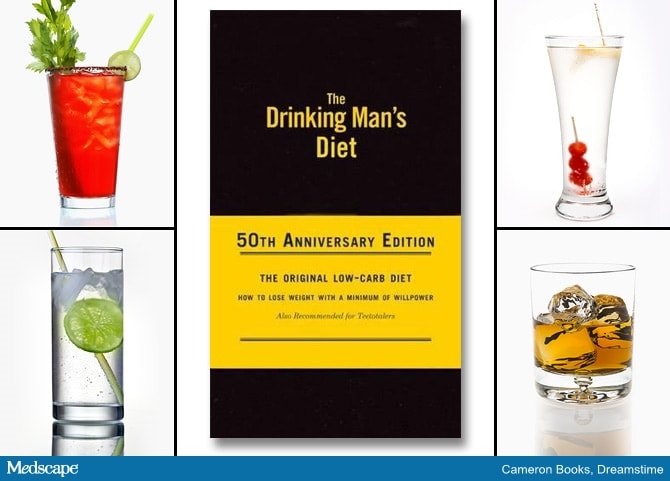 With the Mad Men era of the 1950s drawing to a close and the 1960s "peace and love" mantra gathering steam, this high-protein, high-fat, low-carb diet urged that to safeguard their masculinity, men should eat only "manly" foods.[25,26] Part diatribe, part diet, it also stipulated that alcoholic drinks could be consumed freely.[25]
Despite strong criticism from the AMA[25,27] and a harsh rebuke from the respected nutritionist Frederick Stare of the Harvard School of Public Health,[26] the diet became a cultural phenomenon that was debated and lampooned into the 1970s.[24] The book sold 2.4 million copies, has been translated into 13 languages,[25,26] and is still in print.
As both a cultural phenomenon and a high-protein, low-carb diet, it helped pave the way for the Atkins and Dukan diets.
The Beverly Hills Diet
The Beverly Hills Diet, published in 1981, spent more than 30 weeks on the New York Times best-seller list and sold over 1 million copies. The diet was endorsed by actors and entertainers, including Englebert Humperdinck and Linda Gray.[28] Its creator, Judy Mazel (1943-2007)—who had no science or nutrition training[29]—opened a diet clinic in Beverly Hills to promote the diet that had helped her lose more than 70 pounds.[28]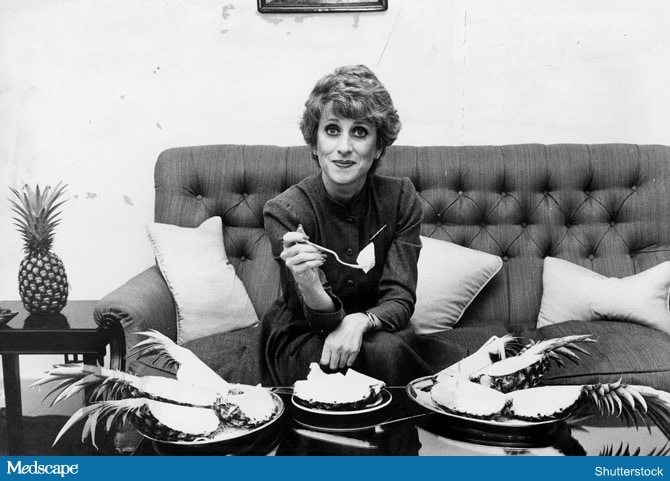 The diet promises a weight loss of 10-15 pounds after 5 weeks on a fruit-based diet. Following this period, carbohydrates, fat, and protein are slowly reintroduced according to strict rules: Fruit must always be eaten alone; protein may be combined with fat, but not carbohydrates; carbohydrates must not be combined with protein; and beer counts as carbs, wine as fruit, but champagne is "neutral" and can be consumed at any time.[29]
The diet was strongly criticized in a 1981 JAMA article by Drs Gabe Mirkin and Ronald Shore for its lack of scientific and nutritional grounding and for Mazel's theory that weight gain is caused by undigested food that gets "stuck" in the body.[30]
An updated version of the diet was published in 1996. Judy Mazel died of complications of a stroke at the age of 63.[28]
Medscape Internal Medicine © 2018 WebMD, LLC

Any views expressed above are the author's own and do not necessarily reflect the views of WebMD or Medscape.
Cite this: Extreme Diets: Fads and Facts - Medscape - May 21, 2018.