I'm Vinay Prasad, MD, MPH. I'm an assistant professor of medicine at Oregon Health & Science University and a practicing hematologist/oncologist. Over the next year, I hope to bring you some thoughts every other month about medicine.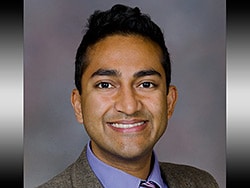 Why Write for Medscape?
There has been a spirited debate recently about where we ought to discuss, question, and learn medical facts. There is a growing number of forums: traditional peer-reviewed publications, the op-ed pages of major newspapers, blogs, and social media sites like Twitter. I see this increasing number of outlets for discourse as democratizing, and I don't view any forum as better or worse; instead, each has its place for reaching the right audience for the question at hand.
For now, reporting the results of a practice-changing clinical trial largely happens via journals, but soon this will move to pre-prints with accompanying de-identified patient-level datasets for replication efforts.
Editorials, debates, dissenting views, post-publication peer reviews, letters to the editor, and other observations and analyses, however, are increasingly placed in a variety of outlets with great impact.
Some writers have lamented this shift and have desperately tried to cling to the old ways. Debating them seems unnecessary. If they don't wish to participate in forums where people are talking, they are successfully making themselves irrelevant.
What Will I Talk About?
Here, I hope to raise some interesting issues in medicine to a wide audience of thoughtful physicians and healthcare professionals. Of course, there are some broad themes that I devote my professional work to: cancer screening, cancer drugs, the US FDA approval process, cost of care, research funding, science reporting, and hype. Undoubtedly, these themes will dominate.
In the first installment, we will talk about an underdiscussed aspect of the FDA's cancer drug-approval process. Coming soon.
Medscape Oncology © 2018 WebMD, LLC

Any views expressed above are the author's own and do not necessarily reflect the views of WebMD or Medscape.
Cite this: Vinay Prasad. Vinay Prasad: Why I'm Writing for Medscape - Medscape - May 14, 2018.