NEW YORK — The prevalence of opioids in the blood of suicide victims has more than doubled in the past decade, new research shows.
A study conducted by investigators at Johns Hopkins Bloomberg School of Public Health in Baltimore, Maryland, showed that the number of people who died by suicide who had opioids in their system increased from 8.8% in 2006 to 17% in 2017.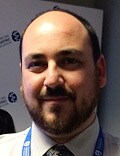 Suicide and opioid use have both increased "tremendously" over the past 2 decades and represent overlapping "public health crises," study investigator Paul Nestadt, MD, a fellow in the psychiatric epidemiology training program at Johns Hopkins Bloomberg School of Public Health, who is also supervising psychiatrist for the anxiety disorders consultation service at Johns Hopkins Hospital, told Medscape Medical News.
The findings were presented during a press briefing here at the American Psychiatric Association (APA) 2018 annual meeting.
Triple Threat
Opioid use significantly increases suicide risk in three ways, said Nestadt.
First, opioids are depressants, and research shows that individuals who use opioids are 50% to 100% more likely to develop depression. In addition, opioids are addictive and lead to substance use disorders, one of the most important risk factors for suicide. Finally, he said, opioid use leads to a disinhibited state in which impulsive acts such as suicide are more likely.
Having opioids in the medicine cabinet is like having a loaded gun in the house.
"If you have a bottle of opioids in the medicine cabinet, as more and more Americans do these days, it's equivalent of having a loaded gun in the house as far as suicide risk," said Nestadt.
Maryland is the first state to have a centralized state-wide system in which autopsies that include objective toxicology testing are performed on all victims of suicide.
Investigations to determine whether a death is a suicide are extensive and include interviews with family members, reviews of medical records, assessments of evidence gathered at the scene, and a full autopsy.
Researchers examined 6264 suicides from 2006 to 2017. Of these, 750 (12%) victims tested positive for opioids.
Compared to other victims of suicides, individuals with opioids in their system were more likely to be female, white, and to have cocaine in their blood, but were less likely to be intoxicated with alcohol.
African Americans Hit Hardest
Although the percentage of suicide decedents with opioids in their system doubled from 2006 to 2017, there was little change in the percentage who had alcohol in their system.
In addition, investigators found a slight decline in cocaine use. Nestadt speculated that this drop may be because individuals are now replacing cocaine with opioids.
An analytic model that was adjusted for fluctuation for all 11 years and that controlled for age, sex, and race showed that the rate of opioid use almost doubled over this period (odds ratio [OR], 1.92; 95% confidence interval [CI], 1.49 - 2.47; P < .0001).
In addition, an analysis that did not take into account opioid overdose deaths and that only examined suicide by other methods, such as by hanging or use of a firearm, showed a doubling of the presence of opioids (OR, 2.19; 95% CI, 1.60 - 3.00; P < .0001).
The increase occurred primarily in the past 4 or 5 years and was most prominent among African Americans.
"The trend doubled in general, but among African Americans, the opioid rate among suicide decedents actually increased almost sixfold," said Nestadt.
It is not clear whether there is a causal link between the rise in suicides and the increase in opioid use. The trends for both suicides and opioid use are "hard to deny," but for the moment, the results are "exploratory" and "hypothesis generating" only, Nestadt added.
Nationwide Problem
Suicides and opioids "are very much in the news" these days and are "very much intertwined," said, Ranna Parekh, MD, MPM, director of the Division of Diversity and Health Equity at the APA, who chaired the press briefing.
Suicide is a leading cause of death in the United States. The number of deaths reached a 30-year high in 2016, said Parekh. "That year saw a record number of deaths due to opioid overdose, with 42,000 people dying."
Commenting on the findings for Medscape Medical News, APA immediate Past President Maria Oquendo, MD, professor and chair of psychiatry, University of Pennsylvania Perelman School of Medicine, Philadelphia, said the study uncovered "a really interesting observation that actually comports very well with material that is being reported in the literature across the country, not just in Maryland."
The actual suicide rate in the United States is likely higher than is reported, because many of the deaths that are classified as overdoses or are undetermined as to cause are in fact suicides, said Oquendo, who recently coauthored an article on suicide and opioids that was published the New England Journal of Medicine.
"We are probably undercounting the number of suicides that are related to opioids," said Oquendo.
Of the more than 40,000 individuals who die of opioid overdose every year, "we estimate, based on the literature, that probably between 30% and maybe as high as 45% of them are suicides," she added.
There are several reasons why suicides are undercounted, said Oquendo.
In some states, coroners or medical examiners may be concerned about being sued if they determine that a death is a suicide. There may be repercussions with respect to life insurance policies.
Some medical examiners may be concerned about stigmatizing the individual who has passed away, said Oquendo. Or there may be pressure from the family not to classify the death in that way.
Medscape Medical News also asked Adam Bisaga, MD, professor of psychiatry at New York–Presbyterian and Columbia University Irving Medical Center, New York City, to comment on the findings.
The study's main implication, said Bisaga, "is that we urgently need to develop services to identify and treat patients with opioid use disorder before it becomes a chronic disorder with psychiatric complications such as depression and suicidality."
Clinicians who treat patients with opioid use disorder "should also diagnose and treat depression at the same time," he added.
Dr Nestadt, Dr Oquendo, and Dr Bisaga have disclosed no relevant financial relationships.
American Psychiatric Association (APA) 2018. Abstract 1-227, presented May 6, 2018.
For more Medscape Psychiatry news, join us on Facebook and Twitter.
Medscape Medical News © 2018

Cite this: Opioid Prevalence in Suicide Victims Skyrockets - Medscape - May 08, 2018.