Aditya Shah, MD, an infectious disease fellow at Mayo Clinic in Rochester, Minnesota, was settling in an hour into a recent Delta Airlines flight from London to Minneapolis when he heard the pilot's urgent request for medical help over the loudspeaker.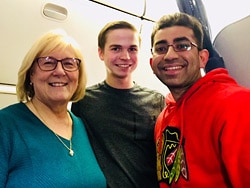 Shah told Medscape Medical News he quickly came to the front of the plane, as did Anne Hanson, a retired nurse, and Blake Tyra, an emergency medical technician from Hennepin County, Minnesota.
The three worked together to assess the passenger who needed help, Jim Rogers. Rogers and his wife, Margaret Shields, had cut their vacation short after Rogers began to have headaches, and they were coming home on March 6 to Wausau, Wisconsin.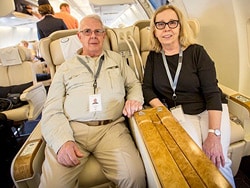 Rogers, who was in increasingly severe pain on the flight, was wearing an eye patch on his right eye. When Shah lifted it, blood flowed profusely. Shah was able to see that the stream was coming from a tear in the edge of his cornea.
Rogers' blood pressure was 200/120 mm Hg, and Shah asked the crew to ask over the intercom whether any passengers had blood pressure medication. Several passengers did and Shah picked the most appropriate version.
Meanwhile the team got a zipper-lock bag, some ice, and gauze and packed the eye with gentle pressure.
Shah was able to consult with Delta's medical support team on the ground. He recommended they land as soon as possible given the hypertension and the blood loss and the 8 hours left before help would be available in Minneapolis.
The pilot agreed to make an emergency landing in Shannon, Ireland, and Rogers was taken to a local hospital for emergency surgery. Shah and the other passengers were put on a later flight, and days later Rogers came to Mayo for 10 days under the care of the chair of Mayo Clinic's Division of Surgical Ophthalmology, Sanjay Patel, MD, according to Mayo's In the Loop newsletter.
A Helping Hand
It was Shah's first time to help with an inflight emergency.
A previous article in Medscape reported the findings of a study in the New England Journal of Medicine that mentioned the occurrence of in-flight medical emergencies is only about 16 per 1 million passengers. In only about 7% of the emergencies is the aircraft diverted.
But the decision to help was easy for him.
"You don't think about who's watching and what's going on. I just saw that this is my patient and I had to take care of him as best as I could," Shah said. "I would do this again whether on a flight or a train, on the road, at a restaurant. I went into medicine to help people and if I see someone who needs help, whether medical or otherwise, I'm going to help without thinking of the consequences."
He notes that though he was comfortable with the level of care required at the moment, physicians in a similar situations should know their limitations. He said he wouldn't have tried to suture, for instance.
He also pointed out that with technology, providers can usually get connected to experts on the ground for help.
Sometimes just comforting a patient will help the situation, he said. In fact, as the plane landed, Shah held Rogers' hand, a gesture that reportedly brought tears to the crew and surrounding passengers.
"Margaret was telling me that he felt he was not going to make it. The holding hands was instinctive. For example if it were my grandfather on the plane, I would have wanted something like that to happen to him," Shah said.
He said, "We don't want to think about events that could happen" with such a tear, but immediate risks include vision loss or stroke.
He is staying in touch with the couple as a friend since the fateful flight.
"I thought I did the best I could with my training and my upbringing. I don't think I would have done anything differently," Shah said.
Shields told the Wausau Daily Herald that as of this week her husband is not able to see out of the injured eye, and she is not sure the vision will ever return.
She expressed her gratitude for Shah, Hanson, and Tyra.
"All the folks who helped were wonderful," Shields said.
She told In the Loop, "Without them, I'm not sure if my husband, or his eye, would have survived."
Medscape Medical News © 2018 WebMD, LLC

Send comments and news tips to news@medscape.net.
Cite this: Marcia Frellick. Three Clinicians Used Quick Thinking During In-flight Emergency - Medscape - May 03, 2018.