The experimental drug erenumab (AMG 334, Amgen and Novartis) is effective and safe in patients with episodic migraine in whom previous treatments have failed, results of a new phase 3b trial have confirmed. The side effect profile of erenumab was similar to that of placebo, the researchers report.
Erenumab blocks pain signals by targeting and inhibiting the receptor for calcitonin gene-related peptide (CGRP) that transmits migraine pain signals.
Previous phase 3 studies, including STRIVE and ARISE, demonstrated the efficacy and safety of erenumab in patients with episodic and chronic migraine. This new study, the LIBERTY trial, is the first to include patients in whom at least two previous treatment classes had failed, the authors say.
Uwe Reuter, MD, from the Charité University Medicine Berlin, Germany, called this new drug, a fully human monoclonal antibody, a "game changer."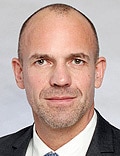 "This is the first time that you have a specific receptor-targeted drug in migraine prevention," he told Medscape Medical News.
In addition to being a targeted therapy, other advantages of this drug are that titration is unnecessary and it's delivered in a once-a-month injection, said Reuter.
He will present full results at the upcoming American Academy of Neurology (AAN) 2018 Annual Meeting in Los Angeles, California.
Blocks Pain Signals
There are currently no drugs that are specific for episodic migraine, Reuter said. Patients are typically treated with agents developed for other conditions, for example, β-blockers used for hypertension, antidepressants, or antiepileptics.
"These have a lot of side effects, for example, weight gain, fatigue, dizziness, and blurred vision, and you need to titrate them in order to avoid these adverse events," said Reuter.
The poor tolerability along with lack of efficacy associated with current oral preventive therapies may contribute to low adherence rates for these interventions.
But monoclonal antibodies, such as erenumab, represent a new class of targeted drugs that may change that, he said.
The new multicenter, 12-week, double-blind study included 246 patients across Europe, most of them from tertiary headache centers. The average age of participants was about 44 years, and 81% were women.
Study participants experienced between 4 and 14 migraine days a month. Most (70%) had more than 8 migraine days a month.
In all patients, at least two preventive migraine treatment classes had failed: two failures in 38.6%, three failures in 37.8%, and four failures in 22.8%.
The more classes of drugs that fail, the more difficult it is to treat the patient, commented Reuter.
He noted that this population of patients with difficult-to-treat episodic migraine is usually excluded from drug trials.
"That makes a huge difference; this population has never been studied before in a migraine prevention trial," he said.
The mean monthly migraine days (MMDs) for study participants was 9.3, and the mean migraine-specific medication days (MSMDs), defined as days when patients experienced a migraine and took a drug such as a triptan, was 4.6.
The patients were randomly assigned to receive erenumab 140 mg or placebo. The drug was administered subcutaneously once a month.
Researchers used the 140-mg dose because previous studies that had looked at the 70-mg and 140-mg doses "showed numerically better data" for the higher dose, said Reuter.
The primary outcome was the proportion of patients achieving a 50% or greater reduction in mean MMDs.
At week 12, 30.3% of the treatment group had achieved this primary outcome compared with 13.7% of the placebo group (odds ratio, 2.73; 95% confidence interval [CI], 1.43 - 5.19; P = .002).
As for secondary outcomes, there was a greater change from baseline to 3 months in MMDs with erenumab compared with placebo (mean difference, −1.61; 95% CI, −2.70 to −0.52; P = .004)
There was also a greater reduction from baseline for MSMDs in the treatment group (mean difference, −1.73; 95% CI, −2.46 to −1.01; P < .001).
The study showed roughly 12% of patients taking the drug improved by 75% in terms of MMDs, noted Reuter.
Researchers used numerous other tools to measure the effect of the drug on quality of life and physical impairment, he noted, and all pointed to benefits for the drug.
"We have no negative secondary or primary endpoint; every point we looked at was positive in this trial," said Reuter.
The drug performed equally well for those with 8 to 14 migraine days a month as for those with 4 to 8 days a month, said Reuter.
He and his colleagues have not yet analyzed whether those with fewer past drug failures did better.
Erenumab was safe and well tolerated, he said. "The beauty of this class of drugs is that the side effect profile is very comparable to placebo," said Reuter.
The most common adverse events were injection site pain (6% of patients) and upper respiratory tract infection (7% across the trial), although Reuter noted that more patients in the placebo group than the treatment group developed this infection.
"We see no clear difference between the drug and placebo in terms of side effects; the tolerability is very good," said Reuter. No patient discontinued erenumab because of adverse events.
Still, Reuter pointed out, while this new monoclonal drug has many advantages, it's not inexpensive, adding that he has no idea how much it will cost once it's on the market. But when it does become available, it should be used only in select patients, he said.
"From a doctor's point of view, you should use this drug only once first-line, cheaper drugs have failed."
To look at longer-term use for chronic migraine in refractory patients, the study has an open-label 3-year extension phase, the data for which will be available in the coming months, said Reuter.
While erenumab is the only monoclonal antibody that targets the receptor for CGRP, others in development "target the ligand, or the peptide itself," said Reuter.
Erenumab is not yet available commercially, but Reuter anticipates the US Food and Drug Administration may approve it by the end of the year. Drug companies Amgen and Novartis will be commercializing the drug in the various markets.
Reassuring Results
Commenting on the study, Rebecca Burch, MD, staff attending, John R. Graham Headache Center, associate neurologist, Brigham and Women's Department of Neurology, and assistant professor, Harvard Medical School, Boston, Massachusetts, pointed out that the results are similar to those of a previously published study of erenumab for treatment of episodic migraine in participants without failure of more than two treatments.
"It's reassuring to see that CGRP monoclonal antibodies are being tested in patients who have failed several other preventive treatments, and that this preliminary report suggests that efficacy may be similar. This is the population most likely to receive the treatments once they're approved."
Burch noted that clinical trials of migraine preventives are often criticized for including only treatment-naive patients. "So it's nice to see a study that addresses more refractory migraine."
She said it's "exciting" to possibly have a new approach to preventing migraine. While for many patients existing preventive treatments work well and are well tolerated, other patients experience treatment failure or bothersome side effects.
For such patients, tolerability may be improved with CGRP monoclonal antibodies, she said.
However, she noted that the average reduction in migraine days was still only 1.6 days per month compared with placebo in the study.
"It will take some time to learn how these treatments perform in clinical settings and populations and how best to use them."
The study was funded by Novartis Pharma AG. Reuter reports he has received personal compensation for consulting, serving on a scientific advisory board, speaking, or other activities with Allergan, Amgen, Autonomic Technologies, CoLucid, ElectroCore, Novartis, Pharm Allergan, Eli Lily, and TEVA and has received research support from Allergan. Burch has disclosed no relevant financial relationships.
American Academy of Neurology (AAN) 2018 Annual Meeting. Emerging Science Abstract 009. To be presented April 24, 2018.
For more Medscape Neurology news, join us on Facebook and Twitter
Medscape Medical News © 2018

Cite this: Erenumab Prevents Episodic Migraine in Refractory Patients - Medscape - Apr 19, 2018.