CHICAGO — Immunotherapy with checkpoint inhibitors has become a standard of care for patients with unresectable or advanced non-small cell lung cancer (NSCLC).
Now this approach has been tested in patients who are about to undergo surgery, and nivolumab (Opdivo, Bristol-Myers Squibb) is the first to show a benefit in this population.
The new results come from a small investigator-led study presented here at the American Association for Cancer Research (AACR) 2018 Annual Meeting and simultaneously published online in the New England Journal of Medicine.
Conducted in patients with NSCLC who took single-agent nivolumab 4 weeks before surgery, it found that 45% had a major pathologic response (MPR; defined as 10% or fewer viable cancer cells detected in the resected tumor after neoadjuvant therapy).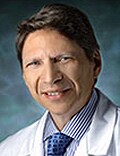 "The most stunning finding was that nine of the 20 patients who had surgery after neoadjuvant anti-PD-1 [programmed cell death-1] had a major pathologic response," senior author, Drew Pardoll, MD, PhD, said in a statement.
"Two patients had no evidence of viable cells in the resected specimen. This is particularly striking given that surgery was done, in most cases, just 4 weeks after the first dose of anti-PD-1 treatment," he added.
Pardoll is director of Bloomberg–Kimmel Institute for Cancer Immunotherapy and director of Cancer Immunology at Johns Hopkins School of Medicine, Baltimore, Maryland.
"Our result of a 45% MPR rate is very encouraging, considering prior studies showing that an MPR after neoadjuvant chemotherapy in lung cancer is associated with long-term survival," Pardoll said in a statement.
Discussing the results, John V Heymach, MD, PhD, chair of thoracic/head and neck medical oncology at the MD Anderson Cancer Center, Houston, Texas, commented that this was an important proof-of-concept study and highlights a major step forward for immunotherapy in the neoadjuvant setting.
"Is it time to finally stop saving our best for last?" he asked
Major Pathologic Response Is the Endgame
The rationale for any neoadjuvant therapy is to temporarily shrink the tumor before surgery in an attempt to improve surgical outcomes, Pardoll explained. Chemotherapy and chemoradiation therapy are conventional neoadjuvant treatment approaches.
Because micrometastases are the main source of relapse after surgery, Pardoll explained that the rationale for neoadjuvant anti-PD-1 treatment was to "essentially use the primary tumor as a 'vaccine' to induce T cells against the tumor antigens that would then circulate through the body systematically and seek out any distant sites of metastases."
Study Details
This investigator-led study enrolled 22 patients with stage I to IIIA NSCLC, of whom 21 received nivolumab 3 mg/kg intravenously. All patients received two doses of nivolumab preoperatively: 4 weeks and 2 weeks before surgery.
Tumor pathologic response, PD ligand 1 (PD-L1) expression, mutation burden, and T-cell responses were also evaluated as part of the study.
Median time from second dose to surgery was 18 days. Of the 21 patients, 20 underwent surgical resection. An MPR was reported in 9 of these patients.
Several other noteworthy observations were also reported. Responses were seen in patients with PD-L1-positive and PD-L1-negative NSCLC and correlated with pretreatment somatic mutational burden in the tumors.
Pardoll showed that after two doses of nivolumab, 2 patients had a radiographic partial response and the other 18 patients had stable disease based on Response Evaluation Criteria In Solid Tumors (RECIST) version 1.1.
However, the story was strikingly different when he looked at pathologic response. Nine of 20 patients (45%) achieved a pathologic response, with a complete pathologic response in 3 patients.
After a median follow-up of 12 months, 80% (16 of 20) patients were alive and free of recurrence. At 18 months, recurrence-free survival was 73%; at the time of data analysis, median recurrence-free survival had not been reached.
Pardoll and colleagues then determined whether anti-PD-1 treatment translated to expansion of tumor-specific T cells. In 8 of 9 patients analyzed, T cell clones shared between the tumor and peripheral blood increased upon PD-1 treatment. In 1 patient who showed a pathologic complete response, T-cell clones from a primary tumor that were directed against mutations and neoantigens in the tumor rapidly expanded in the peripheral blood 2 to 4 weeks after treatment. Forty-four days after surgery, these same circulating T-cell clones from the primary tumor remained in the peripheral blood.
"There was a big burst of tumor-specific T cells in the blood within, in most cases, 4 weeks after initiation of anti-PD-1 treatment, suggesting that neoadjuvant treatment may have enhanced antitumor immunity systemically," Pardoll said in a statement.
These observations are encouraging, but they need to be confirmed in larger studies, he said. "While it is still too early to tell whether our findings will translate into lower relapse rate and improved survival, pending confirmation in a larger study, we are very optimistic that this approach will eventually be practice-changing and may augment or even replace chemotherapy prior to surgical resection," Pardoll said in a statement.
He noted that about 75 trials are exploring the use of neoadjuvant PD-1 blockade in seven different cancer types.
In his discussion of the study, Heymach provided the context for neoadjuvant nivolumab in NSCLC. He noted that adjuvant chemotherapy increases survival and reduces the likelihood of recurrence at 5 years by about 5%. "Neoadjuvant treatment can downstage the primary tumor and potentially make surgery less morbid," he said. However, he showed data from a meta-analysis of several studies, which showed that neoadjuvant chemotherapy provides benefits similar to those of adjuvant chemotherapy.
He also provided data across studies that showed pathologic responses correlated to better overall survival and progression-free survival in patients with NSCLC. He noted that nivolumab was safe. and although it showed modest activity by RECIST, pathologic responses were impressive.
Heymach also questioned how neoadjuvant and adjuvant immunotherapy in NSCLC stacked up against each other, noting that in murine models of lung cancer, neoadjuvant immunotherapy provided better results than adjuvant immunotherapy with respect to reduced frequency of lung metastases.
Hossein Borghaei, DO, associate professor and chief of thoracic medical oncology at the Fox Chase Cancer Center, Philadelphia, Pennsylvania, was approached for comments on the role of immunotherapy in neoadjuvant NSCLC.
Borghaei confirmed that trials are testing inhibition with current immunotherapy agents approved for metastatic and adjuvant disease.
"With neoadjuvant immunotherapy, actually cure rates can increase for patients with surgical resectable tumors," he said.
Alice T Shaw, MD, PhD, co-chair of the AACR Annual Meeting Clinical Trials Committee and director of the Center for Thoracic Cancers at Massachusetts General Hospital Cancer Center in Boston, concurred.
"The high pathological response rates seen in this study provide hopes for cure rates to increase," she told Medscape Medical News. She also added that immunotherapy in combination with chemotherapy is likely to improve on this still further. Although chemotherapy is toxic, patients with early-stage disease typically have a good performance status and combination immunotherapy with chemotherapy may require only two cycles of treatment, she explained.
Pardoll is an inventor on patents licensed by BMS. Forde has obtained research funding from AstraZeneca, BMS, Novartis, and Kyowa and is a consultant for AstraZeneca, BMS, Merck, Novartis, Inivata, AbbVie, EMD Serono, and Boehringer Ingelheim. Borghaei is a paid consultant for BMS, Lilly, Novartis, AstraZeneca, Genmab, Boehringer Ingelheim, Celgene, Merck, and Genentech. He also received research funding from BMS, Lilly, Celgene, Merck, and Millennium and travel, accommodations, and expenses from Lilly, Merck, Celgene, Genentech, Novartis, and AstraZeneca. Shaw is a paid consultant for Blueprint Medicines, KSQ Therapeutics, Pfizer, Roche/Genentech, Novartis, Ignyta, LOXO, Ariad/Takeda, and Natera. Heymach is a consultant for AstraZeneca, Novartis, Bohringer-Ingelheim, Spectrum, Janssen, Roche/Genentech, and Lilly.
American Association for Cancer Research (AACR) 2018 Annual Meeting. Abstract CT079. Presented April 16, 2018.
N Engl J Med. Published online April 16, 2018. Article
Follow Medscape Oncology on Twitter: @MedscapeOnc
Medscape Medical News © 2018

Cite this: Neoadjuvant Nivolumab Shows Benefit in NSCLC - Medscape - Apr 17, 2018.