CHICAGO — After achieving an overall response rate (ORR) of 50% and a disease control rate of 100% in a small clinical trial in patients with ALK-positive inflammatory myofibroblastic tumor (IMFT), the ALK-targeting agent crizotinib (Xalkori, Pfizer) should become a standard of care for this patient population, say researchers.
The results come from the European Organisation for Research and Treatment of Cancer (EORTC) 90101/CREATE trial. They were presented here at American Association for Cancer Research (AACR) 2018 Annual Meeting and simultaneously published in The Lancet Respiratory Medicine.
Presenter Patrick Schöffski, MD, MPH, explained that inflammatory myofibroblastic tumor is a very rare type of soft tissue sarcoma that causes significant functional disabilities, organ dysfunction, and death. "These tumors are usually resistant to conventional therapy and radiotherapy, so patients with unresectable or locally advanced disease have few treatment options," he said.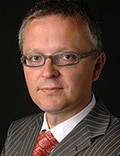 He told Medscape Medical News that IMFT is 1 of 70 subtypes of soft tissue sarcoma and while prevalence estimates are lacking, he estimates that it occurs at a frequency of 3 in 10 million. "Many oncologists treating sarcomas have not heard of IMFT," he added.
Schöffski is head of the Department of General Medical Oncology at the Leuven Cancer Institute, University Hospitals Leuven, Belgium, and principal investigator in the Laboratory of Experimental Oncology at the Catholic University of Leuven (KU Leuven).
Discussant of the study, Benjamin Solomon, MBBS, PhD, from the Peter MacCallum Cancer Center in Melbourne, Australia, emphasized that "outcomes are poor for patients with unresectable disease and historically there are no effective therapies," he said.
Study Details
The EORTC 90101/CREATE was a phase 2 single-arm study that enrolled patients with advanced or metastatic IMFTs from eight European countries across 13 sites. Patients consented for shipment of a tumor tissue block and were screened for treatment after central confirmation of the diagnosis from a reference pathology laboratory.
Several features of the trial are worthy of note. First, this was set up as a basket trial. "We managed to run a complex basket trial over 5 years that evaluated crizotinib across rare tumor types that are driven by ALK or MET mutations," Schöffski told Medscape Medical News. "These results are from the last subset of patients [with IMFT] not previously treated and are the most exciting," he said.
Second, patients were enrolled on the basis of a Simon's optimal two-stage design. If at least 2 of the first 12 eligible patients showed a complete response (CR) or partial response (PR), a maximum of 35 patients were enrolled. The trial was to be considered successful if at least 6 patients showed a CR or PR. However, only patients with centrally confirmed IMFT were given the drug.
Third, ALK positivity was defined if at least 15% of tumor cells showed an ALK rearrangement on fluorescence in situ hybridization (FISH) and/or immunohistochemistry. This definition may have misclassified some patients with ALK-negative disease, Schöffski commented.
Finally, of the 35 patients with a local diagnosis of IMFTs enrolled in the study, only 20 were centrally confirmed and 19 were evaluable for key study endpoints.
"Recruitment to this subcohort was suspended in June 2017 after more than 5 years without having reached the maximum of 35 ALK-positive patients. Patient recruitment was slow to the orphan nature of IMFT, and I would have had to wait another 5 years to completely enroll 35 patients," Schöffski told Medscape Medical News. "By then I would have retired," he added.
However, because the success criteria of the two-stage design were met, the pragmatic decision to terminate further enrollment was made by the EORTC's trial steering committee and independent data monitoring committee.
Eligible patients received crizotinib, 250 mg twice daily, until progression as determined from Response Evaluation Criteria In Solid Tumors (RECIST) version 1.1.
"Patients were given crizotinib at the flat dose of 250 mg twice daily based on the standard dose used in non-small cell lung cancer (NSCLC). The pediatric dose was only established in 2013," Schöffski said.
Median age at enrollment was 45.5 (range, 15 - 78) years; among patients with ALK-positive tumors, median age was 35.5 (range, 21 - 69) years.
Of 12 eligible and evaluable ALK-positive patients, 6 achieved a CR or PR; 1 had a nonconfirmed PR, and 5 had stable disease (SD) as the best response. ORR was 50% (CR + PR). Disease control rate (CR + PR + SD) was 100%.
The 1-year progression-free survival (PFS) rate was 73.3% and 1-year overall survival (OS) rate was 81.8%.
In ALK-negative patients (n = 7), ORR was 14.3% (1 PR) and disease control rate was 85.7% (1 PR, 5 SDs); 1-year PFS rate was 53.6% and 1-year OS rate was 62.5%.
Schöffski explained why the trial also included patients with ALK-negative tumors. "Patients with ALK-negative tumors comprised a nonrandomized, nonhistorical, internal control," he said. In addition, he noted that there is no established standard of care for these patients, so it was not unethical to include them in the study. However, the small number of patients with ALK-negative tumors does not provide adequate power to compare treatment effects across the two groups, he explained.
As to why ALK-negative patients showed benefits with crizotinib, Schöffski told Medscape Medical News that ALK positivity was defined by 15% ALK-positive cells, which may have led to false-negative results in tumors with a borderline percentage of positive cells. In addition, the antibody used in the assays does not detect all fusion forms of ALK, he added.
In his discussion, Solomon also suggested that next-generation sequencing captures rearrangements that the FISH and immunohistochemistry do not capture, and "ALK-negative" IMFT may also have actionable gene fusions.
Crizotinib showed a safety profile similar to that seen in NSCLC. Common adverse events were nausea (55%), fatigue (45%), blurred vision (45%), vomiting (35%), and diarrhea (35%).
A limitation of CREATE was its single-arm and noncomparator nature. "However, given the disease prevalence [<1%] a more definitive, randomized, comparative trial would not be possible," Schöffski said.
Solomon noted that results from CREATE confirm data seen in other IMFT studies: Children's Oncology Group (12 of 14 patients showed an overall response) and PROFILE 1013 (6 of 9 patients showed an overall response).
The results in ALK-positive IMFT indicate that crizotinib has a tissue site–independent activity across ALK-rearranged tumors, Solomon suggested. In ALK-positive NSCLC, ORR ranged from 61% to 74%; in ALK-positive anaplastic large cell lymphoma, the ORR ranged from 53% to 88%. These results are not very different from those seen with IMFT, he noted.
"CREATE study provides supportive data that sensitivity to crizotinib occurs with ALK gene rearrangements regardless of tissue site and provides plausibility for tissue agnostic approval for targets like ALK gene fusion," Solomon said.
Schöffski pointed out that in 2012, the National Comprehensive Cancer Network began recommending the off-label use of crizotinib as a treatment for ALK-positive IMFTs, after a single ALK-positive patient was reported to benefit in a phase 1 study. "CREATE provides prospective evidence for this recommendation from 19 IMFT patients treated in a disease-specific trial," he said.
In an AACR news statement, Schöffski said, "Our data in predominantly adult patients with inflammatory myofibroblastic tumors, combined with recently published data for children with this disease, support this recommendation and suggest that crizotinib should be considered the standard-of-care for patients with ALK-positive inflammatory myofibroblastic tumor who cannot be treated with surgery."
Approached for comments, Margaret von Mehren, MD, chief, Division of Sarcoma Medical Oncology at Fox Chase Cancer Center, Philadelphia, Pennsylvania, offered similar sentiments.
"The increased understanding of oncogenic drivers in cancers, even in rare tumor types, allows for the testing of targeted therapeutic agents," she said. "Schöffski and colleagues tested crizotinib, an inhibitor of ALK, in patients with inflammatory myofibroblastic tumors, a rare sarcoma that is known to express the ALK protein and to have ALK gene rearrangements. Their study included patients whose tumors had expression of ALK by immunohistochemistry and/or evidence of an ALK gene rearrangement based upon FISH analysis, but also those who were negative for these findings. As we have come to expect, those with ALK-positive tumors benefitted from crizotinib, with 50% demonstrating objective responses and 100% achieving clinical benefit that lasted greater than 1 year in approximately three quarters."
"What was more striking was responses seen in patients who were ALK-negative based on the testing performed. Of the seven patients treated, one patient had a partial response and five had stable disease, again for greater than 1 year in similar proportions to the ALK-positive group of patients," von Mehren commented. "Reasons for response and clinical benefit may be due false negatives for ALK. Another possibility is that these tumors may have had an alternate genetic diver with ROS1 gene rearrangement, as has been recently described [Histopathology. 2016;69:72-83]. Indeed, case reports as well as a recently published study of crizotinib in lung cancer patients with ROS1 gene rearrangements have shown a high response rate to crizotinib in this patient population [J Clin Oncol. 2018 Mar 29]."
Looking to the future, von Mehren continued: "Studies such as Schöffski's, as well as MATCH and TAPUR, that seek to evaluate targeted therapies in patients with genomic alterations will increasingly be identifying populations of patients with tumors that can benefit from targeted therapies. Patients will benefit, and as was seen in this study, will do so with limited toxicity."
The study was an investigator-initiated study with the EORTC as the legal sponsor. Pfizer Inc supported the study and provided crizotinib. Schöffski received an institutional travel grant from Pfizer Inc. Solomon has relationships with Pfizer, Novartis, Merck, Bristol-Myers Squibb, Astra-Zeneca, and Roche
American Association for Cancer Research (AACR) 2018 Annual Meeting. Abstract CT045. Presented April 15, 2018.
Lancet Respir Med. Published online April 15, 2018. Abstract
Follow Medscape Oncology on Twitter: @MedscapeOnc
Medscape Medical News © 2018

Cite this: Crizotinib: New Standard for ALK+ Myofibroblastic Tumor - Medscape - Apr 16, 2018.