Volunteering Changes Lives
From the cooks and teachers to the surgeons and nurses, everyone onboard the Africa Mercy, the world's largest civilian hospital ship, knows that their service changes lives.
A native of River Forest, Illinois, I began volunteering for Mercy Ships in 2003. Since that time, I have completed seven more field services, in addition to studying nursing and working in a burn intensive care unit and a pediatric emergency department in the periods between my service dates on the ships. My time on board has changed my life, and I continue to serve, while pursuing a master of science in global health. Recently appointed hospital director for the Africa Mercy, I continue to lead the team responsible for recruiting and selecting the patients who will receive lifesaving and life-changing surgical care here.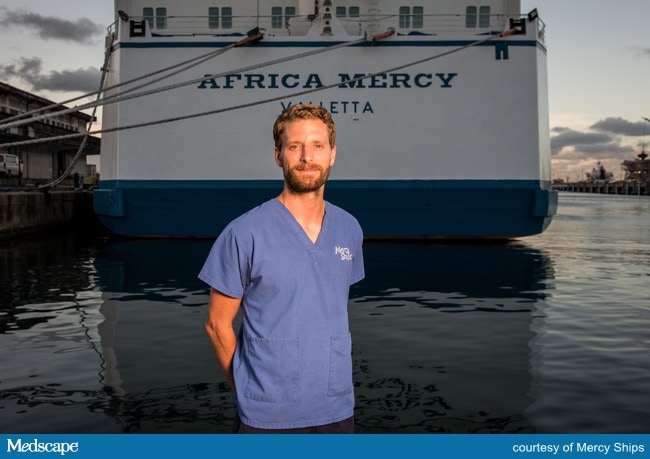 Mercy Ships uses hospital ships to deliver free, world-class healthcare services, capacity-building, and sustainable development to those without access in the developing world. Over the past 40 years, in more than 70 countries, Mercy Ships has provided services valued at more than $1.3 billion and treated more than 2.56 million direct beneficiaries.
During each 10-month field service, Mercy Ships provides medical care to thousands of people who otherwise would be without hope of receiving treatment. Demand is high, with thousands of potential patients waiting in line at the ports where the Africa Mercy will dock, with hopes of getting on board to receive care. It is my job to help determine whom we will be able to treat (Figures 1 and 2).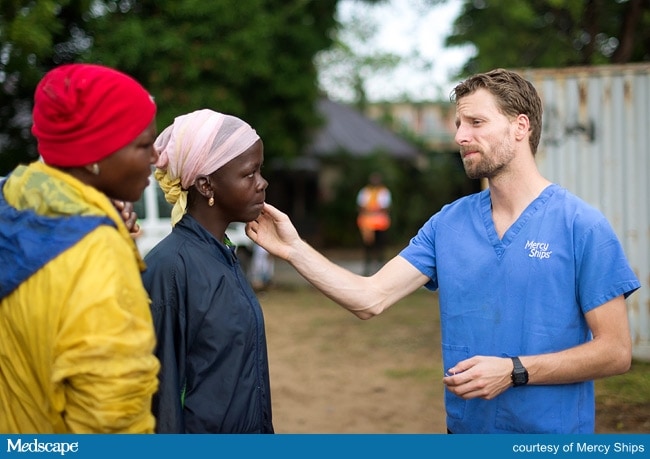 Although this can be an overwhelming responsibility, there is also extreme joy in the process. Those selected for surgery will be in the care of our amazing surgeons, nurses, physical therapists, pharmacists, and other medical and nonmedical professionals for the duration of their stay. Each year, an average of 1000 volunteer crew members from more than 60 nations serve on board the Africa Mercy, donating their time and skills to the effort. (To learn more about volunteering on Mercy Ships, please see this Volunteer link).
Here is an intimate look at some of the volunteers serving on the Africa Mercy, transforming and saving lives every day.
Medscape Public Health © 2018 WebMD, LLC

Any views expressed above are the author's own and do not necessarily reflect the views of WebMD or Medscape.
Cite this: Medical Volunteers: A Life-Changing Opportunity for Health Professionals to Serve - Medscape - Apr 11, 2018.