President Donald J. Trump is nominating White House physician Rear Admiral Ronny L. Jackson, MD, to replace the embattled current Secretary of Veterans Affairs David Shulkin.
Trump apparently fired Shulkin — who had been rumored for months to be on his way out — with a series of tweets this evening.
"I am pleased to announce that I intend to nominate highly respected Admiral Ronny L. Jackson, MD, as the new Secretary of Veterans Affairs.... In the interim, Hon. Robert Wilkie of DOD will serve as Acting Secretary. I am thankful for Dr. David Shulkin's service to our country and to our GREAT VETERANS!" said Trump.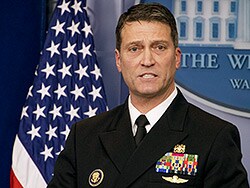 Jackson is most recently known for having pronounced the president to be in excellent health at a briefing in January following Trump's annual physical.
"I feel very confident that he has a very strong and a very probable possibility of making it completely through his presidency with no serious medical issues," said Jackson at the time, adding that he was recommending that Trump adopt a healthier diet and begin exercising. Jackson also said that Trump had no cognitive issues.
As chief White House physician since 2013, Jackson also conducted two of President Barack Obama's physicals.
Jackson graduated from Texas A&M University in 1991 with a bachelor of science in marine biology and received his medical degree in 1995 from the University of Texas Medical Branch. He began his active duty naval service in 1995 at the Portsmouth Naval Medical Center in Virginia, where he completed an internship in transitional medicine, according to his official biography.
After years of military service, he returned to Portsmouth in 2001 and completed an emergency medicine residency there in 2004. He deployed to Iraq a year later and was the emergency medicine physician in charge of resuscitative medicine for a forward deployed surgical shock trauma platoon.
The White House added him to the physician team in 2006, while he was still in Iraq. He was appointed chief physician in 2013 by Obama.
Jackson has certification from the American Board of Emergency Medicine and is a fellow of the American Academy of Emergency Medicine.
Shulkin on Thin Ice for a While
Outgoing VA Secretary Shulkin drew the ire of many in Congress and the Trump administration after a February report by the VA's inspector general office revealed questionable travel to Europe on the taxpayers' dime. During the trip, Shulkin reportedly wove together the personal and professional, including accepting tickets to the Wimbledon tennis tournament.
In addition, others in the Trump administration viewed Shulkin's policies as out of step with the White House, according to multiple media reports.
Jackson will still need to be confirmed by the Senate.
Medscape Medical News © 2018

Cite this: Trump Ousts VA Sec. Shulkin for Personal Physician Ronny Jackson - Medscape - Mar 28, 2018.