Management of Mild AOM
This child's mild otalgia (< 48 hours' duration) and lack of fever suggest a nonsevere case of AOM, according to the specifications in the AAP guideline for diagnosing AOM.[1] For children aged 24 months and older, nonsevere AOM can be managed either with immediate antibiotic therapy or with observation and close follow-up, including a mechanism to ensure that antibiotic therapy is instituted if the patient's symptoms worsen or otherwise fail to improve within 48-72 hours of initial onset.
Bilateral Ear Pain
A 6-year-old girl was seen in an urgent care center by a family physician. The child had experienced severe bilateral ear pain and aural fullness for the past 5 days, and her symptoms had worsened somewhat over time. Her mother said that the girl's forehead felt warm to the touch but denied respiratory distress, headaches, or other symptoms. The patient had an ear infection about 6 months earlier, but otherwise her mother reported no other pertinent medical or surgical history. The child was taking pediatric-strength acetaminophen but no other medications. She had no known drug allergies.
The patient's body temperature was 38.7˚ C, with otherwise normal vital signs. She appeared tired but was awake and cooperative. An external ear exam was unremarkable. The patient exhibited mild discomfort when the aural speculum was placed for otoscopy. The otoscopic exam demonstrated inflamed, bulging tympanic membranes immobile to pneumatic insufflation. No otorrhea was seen in the canals. The remainder of the head and neck exam was benign. No focal neurologic deficits were identified. The patient was diagnosed with bilateral AOM.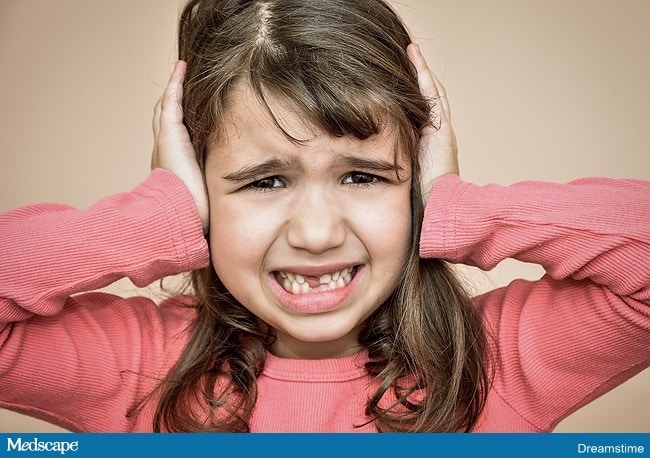 Medscape Family Medicine © 2018 WebMD, LLC

Any views expressed above are the author's own and do not necessarily reflect the views of WebMD or Medscape.
Cite this: Case Challenge: Acute Otitis Media in Children--Best Management Strategies - Medscape - Mar 28, 2018.