ORLANDO — Linking health promotion by barbers to pharmacist-directed drug therapy helped nearly two thirds of black men with uncontrolled hypertension reach the new aggressive US blood pressure (BP) target in a randomized trial.
A blood pressure less than 130/80 mm Hg was achieved by 63.6% of black men encouraged by their local barber to follow up in the barbershop with specialty trained pharmacists who regularly checked BP, prescribed medications, monitored electrolytes and creatinine, and sent progress notes to primary care providers.
Among black men whose barber only promoted follow-up with a primary care provider and lifestyle changes, 11.6% met the BP target (relative risk, 5.7; 95% CI, 2.5 - 12.8; P < .001).
"As black men tend to have many cardiovascular disease risk factors, marked BP reductions — if sustained using our approach and initiated widely — might reduce high hypertension-related disability and death among black men in the United States," lead author, Ronald G Victor, MD, director of the hypertension center at Cedars-Sinai Medical Center, Los Angeles, California, said here at the American College of Cardiology (ACC) 2018 Annual Scientific Session.
During the discussion of the late-breaking trial, panelist Karol E Watson, MD, University of California Los Angeles, remarked, "I really think that you are dealing with a new model for chronic-disease management. Taking the intervention to where people live, work, and play is going to be essential to chronic-disease management."
Session co-chair John A Jarcho, MD, deputy editor of the New England Journal of Medicine, which simultaneously published the study, told theheart.org | Medscape Cardiology, "One of the big problems in medicine is that there's such an enthusiasm for researching new treatments and there's not as much enthusiasm for researching how to get people to take the medications we already know work. So this is a coup."
Victor and his colleagues, including the late cardiologist Anthony E Reid, MD, previously reported success in Texas using barbershop community outreach to combat hypertension in black men, who have the highest hypertension-related death rate in the United States.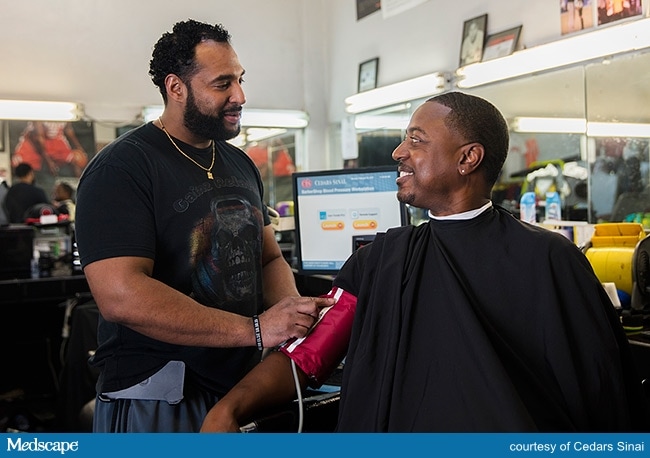 For this study, the team randomly assigned 319 non-Hispanic black men (aged 39 to 79 years) with systolic BP of at least 140 mm Hg on two screenings to the active intervention or control intervention delivered in 52 black-owned barbershops in Los Angeles. The men had been getting their hair cut every 2 weeks at the same barbershop for more than a decade, which "really shows that the barbershop is a social hub for many black men and is a great place to treat a chronic condition like hypertension," Victor said.
The target BP was less than 130/80 mm Hg, as set forth in the controversial 2017 ACC/American Heart Association hypertension guidelines. The active intervention used a graduated three-step medication protocol: a calcium channel blocker plus either an angiotensin II receptor blocker or angiotensin-converting enzyme inhibitor (preferably amlodipine plus irbesartan, addition of a thiazide-type diuretic (preferably indapamide), and addition of an aldosterone antagonist (preferably eplerenone), if needed.
Men receiving the active intervention showed a mean 27–mm Hg drop in systolic BP, from 152.8 to 125.8 mm Hg, over 6 months, compared with a mean 9.3–mm Hg drop, from 154.6 to 145.4 mm Hg, in this primary endpoint for controls.
The mean group difference in BP reduction was –21.6 mm Hg for systolic BP (95% CI, –14.7 to –28.4) and –14.9 mm Hg for diastolic BP (95% CI, –10.3 to –19.6; P < .001 for both).
"This is a home run. This is something that clinical trialists dream of that you'd get this kind of impact in healthcare," Eileen Handberg, PhD, director of cardiovascular clinical trials program at the University of Florida, Gainesville, said during a media briefing.
Even the 9–mm Hg improvement in the control group would be a dream in a BP-control trial, she said, noting that the intervention "is harnessing the potential of relationships. This is high-touch medicine, which we have moved away from in the EMR [electronic medical record] and having to see people in 10 minutes."
Commenting for theheart.org | Medscape Cardiology, panelist Athena Poppas, MD, Rhode Island Hospital, Providence, said, "It was small but I think the reason it's on a late-breaking clinical trial [session] is that this could be a game-changer to how we approach things. We've been a little resistant to say you have to come to the doctor's office to get these things done, but we have pharmacy companies doing minute clinics. So I think this could really change things."
She said one of the challenges to a national roll-out is that acceptance of pharmacists being able to act fairly independently varies from state to state. The other piece is that the intervention required a high level of coordination, so "to roll this out you'd have to have a high level of coordination, and who's going to maintain that?"
During the formal discussion, panelists questioned how much the intervention costs and how it would work on a national scale. Victor said cost analyses through a full 12 months of follow-up are underway and that getting large insurance providers that tend to keep their members for a long time (such as Kaiser Permanente) onboard would be key to portability.
He told reporters that about 45 states already have laws permitting pharmacists to dispense drugs with physician approval, with another five due to pass similar legislation. Handberg pointed out that nurse practitioners and physician assistants already have that capacity and could get reimbursed "because this in theory is a billable visit, it's just where it's happening."
Despite patrons' having deep roots with their local barbershop or hair salon, Watson told theheart.org | Medscape Cardiology that patron buy-in will still be a challenge "because there is still some reluctance to engage with the medical community." Indeed, 20% of the cohort did not have a regular provider.
"I think this is a great method to get in and engage with the system, but I do think we have to get a better way of keeping them in the system," she said.
Clyde Yancy, MD, Northwestern University, Chicago, Illinois, said he had a relationship with his barber for 20 years but as a black physician "I cannot get to that level of trust, particularly in the office. But the barbershop, it's an automatic. That hurdle is already eclipsed."
However, he continued, "We have to be careful that we don't over-represent the benefit here. It comes at cost; it comes with some infrastructure build-up, and we've done nothing to talk about the risk. The important piece of this that we need to somehow backfill is that critical conversation about cardiovascular risk."
No serious adverse events occurred during the intervention, though three cases of acute kidney injury were reported, all related to indapamide (Lozol, Sanofi-Aventis) and reversible, Victor said.
He told theheart.org | Medscape Cardiology that the physicians had the ability to override the pharmacist within 24 hours and that they worked very hard to get patrons "hooked up with a provider. Almost everybody that didn't have a doctor ended up with one. Whether they follow through with them is something we have to follow up on."
Victor said the intervention could address other aspects of care, such as smoking cessation, statin initiation, and risk assessment, and that plasma electrolytes and creatinine are already monitored at the point of care.
"We just need to have a fractionated lipid panel. So it's basically one more finger prick and we can calculate a risk score on the ACC new pooled calculator, and that's what we plan to do."
While it may be hard to beat the convenience of the barbershop care model, given that pharmacists made home visits and offered up their cell phone number, participants "still need to see their doctor," Victor said.
"We just see this as a way to make it easier for the doctors to get to goal and if there's quality-directed payments this should be a good thing, share in the wealth," he said.
The trial was supported by the National Institutes of Health (NIH), National Heart, Lung, and Blood Institute, the NIH National Center for Advancing Translational Sciences UCLA Clinical and Translational Science Institute, the California Endowment, the Lincy Foundation, the Harriet and Steven Nichols Foundation, the Burns and Allen Chair in Cardiology Research at the Smidt Heart Institute, and the Division of Community Relations and Development at Cedars–Sinai Medical Center. Victor reported having no relevant financial relationships. Watson reported consultant fees/honoraria from Amgen, Astra Zeneca, Boehringer Ingelheim, Daiichi Sankyo, and GlaxoSmithKline; and serving on a data safety monitoring board for Merck. Jarcho and Yancy reported no relevant disclosures. Handberg reported numerous financial relationships, including research grants from the NIH. Poppas reported GE stock.
Follow Patrice Wendling on Twitter: @pwendl. For more from theheart.org | Medscape Cardiology, follow us on Twitter and Facebook.
American College of Cardiology (ACC) 2018 Annual Scientific Session. Presentation #408-12. March 12, 2018.
N Engl J Med. Published online March 12, 2018. Full text. Full text
Medscape Medical News © 2018

Cite this: Barbershop-Based Healthcare Cuts Hypertension in Blacks - Medscape - Mar 12, 2018.