The harsh lighting common to most hospitals and other healthcare settings has been developed with energy consumption and economics in mind. It provides constant low illumination for healthcare staff and helps patients feel safe, particularly at night.
However, these efficiencies disturb innate circadian rhythms linked to overall health, say researchers.
Using special circadian lighting can help patients to get a good night's sleep and may speed healing and recovery, they point out. It should be available to every patient staying in a healthcare setting for 2 weeks or longer, they argue.
"We're designed to be exposed to high amounts of light during the day, not the constant dim lighting found in most hospitals 24 hours a day," Mariana Figueiro, PhD, director of the Lighting Research Center at Rensselaer Polytechnic Institute in Troy, New York, said in an interview. "In the last 15 to 20 years, we've learned a lot about the impact of light on health."
For just about any patient who receives institutionalized care for 2 weeks or longer, constant, low-level room lighting can inhibit melatonin production during the day and suppress its sleep-inducing release at night. When sleep/wake cycles get turned around, the resulting insomnia, fatigue, and daytime sleepiness may increase the risk for depression and the need for pain medication, and it may even extend recovery time.


Automatic circadian lighting changes from early morning to late night are part of post-stroke patient care at the Central Hospital in Karlstad, Sweden. Source: Chromaviso
"Without this synchronization, research has shown that we may experience long-term decrements in physiological function, neurobehavioral performance, and sleep and are put at a higher risk for cardiovascular disease, diabetes, and certain forms of cancer," Figueiro told Medscape Medical News. "Giving hospital patients a robust light/dark lighting pattern is the most logical thing to do to promote synchronization of the body's biological clock, and we're seeing many health benefits."
Studies of circadian lighting show that recreating changes in natural light over a 24-hour period works well in a wide variety of clinical settings, from nursing homes to neonatal intensive care units (ICUs). For example, clinical benefits have been observed in patients with myeloma following bone marrow transplant, in patients with Alzheimer's, and in those undergoing rehabilitation after acute stroke.
"I think the science is pretty robust," said Figueiro. "Staying in the hospital makes sleep worse. We now have enough scientific knowledge about the impact of a robust light/dark lighting pattern on health to do better than what we're doing in healthcare facilities. There is no reason not to deliver cycled light to any patient in any facility."
Although the body's circadian system is sensitive to shortwave blue light, conventional lighting standards are designed for the body's visual systems, which are also sensitive to longer wavelength light. A robust 24-hour circadian lighting system provides subtle morning light followed by bluish-white hues that simulate bright sunlight on a cloudless day.
Unlike conventional hospital lighting, which is usually set at around 147 lux, circadian lighting delivers about 2000 lux of shortwave blue light at "midday," which promotes alertness.
In the evening, circadian systems provide a soft yellow light that doesn't shut down the release of sleep-inducing melatonin. This is then followed by lighting corresponding to that of a dark night.
Since 2010, studies in patients with Alzheimer's disease have demonstrated "extreme success" with circadian lighting in restoring normal sleep patterns, said Figueiro. Not only is fatigue reduced, but depression and agitation scores drop significantly.
Too often, patients spend their days and nights in dimly lit rooms and spend little or no time outdoors, she noted. "When you have patients confined to an environment where you can control the 24-hour light exposure, you can see a very strong positive effect on depression and agitation."
Any kind of lighting can be used to develop circadian systems, but LED lighting is the most versatile because it allows users to tune the emission of light to whatever part of the spectrum is desired, she explained.
Studies in US Hospitals
Recently, Figueiro and colleagues partnered with Mount Sinai Hospital, New York City, to investigate the impact of circadian-based light on recovery in patients with myeloma who had undergone bone marrow transplant. Preliminary data show that patients confined to hospital for 2 to 3 weeks reported better sleep and less fatigue.
The research group is also collaborating with researchers at Yale University, New Haven, Connecticut, to determine whether circadian light can reduce delirium in patients admitted to the intensive care unit after cardiac surgery. "They completely lose track of night and day," Figueiro said. "If we give them a robust light/dark pattern, it will help them sleep."
Almost 50 patients have been enrolled so far: 25 control patients, who received conventional, dim lighting of a warm color, and 25 patients who received circadian-effective light. After 14 days, researchers say patients who received light/dark-patterned light reported better sleep and reduced fatigue.
Figueiro predicts that in the future, circadian lighting will be standard in most buildings, including homes and offices. "It will become more personalized and customizable, with the goal of improving human health and well-being," she said.
Last December, researchers at the University of Minnesota's Masonic Children's Hospital in Minneapolis launched a pilot study to assess the impact of circadian lighting systems on delirium and quality of sleep in the pediatric ICU. It is estimated that delirium or some state of confusion is linked to sleep disruption in about 23% of children admitted to ICUs and in up to 80% of adults in ICUs.
"Sleep is an important part of the healing process, and disruption can affect cognition, pain, hormonal balances, and immune processes," lead researcher Helena Molero, MD, assistant professor of pediatrics at the University of Minnesota, told Medscape Medical News. "We discovered that in the ICU rooms, light pollution at night from the hallways was high, and light during the daytime was not as bright since patients weren't facing the windows, resulting in lack of typical day and night light changes."
Molero anticipates that by using circadian lighting to regulate patients' hormonal and immune functions associated with sleep, patients will need less sedation and pain medication and will show clinical improvement faster.
"Any attempt to improve sleep, whether by minimizing sleep interruptions associated with care or by strengthening the circadian cycle, can result in benefits and the patient's return to a healthy state," said Molero. "We hope our study will identify new avenues to improve patient health," she said.
Unlike conventional overhead hospital lighting, the pediatric ICU system features about 10 lights placed in an array across the ceiling and along the walls, including on either side of the patient's bed. The lighting is automatically calibrated to adjust to the time of day, but manual controls can be used to override standard settings.
Studies in Denmark
In Denmark, a clinical trial in patients admitted to the Copenhagen University Hospital following acute stroke has also shown benefits from circadian-based lighting, according to Anders Sode West, MD, clinical associate professor of neurology. The prospective, longitudinal controlled trial compared outcomes in 45 patients who were randomly assigned to receive circadian lighting and 39 patients who received standard lighting during stroke rehabilitation.
Depression was quantified using the Hamilton Rating Scale for Depression (HAM-D6) and the Major Depression Inventory scale (MDI). Fatigue was measured using Epworth Sleepiness Scale.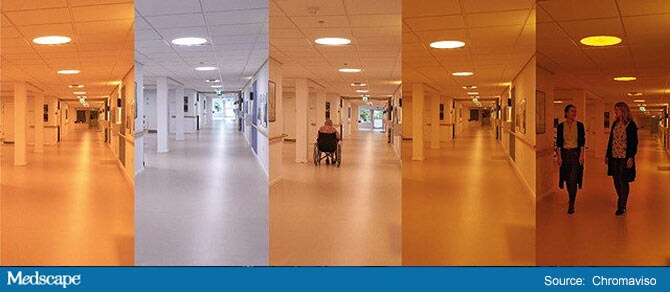 In the Plejecentret Albertshøj care facility in Albertslund, Denmark, circadian lighting has been installed to assess the impact of such lighting on quality of life in elderly patients in comparison to regular lighting. Source: Chromaviso
Even when the use of antidepressant medication was included as a confounder, the study showed that at discharge, HAM-D6 and MDI scores were significantly lower in patients who received circadian lighting during stroke rehabilitation compared to control patients (-2.25, P = .018, and -4.71, P=1.74, respectively). Patients given circadian lighting also had lower sleepiness scores compared to control persons (P = .17 vs P = .183).
A report on the study findings was presented at the International Stroke Conference 2017 in Houston, Texas, on February 22, 2017.
"This knowledge encourages new ways of thinking by embracing light as a significant contributor to our health," West told Medscape Medical News. Circadian lighting is "a relevant investment as an additional medical treatment for depression and fatigue during long-term hospitalization," he added. He noted that the study was confined to patients who had undergone acute stroke. "This study should pave the way for new clinical light studies in patients," he said.
Two evidence-based lighting protocols customized to patients in ICUs at Aarhus University Hospital in Denmark and at the neurology clinic at Rigshospitalet, Copenhagen, are also being studied. Both clinically validated protocols were developed in collaboration with the Danish lighting technology company Chromaviso.
At Rigshospitalet, West and colleagues are measuring circadian biomarkers as well as sleep/wake cycles, sleep quality, anxiety, and cognitive performance in 73 neurology patients.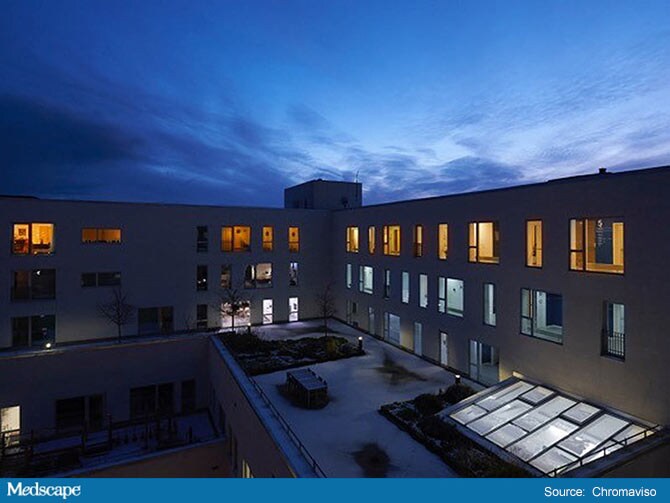 Exterior view of patient rooms with circadian and noncircadian lighting at the Plejecentret Albertshøj care facility in Albertslund, Denmark. Source: Chromaviso
At the Psychiatric Center Copenhagen, a research team led by Klaus Martiny, MD, PhD, clinical associate research professor at the University of Copenhagen, has been studying at the impact of customized circadian lighting technology on patient care since 2014. A study of a circadian lighting system called Room-light is currently underway in 150 patients hospitalized for depression. Martiny and colleagues will measure the impact of circadian lighting on depression, sleep, duration of inpatient stay, the use of medication, circadian rhythm, and well-being. "We hope to be able to demonstrate a connection between therapeutic light and a swifter recovery from depression, leading to earlier discharge and a reduction in drug therapy," said Martiny in a statement.
Change to Circadian Lighting in Hospitals Is "Long Overdue"
When asked to comment, Richard G. Stevens, PhD, professor of cancer epidemiology at the University of Connecticut Health Center in Farmington, said in-hospital circadian lighting could have physical as well as emotional benefits for most patients, regardless of why they are hospitalized.
Dimming conventional hospital lighting at night isn't enough to prevent this, said Stevens, who is one of the world's leading experts on circadian rhythms. "The constant harsh lighting that is still so pervasive in most hospitals is to nobody's benefit. Even at short wavelengths, night-time exposure to light in the blue spectrum can affect optimal health."
Fortunately, the realization that a robust circadian rhythm can generally improve the effectiveness of therapies is growing, Stevens confirmed.
"The change to circadian-friendly lighting in a small but growing number of hospitals, particularly in the Nordic countries, is long overdue," he told Medscape Medical News. "We now have the technology to light hospitals and other buildings in a way that accommodates circadian rhythms, thereby promoting healing in patients and better maintaining health for the rest of us. I hope and believe it is the coming thing for patients in hospitals everywhere."
Dr Figueiro has received funding from the National Institute on Aging, the National Institute for Occupational Safety and Health, the Centers for Disease Control and Prevention, the US General Services Administration, and the Office of Naval Research. She also has collaborated with companies in the lighting industry, including Acuity Brands, Cree, Current by GE, Ketra, OSRAM, Philips Lighting, and USAI Lighting. Dr West has a nonfinancial relationship with Chromaviso. Dr Molero has a partnership with Phillips Lighting. Dr Stevens has disclosed no relevant financial relationships.
For more from Medscape Oncology, follow us on Twitter: @MedscapeOnc
Medscape Medical News © 2018

Cite this: Shine a Healing Light: Circadian-Based Lighting in Hospitals - Medscape - Feb 28, 2018.