A judge in a New York county dropped charges against a bariatric surgeon who was accused of strangling an operating room nurse with a cord.
The nurse said that on January 23, the surgeon, Venkatesh Sasthakonar Esackimuthu, MD, who is director of bariatric surgery at Nassau University Medical Center, East Meadow, New York, attacked her after an operation and that he threatened to kill her.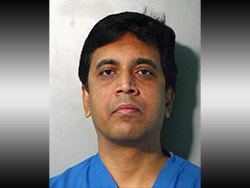 But a Nassau County District Court judge agreed to drop the charges after the assistant district attorney requested dismissal, according to Newsday.
The nurse was not named in any news accounts of the alleged attack. Esackimuthu, who is known as Sasthakonar, declined to identify the nurse to spare her the same glaring media attention he received, said Bruce Barket, the surgeon's Garden City, New York–based attorney.
Barket told Medscape Medical News that before the operation, the nurse gave the patient a blood thinner too early, violating the hospital's protocol. The surgery ended up being delayed by several hours, giving Sasthakonar cause for concern. The patient did fine, but Sasthakonar noted his concern to the nurse after the operation.
He then "went about his business," Barket said. He eventually went home after his shift ended, but by then, the nurse had called the police to report she had been assaulted. Sasthakonar was called back to the hospital, allegedly for a patient-related reason, but it was a ruse so the police could arrest him, said Barket.
Sasthakonar was charged with felony second-degree strangulation and misdemeanor third-degree assault, attracting national and international media coverage. According to Newsday, Sasthakonar pleaded not guilty and was released on $3500 cash bail. An order of protection was issued against him.
But, said Barket, "It was perfectly apparent within hours of representing him that this didn't happen." His law firm conducted an investigation and found two witnesses — one who had been in the operating room the entire time — who stated that they saw no assault and that the nurse seemed just fine. Surveillance video also indicated no wrongdoing, said Barket.
"This is the other side of #metoo," said Barket, who said it makes for "a difficult atmosphere for the falsely accused."
He said Sasthakonar had not ruled out filing a civil suit against the nurse. He also said that the district attorney should perhaps pursue punishment.
The hospital suspended Sasthakonar, but he's been reinstated with back pay, said Barket. He said he also expected a professional conduct investigation to be quickly closed.
Brian Finnegan, a spokesman for Nassau University Medical Center, said the hospital "is aware of the recent updates with regard to Dr Venkatesh Sasthakonar's legal proceedings and will take such information into account as the medical board continues its internal personnel review, in strict adherence to all hospital protocols and bylaws."
Medscape Medical News © 2018

Cite this: Charges Dropped Against Surgeon Accused of Assaulting Nurse - Medscape - Feb 27, 2018.