How Younger Patients See the Doctor-Patient Relationship
Millennials—who have overtaken baby boomers as the nation's largest demographic group—can be tough customers. This age group, between 18 and 36 years old,[1] has been described as impatient, demanding, easily swayed by online reviews, and quick to drop—or bypass altogether—physicians who don't meet their expectations.
Elusive and challenging as they may be, millennial patients are also critical to the long-term success of your practice, experts say. Physicians need to focus on meeting their needs.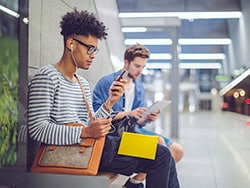 "It doesn't matter if you are independent or owned by a large system. At the end of the day, you have to look at millennials in a different light than you did the baby boomers or the Gen-Xers," says Jean Hippert, senior vice president of PNC Healthcare, part of PNC Financial Services Group Inc. "Those people did not challenge the paradigm. The doctor was king. This generation is not willing to settle for that."
Why You Need to Reach Younger Patients
There are several reasons why physicians should reach out to millennial consumers. The first relates to sheer numbers. At 83 million strong, millennials are the nation's largest living generation and represent more than a quarter of the US population.[1]
Second, they aren't children anymore. "There is a misguided perception in the market that millennials are too young to target, but the oldest millennials are around age 36 or 37," says Parham Javaherian, CEO of Irvine, California-based Practice Builders. "They are moms and dads. They're making healthcare decisions for their kids and their parents and grandparents, so excluding them from any patient acquisition initiative just doesn't make sense.
They're making healthcare decisions for their kids and their parents and grandparents.
"You need to develop your messaging and marketing approach now because in 10 years they will be moving into new types of diseases and needs, and they will represent the majority of the population. If doctors keep doing what they've always done with 'old school' messaging, they're not going to reach anyone," says Javaherian.
Third, millennials are already moving into a life stage when they will spend more on healthcare. A 2009 analysis conducted by the Kaiser Family Foundation found that while average healthcare spending for adults between the ages of 18 and 24 years was just $1834, that amount increased by nearly 50% for those between the ages of 25 and 44 years.[2] Physicians who establish relationships with millennial patients today will be better positioned to serve them when they need care. What's more, older millennials are likely to be commercially insured, which can enhance practice profitability.
Medscape Business of Medicine © 2018 WebMD, LLC

Any views expressed above are the author's own and do not necessarily reflect the views of WebMD or Medscape.
Cite this: Shelly Reese. 8 Potent Ways to Attract Younger Patients and Why You Want Them - Medscape - Mar 07, 2018.