Idiopathic pulmonary fibrosis (IPF) is a progressive lung disorder of unknown etiology for which there is no effective therapy. Its course tends to be associated with acute exacerbations, each of which carries a very high risk for mortality. Such events respond only poorly to conventional therapy with high-dose systemic corticosteroids and/or broad-spectrum antibiotics.
Recent animal research suggests that azithromycin, a therapy that has shown benefit for acute exacerbations of chronic obstructive pulmonary disease (COPD) in humans, may also be beneficial in patients with acute exacerbations of IPF.[1]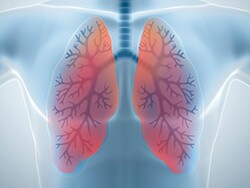 Study Summary
This study[2] prospectively explored the relative benefit of a fluoroquinolone-based antibiotic as treatment for an acute exacerbation of IPF, compared with a course of azithromycin (500 mg/day IV for 5 days). All patients also received methylprednisolone at 1000 mg/day for 3 days, which was followed by a tapered course.
The first 47 patients with acute exacerbation of IPF received conventional therapy and the subsequent 38 received the azithromycin course. Despite the methodologic irregularity, the two groups were statistically similar in terms of relevant characteristics (eg, age, sex).
The researchers reported that patients receiving azithromycin were significantly less likely to die compared with those receiving the fluoroquinolone (26% vs 70%, respectively; P < .001). A flow diagram showing the day-by-day probability of survival revealed a striking difference in mortalities that commenced within the first few weeks.
Among other outcomes, patients who received azithromycin never required mechanical ventilation, whereas that modality was required in six patients who received the fluoroquinolone-based antibiotic (P < .03).
Viewpoint
A major shortcoming of this study is that it was not randomized or double-blinded. This leads to concerns that the separate time periods when patients received either the usual therapy for acute IPF or azithromycin also may have included some changes in management or other significant differences. Without randomization, it is not possible to know.
The investigators conducted an earlier study with a similar design,[3] which they report showed comparable outcomes.[3] They also cite a previous study that used patient records from a nationwide Japanese database, which supported a role for the early use of azithromycin for IPF.[4]
A study of azithromycin in patients with COPD from 2011 also is of interest.[5] Its randomized, double-blind protocol did not commence with an acute exacerbation but rather during a nonacute period. Its principal finding was that the onset of the first acute exacerbation of IPF was significantly delayed, which would be entirely consistent with that of the present study.
These data are exciting when one considers the numerous treatments for IPF that have been studied and found wanting-a long list that includes pirfenidone, sildenafil, colchicine and prednisone, interferon-gamma, and bosentan.
One hopes, though, that another trial of azithromycin for IPF will employ a more traditional and conventional protocol.
ABSTRACT: https://www.medscape.com/medline/abstract/28629448
Follow Medscape on Twitter: @Medscape
Medscape Pulmonary Medicine © 2018 WebMD, LLC

Any views expressed above are the author's own and do not necessarily reflect the views of WebMD or Medscape.
Cite this: Nicholas J. Gross. Azithromycin: A New Treatment Hope for Idiopathic Pulmonary Fibrosis? - Medscape - Feb 23, 2018.