Two common species of bacteria and the biofilms they create have been identified as key oncogenic drivers in the process leading to colorectal cancer (CRC) in patients with familial adenomatous polyposis (FAP), and potentially sporadic forms of CRC as well, new research shows.
The identification of this pathway may give rise to targeted approaches that can eliminate oncogenic bacteria from the microbiome and allow for early blockade of or at least delay in the formation of colon cancer, investigators suggest.
"Colon cancer is considered a nearly completely preventable cancer, yet 50,000 people will die this year in the United States of colon cancer and over a 100,000 new cases will be diagnosed in the US this year alone," senior author, Cynthia Sears, MD, professor of medicine and researcher at the Johns Hopkins Kimmel Cancer Center's Bloomberg-Kimmel Institute, Baltimore, Maryland, told Medscape Medical News in an email.
"So if we want to blunt the burden of colon cancer, we must develop enhanced approaches to prevention that will be applicable not only in the US but across the globe, and we think that targeting specific bacteria and select aspects of the microbiome may help prevent colon cancer or at least help identify patients at increased risk for CRC who need closer clinical follow-up," she added.
The research was detailed in two complementary studies, one published February 2 in Science and one published online February 1 in Cell Host & Microbe.
As detailed primarily in the Science paper, Dr Sears and colleagues describe the pathway through which Escherichia coli and Bacteroides fragilis and the toxins they produce penetrate the normally protective mucosal layer in the colon, where they form a sticky biofilm adjacent to the epithelial cells that line the colon where colon cancer typically originates.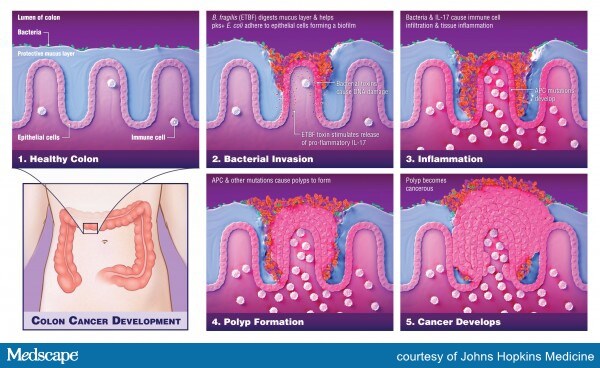 This team has previously reported that biofilms observed on normal mucosa in patients with sporadic CRC were oncogenic, which suggest that "biofilm formation is an important epithelial event influencing CRC," they observe.
To determine whether the same biofilm formation might also be an early initiating event in FAP tumorigenesis, the team compared the colonic mucosa of six patients with FAP to that of 20 patients undergoing screening colonoscopy or surgical resection.
Analysis revealed that all patients with FAP had evidence of bacterial invasion throughout the colonic mucosal layer and that approximately 70% of colon specimens collected from four of six patients with FAP was covered in patchy bacterial biofilms made up of E coli and B fragilis.
Moreover, these two bacterial species were detected in epithelial cell layers in all patients with evidence of patchy biofilms, suggesting that "E. coli and B. fragilis are frequent, persistent mucosal colonizers of the FAP gastrointestinal tract," the authors observe.
Carcinogenic Potential
Dissecting the carcinogenic potential of these two bacterial species further, Dr Sears and colleagues point out that the E coli strain identified in FAP biofilms secretes a substance called colibactin, which damages DNA and gives rise to DNA mutations.
More specifically, E coli contains the polyketide synthase (pks) genotoxic island that encodes the genes responsible for colibactin synthesis, a granular distinction that has important implications in the team's further analysis of FAP specimens.
The B fragilis strain identified in the same FAP biofilms turns out to be a subtype called ETBF, which unleashes oncogenic pathways in colonic epithelial cells and gives rise to inflammation.
Importantly, the tumorigenic potential of ETBF in FAP is promoted at least in part by the production of interleukin-17 (IL-17). The inflammatory potential of IL-17 to induce colon tumors is augmented by co-colonization with pks+ E coli.
Analyses indicate that over two thirds of the mucosa taken from patients with FAP was associated with pks+ E coli, while 60% was associated with ETBF.
This compares to only about 20% and 30%, respectively, of mucosa taken from healthy volunteers.
"The high frequency of pks+ E. coli and ETBF colonization in FAP colons highlights the importance of understanding the potential effects of simultaneously harboring these two carcinogenic bacteria," investigators observe.
The fact that it takes co-colonization with the two bacteria to give rise to tumorigenesis was confirmed by using two mouse models of colon cancer. One of the models used in the experiment expresses the same germline mutation in the Apc tumor suppressor gene that causes FAP.
In one of the mouse models, researchers demonstrated that mice co-colonized with pks+ E coli and ETBC had dramatic evidence of tumor induction, whereas those colonized with only one of the two bacterial strains developed few to no tumors.
Development of tumors in the Apc mouse model co-colonized with the same two bacterial strains was also associated with rapid weight loss and a significantly elevated mortality compared with a relatively normal lifespan for mice who were colonized with only one of the bacteria.
"Taken together, these data suggest that co-colonization with ETBF and pks+ E. coli, found in more than half of FAP patients (in contrast to less than 25% of controls), promotes enhanced carcinogenesis through two distinct but complementary steps," the researchers state.
The first step is the degradation of the colonic mucus by the B fragilis toxin, which then allows pks+ E coli to adhere to the colonic epithelial cell, where it induces damage by colibactin.
The second step is induction of inflammation by IL-17, largely produced by the ETBF strain; this is then augmented by co-colonization of pks+ E coli.
"Our findings suggest that only a few bacteria within the very complex microbiome may be early key triggers for pushing the development of colon cancer," Dr Sears confirmed.
"This could be very important for FAP patients because if additional work supports [the fact] that bacteria appear in the colon mucosa in FAP patients before onset of colon tumors, it may be possible to slow tumor development by getting rid of these bacteria in the colon and thus enable patients to avoid colectomy for a longer period of time," she concluded.
Funding was provided through a research agreement with Bristol-Myers Squibb Co-International Immuno- Oncology Network-IION Resource; Alexander and Margaret Stewart Trust; American Society of Colon and Rectal Surgeons; The Netherlands Organization for Scientific Research, and a grant from the Institute Mérieux. Dr Sears has disclosed no relevant financial relationships, although she is listed as one of the inventors on a patent application submitted by Johns Hopkins University that covers use of biofilm formation to define risk for colon cancer. The authors of the Cell Host & Microbe report have disclosed no relevant financial relationships.
Science. 2018;359:592-597. Abstract
Cell Host Microbe. Published online February 1, 2018. Abstract
For more from Medscape Oncology, follow us on Twitter: @MedscapeOnc
Medscape Medical News © 2018

Cite this: Bacteria Identified as Oncogenic Drivers in Hereditary Cancer - Medscape - Feb 05, 2018.