Clinical Presentation
A 67-year-old woman presents with painless diplopia in left gaze.
Two months ago, she underwent endoscopic sinus surgery (ESS) involving the paranasal sinuses, during which her surgeon noted seeing orbital fat. Postoperatively, she had no problems with her vision until days later. She also notes a slightly sunken appearance of her left periorbital area. She denies any symptoms suggestive of giant cell arteritis or myasthenia gravis.
She has a history of allergic sinus disease, hypertension, diabetes, asthma, and thyroidectomy. She has a family history of cataracts, glaucoma, diabetes, and hypertension. She has never smoked.
Corrected visual acuity is 20/20 in the right eye and 20/30 in the left eye. Intraocular pressure measures 12 mm Hg bilaterally. Pupils are equal and react briskly with no relative afferent pupillary defect. A possible deficit in abduction of the left eye is noted but cannot be consistently elicited. All other extraocular movements are normal. With alternate cover testing, she has an 8 prism diopter esotropia in left gaze but is otherwise orthotropic.
Amsler grid testing shows no distortions, and color vision testing with Ishihara pseudoisochromatic plates is 10/10 in each eye. Slit-lamp examination reveals nuclear sclerosis in both lenses. Funduscopy shows no abnormalities in either eye.
CT of the orbits with and without contrast shows a hyperdense area near the medial aspect of the left orbit consistent with orbital tissue entering the left ethmoid paranasal sinus (Figure).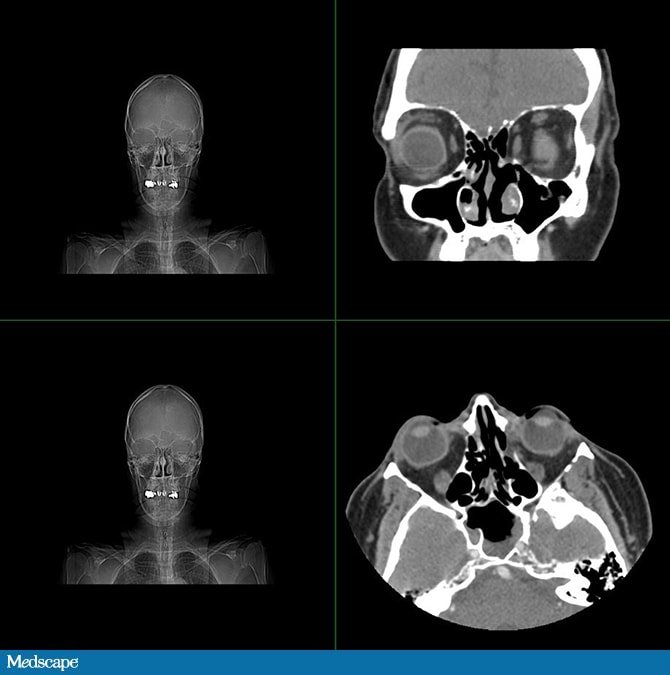 Figure. CT scan (top coronal images, bottom axial images) with and without contrast.
Medscape Ophthalmology © 2018 WebMD, LLC

Any views expressed above are the author's own and do not necessarily reflect the views of WebMD or Medscape.
Cite this: A 67-Year-Old Woman With Diplopia After Sinus Surgery - Medscape - Jan 18, 2018.