An antimuscarinic agent used to treat urinary incontinence improves sleep quality as well as bladder symptoms in older women, new research shows.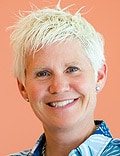 "As people age, sleep disturbances become much more common, and incontinence becomes more common, so if we have a medication that can possibly treat both, or at least by helping incontinence also help sleep, that's a tremendous benefit to patients," author Leslee L. Subak, MD, professor and chair of obstetrics and gynecology, Stanford University School of Medicine, California, told Medscape Medical News.
The study was published online January 11 in Obstetrics & Gynecology.
Calms the Brain
The study was a secondary analysis of data from Bringing Simple Urge Incontinence Diagnosis and Treatment to Providers (BRIDGES), a 12-week randomized, double-blind, placebo-controlled clinical trial of fesoterodine, an antimuscarinic therapy, in ambulatory women who self-diagnosed urgency urinary incontinence (UUI).
UUI, a condition in which the bladder muscles contract uncontrollably, can be characterized by urinary frequency, excessive nighttime urination, a sudden urge to urinate, and accidental leaks. It's 5 to 10 times more common among women than men.
Antimuscarinic medications, such as fesoterodine, help control urination by inhibiting the activity of muscarinic acetylcholine receptors. These agents "block those receptors so the bladder remains calmer," said Dr Subak.
Fesoterodine is an oral medication taken once daily. It's very commonly prescribed for overactive bladder and urgency incontinence, said Dr Subak.
In the BRIDGES multicenter trial, women were randomly assigned to placebo or to the antimuscarinic medication at a minimum dose of 4 mg and a maximum of 8 mg daily. The mean age of patients was about 56 years, and two thirds of them were white.
The two groups were similar at baseline in terms of demographics and measures of incontinence and sleep quality.
The current analysis included 270 women in the placebo group and 277 in the treatment group.
A primary outcome was change in the Pittsburgh Sleep Quality Index (PSQI), a self-rated questionnaire that evaluates sleep quality over the past month.
The PSQI consists of 19 items weighted on a 0 to 3 scale, with a global score calculated by totaling seven component scores. This provides an overall score ranging from 0 to 21, with lower scores indicating better sleep quality.
Another primary outcome was daytime sleepiness, as assessed with the Epworth Sleepiness Scale (ESS), which consists of eight items measuring the likelihood of dozing or falling asleep during common daily activities, such as reading or watching TV. These are rated on a scale of 0 to 3, with lower scores indicating less sleepiness.
Patients kept a diary in which they recorded each time they voided in the toilet and leaked urine and rated the severity of urgency associated with each void or incontinence episode.
Daytime Sleepiness
The study showed improvement in both groups for several sleep measures. But women receiving antimuscarinic therapy reported significantly improved PSQI total scores compared with those receiving placebo (difference, 0.48; 95% confidence interval [CI], 0.08 - 0.89 [P = .02] after adjustment for age, race, ethnicity, clinical site, and severity of incontinence).
Compared with women receiving placebo, those in the treatment group reported significantly greater improvement on the PSQI sleep duration subscale (difference, 0.14; 95% CI, 0.03 - 0.24; P = .009) and the PSQI sleep efficiency subscale (difference, 0.17; 95% CI, 0.03 - 0.31; P = .02).
However, some PSQI scores, for example, the score for need for sleep medication, did not improve. The authors noted that patients may use sleep medications out of habit, and their use may not be directly affected by improved sleep.
There was no significant difference in ESS scores between the two groups (P = .39). It's not clear why the medication would improve sleep quality but not reduce daytime sleepiness, said Dr Subak.
"It may be that this is a population of middle-aged and older women, and they may be used to being slightly sleep deprived and have a stable level of daytime sleepiness."
The two groups also had improvements in incontinence. However, women in the treatment group had a significantly greater decrease in total incontinence, urgency incontinence, and nighttime incontinence.
In addition to reducing incontinence symptoms, the medication could improve sleep because of its sedating effect. "Antimuscarinic and anticholinergic medications can produce somnolence," said Dr Subak.
In light of this new research, sleep medicine specialists should consider the impact of bladder problems on sleep dysfunction, she said.
"They should think more holistically about the effect of other organs on sleep, the bladder being one that we find to be highly correlated with sleep dysfunction," she said.
Common Sense
Commenting on the study for Medscape Medical News, Douglas Kirsch, MD, medical director, Carolinas HealthCare Sleep Medicine, clinical associate professor, Department of Medicine, UNC School of Medicine, Chapel Hill, North Carolina, and president-elect, American Academy of Sleep Medicine, said the results make sense.
"The study confirms a common sense, but unproven, theory: that better control of urinary incontinence symptoms leads to less disrupted sleep."
Dr Kirsch pointed out that patients in the study were generally not very sleepy during the day to begin with. Baseline Expanded Disability Status Scale scores for the placebo and treatment groups were 6.71 and 6.47, respectively, with values of greater than 10 indicating significant sleepiness.
So he wasn't surprised that the scores didn't change a lot at the end of the study. "There wasn't much room for improvement in terms of daytime sleepiness," he said.
"This finding demonstrates that there is not always a clear correlation between sleep disruption and daytime sleepiness."
Although generally well designed, the study did have some identified "holes," including not assessing for underlying sleep disorders, such as obstructive sleep apnea, said Dr Kirsch.
"As well, there was not an objective measurement of sleep, such as actigraphy, which could have been helpful in demonstrating improvements in sleep quality."
Pfizer Inc provided funding for the study and the study medication. Dr Subak reports she has received research grants from Astellas Inc and was supported by a grant from the US National Institutes of Health. Dr Kirsch has disclosed no relevant financial relationships.
Obstet Gynecol. Published online January 11, 2018. Abstract
For more Medscape Neurology news, join us on Facebook and Twitter
Medscape Medical News © 2018

Cite this: Incontinence Drug May Help Sleep Dysfunction in Older Women - Medscape - Jan 11, 2018.