How Twitter Is Reshaping the Medical Conference
When the social networking site Twitter was introduced in 2006, it was mostly a way for friends to have conversations. Its scope and reach have vastly increased, and now, Twitter is reshaping the medical conference, as well as communication in general. Doctors around the world use Twitter to attend presentations virtually.
But can physicians get in trouble by tweeting from conventions? Are some doctors getting too eager to release embargoed or confidential information?
Might Doctors Jeopardize Their Colleagues' Work?
Some host organizations suggest that Twitter users are improperly taking information that is the intellectual property of the presenters. The American Academy of Family Physicians (AAFP) states that sharing data at meetings "may preclude subsequent publication of the data in a scholarly journal. Please do not jeopardize your colleagues' work!"[1]
Kevin Campbell, MD, a cardiologist in North Carolina, says this fear is unfounded. "To my knowledge, tweeting does not affect any prior publication rules," he says. "There are, as yet, no examples of this happening."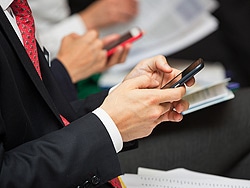 In fact, the New England Journal of Medicine, which once refused publishing findings that were aired elsewhere under its "Ingelfinger rule," has loosened that rule over the years and now accommodates Twitter.
The journal even allows tweeting photos of presenters' slides, the focus of many concerns about live tweeting at meetings. The concern is that slides show a great deal more proprietary information than could be revealed just by typing the information and trying to fit it into a tweet.
The New England Journal of Medicine states at the end of articles, "Online posting of an audio or video recording of an oral presentation at a medical meeting, with selected slides from the presentation, is not considered prior publication."[2]
Some conference hosts have asserted that the federal Copyright Act, which protects intellectual property from being appropriated by others, exposes Twitter use to infringement lawsuits on behalf of the presenters.
There haven't been any precedent-setting court rulings yet on how the law affects Twitter use, but the Copyright Act's "fair use" doctrine does protect such purposes as "criticism, comment, news reporting, teaching, scholarship or research" from lawsuits.[3] And of course, information presented at a medical conference has a lot to do with "scholarship or research."
Furthermore, Twitter proponents argue that disseminating information that could save patients' lives is a reason in itself to allow the fair use exemption. "Our patients depend on us to work together to facilitate breakthroughs," Dr Campbell says.
Whatever the courts will say, many Twitter users think it will be hard to preserve any sort of confidentiality at medical conferences. "In this era of nearly ubiquitous, instantaneous sharing of online information, it is probably not realistic to expect that physicians attending a large conference keep information confidential," writes Deanna J. Attai, MD, a surgeon and prominent Twitter user at the University of California, Los Angeles.[4]
Medscape Business of Medicine © 2018 WebMD, LLC

Any views expressed above are the author's own and do not necessarily reflect the views of WebMD or Medscape.
Cite this: Leigh Page. Are Doctors Causing Trouble by Tweeting at Conventions? - Medscape - Jan 10, 2018.