Canagliflozin (INVOKANA®)
For more on this Drug Safety Labeling Change, click here.
For full prescribing information, click here.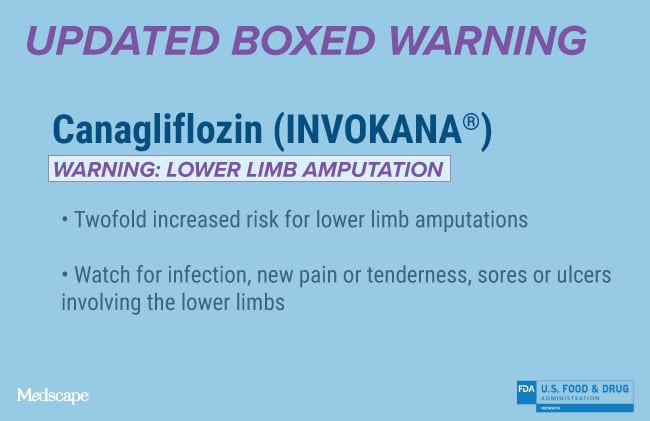 Updated Boxed Warning
WARNING: LOWER LIMB AMPUTATION
An approximately twofold increased risk of lower limb amputations associated with INVOKANA use was observed in CANVAS and CANVAS-R, two large, randomized, placebo-controlled trials in patients with type 2 diabetes who had established cardiovascular disease (CVD) or were at risk for CVD.

Amputations of the toe and midfoot were most frequent; however, amputations involving the leg were also observed. Some patients had multiple amputations, some involving both limbs.

Before initiating, consider factors that may increase the risk of amputation, such as a history of prior amputation, peripheral vascular disease, neuropathy, and diabetic foot ulcers.

Monitor patients receiving INVOKANA for infection, new pain or tenderness, sores or ulcers involving the lower limbs, and discontinue if these complications occur.
Public Information from the FDA and Medscape
Information provided by FDA and/or its employees on this website is for educational purposes only, and does not constitute medical advice. Any statement or advice given by an FDA employee on this website does not represent the formal position of FDA. FDA and/or any FDA employee will not be liable for injury or other damages resulting to any individuals who view FDA-related materials on this website.
Cite this: Drug Safety Warnings and Updates: July-September 2017 - Medscape - Jan 03, 2018.