Lamivudine (EPIVIR-HBV)
For more on this Drug Safety Labeling Change, click here and here.
For full prescribing information, click here.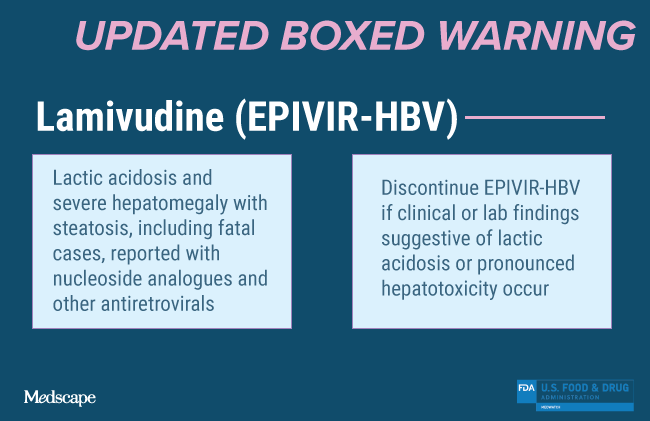 Updated Boxed Warning
WARNING: LACTIC ACIDOSIS AND SEVERE HEPATOMEGALY WITH STEATOSIS, EXACERBATIONS OF HEPATITIS B, and RISK OF HIV-1 RESISTANCE IF EPIVIR-HBV IS USED IN PATIENTS WITH UNRECOGNIZED OR UNTREATED HIV-1 INFECTION
Lactic acidosis and severe hepatomegaly with steatosis, including fatal cases, have been reported with the use of nucleoside analogues and other antiretrovirals. Discontinue EPIVIR-HBV if clinical or laboratory findings suggestive of lactic acidosis or pronounced hepatotoxicity occur.
Severe acute exacerbations of hepatitis B have been reported in patients who have discontinued anti-hepatitis B therapy (including EPIVIR-HBV). Hepatic function should be monitored closely with both clinical and laboratory follow-up for at least several months in patients who discontinue anti-hepatitis B therapy. If appropriate, initiation of anti-hepatitis B therapy may be warranted.
EPIVIR-HBV is not approved for the treatment of HIV-1 infection because the lamivudine dosage in EPIVIR-HBV is subtherapeutic and monotherapy is inappropriate for the treatment of HIV-1 infection. HIV-1 resistance may emerge in chronic hepatitis B-infected patients with unrecognized or untreated HIV-1 infection. HIV counseling and testing should be offered to all patients before beginning treatment with EPIVIR-HBV and periodically during treatment.
Public Information from the FDA and Medscape
Information provided by FDA and/or its employees on this website is for educational purposes only, and does not constitute medical advice. Any statement or advice given by an FDA employee on this website does not represent the formal position of FDA. FDA and/or any FDA employee will not be liable for injury or other damages resulting to any individuals who view FDA-related materials on this website.
Cite this: Drug Safety Warnings and Updates: July-September 2017 - Medscape - Jan 03, 2018.