Meperidine hydrochloride (Demerol™)
For more on this Drug Safety Labeling Change, click here.
For full prescribing information, click here.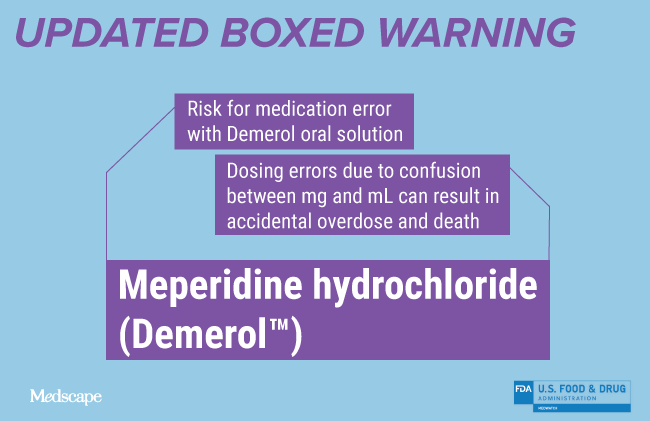 Updated Boxed Warning
Risk of Medication Errors
Ensure accuracy when prescribing, dispensing, and administering Demerol oral solution. Dosing errors due to confusion between mg and mL, and other meperidine hydrochloride oral solutions of different concentrations can result in accidental overdose and death.
Public Information from the FDA and Medscape
Information provided by FDA and/or its employees on this website is for educational purposes only, and does not constitute medical advice. Any statement or advice given by an FDA employee on this website does not represent the formal position of FDA. FDA and/or any FDA employee will not be liable for injury or other damages resulting to any individuals who view FDA-related materials on this website.
Cite this: Drug Safety Warnings and Updates: July-September 2017 - Medscape - Jan 03, 2018.