Daclizumab (ZINBRYTA®)
For more on this Drug Safety Labeling Change, click here.
For full prescribing information, click here.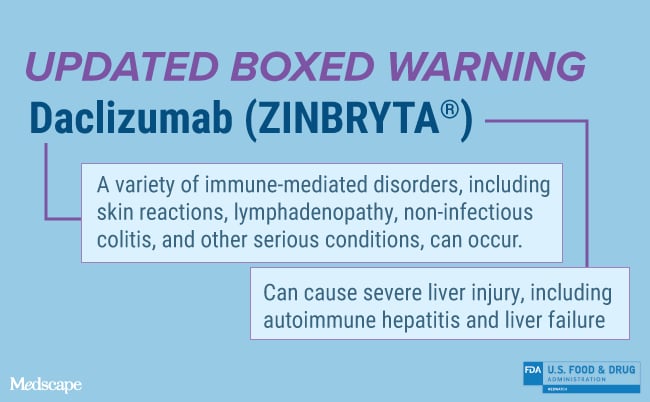 Updated Boxed Warning
Hepatic Injury Including Autoimmune Hepatitis
ZINBRYTA can cause severe liver injury, including autoimmune hepatitis and liver failure. Fatal cases have occurred. Liver injury, including autoimmune hepatitis and acute liver failure, can occur at any time during treatment with ZINBRYTA, with cases reported up to 5 months after the last dose of ZINBRYTA.
Other Immune-Mediated Disorders
In addition to autoimmune hepatitis, a variety of immune-mediated disorders, including skin reactions, lymphadenopathy, non-infectious colitis, and other serious conditions, can occur in patients treated with ZINBRYTA. Overall, serious immune-mediated disorders were observed in 5% of patients treated with ZINBRYTA.
Public Information from the FDA and Medscape
Information provided by FDA and/or its employees on this website is for educational purposes only, and does not constitute medical advice. Any statement or advice given by an FDA employee on this website does not represent the formal position of FDA. FDA and/or any FDA employee will not be liable for injury or other damages resulting to any individuals who view FDA-related materials on this website.
Cite this: Drug Safety Warnings and Updates: July-September 2017 - Medscape - Jan 03, 2018.