ATLANTA ― Brentuximab vedotin (Adcetris, Seattle Genetics) has already made an impact on the management of relapsed/refractory Hodgkin's lymphoma (r/r HL), but now it looks poised to be used earlier in the disease course.
Data from the ECHELON-1 study, reported here at a plenary session of the American Society of Hematology (ASH) 2017 Annual Meeting, suggest that the drug can be integrated into the frontline management of patients with advanced HL.
Patients with stage III or IV HL who received frontline therapy with brentuximab vedotin in combination with a three-drug chemotherapy regimen (AVD: doxorubicin, vinblastine, and dacarbazine) were found to have a 23% significantly reduced risk for progression, death, or the need for additional therapy, compared with those who received the standard four-drug regimen (ABVD: doxorubicin, bleomycin, vinblastine, and dacarbazine).
"The study results represent the first successful effort in more than 30 years to improve outcomes of first-line treatment in patients with advanced HL without escalating the toxicity of the chemotherapy to unacceptable levels," said lead study author Joseph M. Connors, MD, clinical director of the British Columbia Cancer Agency Center for Lymphoid Cancer in Vancouver, Canada, in an ASH news release.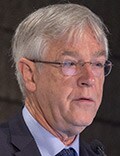 "We expect ABVD to cure about three quarters of patients ― which means, of course, that one quarter will not be cured," Dr Connors explained. "In this study, we've been able to significantly reduce that rate of treatment failure. If this new regimen is widely adopted, it will change first-line treatment of advanced HL," he said.
To coincide with its ASH presentation, ECHELON-1 was simultaneously published online December 10 in the New England Journal of Medicine.
Questions About the Study
However, an expert who was approached for comment had several questions about the study. Nadia Khan, MD, of the Lymphoma and CLL Cancer Translational Research Disease Group at the Fox Chase Cancer Center in Philadelphia, Pennsylvania, told Medscape Medical News that this study was set up to eliminate the toxicity of bleomycin from the ABVD regimen, which is already done in clinical practice. "Due to pulmonary toxicity, bleomycin is an agent that we will be happy to forgo whenever possible," she said.
Dr Khan pointed out that the current clinical management of HL is guided by the results of an interim PET scan after two cycles of ABVD. "Eighty percent of patients will have a negative interim PET result at this point," she said. These patients then receive four subsequent cycles of AVD ― without bleomycin.
She explained that this management approach was prompted by results from the RATHL trial (Response-Adapted Therapy for Advanced Hodgkin Lymphoma), in which patients for whom bleomycin was withheld after a negative interim PET scan were found to retain clinical benefits with reduced toxicity.
Dr Khan had other questions: Does the brentuximab + AVD regimen improve the cure rate? She also echoed a concern that was raised by an attendee at the Q&A session following the presentation. In the clinical management of r/r HL, brentuximab vedotin is a go-to therapy. It is used in the salvage setting and as bridge to transplant. If brentuximab vedotin is used up front, will clinicians still be able to use it in the salvage setting or as bridge therapy? Currently, there are no answers to these questions, Dr Khan explained.
In his introductory remarks at the plenary session, George P. Canellos, MD, of the Dana-Farber Cancer Institute in Boston, Massachusetts, summarized the impressive results seen with brentuximab in r/r HL. He noted that of the many regimens that have been tried in an attempt to improve the results seen with the current standard of care, ABVD, none has led to an improvement in overall survival.
Dr Canellos indicated that in comparing a new regimen with ABVD, several points need to be addressed: overall survival, duration of follow-up, toxicity, and cost, which includes not only the cost of the drug but also the cost of all the supportive care that is needed.
At the Q&A session, cost was also of concern. One attendee questioned whether the data justify the cost of a new drug, which will be more than $100,000. In contrast, the cost of ABVD is $4000. Dr Connors said those questions need to be addressed in a pharmacoeconomic analysis after the efficacy of the regimen is established.
ECHELON-1 Results
ECHELON-1 is a phase 3, open-label, randomized, multicenter study that enrolled 1334 previously untreated patients with stage III (36%) or IV (64%) HL. Patients were randomly allocated to receive brentuximab + AVD (n = 664) or ABVD (n = 670). The regimens were given on days 1 and 15 of up to six 28-day cycles. Brentuximab vedotin was given at an intravenous dose of 1.2 mg/kg; all other drugs were given at standard doses used in clinical practice.
The primary endpoint of the study was modified progression-free survival (PFS), as determined by independent review. This endpoint was defined as the time to disease progression, death, or modified progression. Modified progression was defined as evidence of noncomplete response after completion of frontline therapy followed by subsequent anticancer therapy. "Treatment was deemed to have failed if patients' lymphoma did not completely disappear or if its persistence prompted additional nonstudy treatment," Dr Connors explained.
ECHELON-1 met its primary endpoint. With a median follow-up of 24.9 months, 117 events occurred in patients in the brentuximab + AVD arm (90 patients experienced progression, 18 deaths occurred, and nine patients experienced modified progression); 146 events occurred in patients on ABVD (102 cases of progression, 22 deaths, and 22 cases of modified progression). The hazard ratio (HR) for PFS was 0.77 (95% confidence interval [CI], 0.603 - 0.982; P = .007).
With 28 deaths among patients who received brentuximab + AVD and 39 deaths among those who received ABVD, overall survival was not significantly different in the two arms (HR, 0.72; P = .19). "The final overall analysis is planned after 112 deaths," Dr Connors said. "The trend is in favor of the experimental arm," he added.
Response rates were not significantly different. Complete responses at the end of the randomized regimen were seen in 73% of patients taking brentuximab + AVD and in 71% of patients taking ABVD (P = .22); overall response rates were 86% and 83% (P = .22).
Dr Connors pointed out that 33% fewer patients taking brentuximab + AVD received subsequent chemotherapy or high-dose chemotherapy and transplant.
With respect to safety, the incidence of neutropenia was higher in the brentuximab + AVD arm of the study. In patients not receiving G-CSF prophylaxis, neutropenia rates were 73%, compared with 57% for patients receiving ABVD. In patients who received G-CSF, corresponding rates were 35% and 21%. Dr Connors recommended that G-CSF be used in all patients.
The pattern was similar for febrile neutropenia. For brentuximab + AVD, incidence rates without and with prophylaxis were 21% and 11%, respectively. For ABVD, corresponding rates were 8% and 7%, respectively.
The rate of peripheral neuropathy, which resolved or improved over time, was higher with brentuximab + AVD (67% vs 43% for ABVD), as was grade 3/4 peripheral neuropathy (11% vs 2% with ABVD).
However, the rate of pulmonary toxicity was lower in patients receiving brentuximab + AVD (all grade: 2% vs 7% for ABVD; grade 3/4: <1% vs 3% for ABVD). Bleomycin is associated with pulmonary toxicity, and eliminating bleomycin from the four-drug regimen decreased this toxicity, Dr Connors noted.
The study was funded by Millenium Pharmaceuticals and Seattle Genetics. Detailed disclosures of conflict of interest are listed at the end of the abstract. Dr Connors has received research funding from Genentech, Janssen, NanoString Technologies, Merck, F. Hoffmann-LaRoche, Cephalon, Seattle Genetics, Bayer Healthcare, Bristol-Myers Squibb, Takeda, Lilly, and Amgen. Several ECHELON-1 study authors are employees of Seattle Genetics, Millenium Pharmaceuticals (a Takeda subsidiary), or Unum Therapeutics Inc. Dr Khan serves on the advisory board for AbbVie.
American Society of Hematology (ASH) 2017 Annual Meeting. Abstract 6, presented December 10, 2017.
N Engl J Med. Published online December 10, 2017. Full text
Medscape Medical News © 2017

Cite this: First in 30 Years: Improved Front Line in Hodgkin's Lymphoma - Medscape - Dec 11, 2017.