Save Livers, Save Lives
Those of us involved in liver transplantation programs are constantly faced with an inadequate number of donor livers for our patients on the waiting list. This represents the major factor limiting the number of transplants and contributes to waiting-list mortality.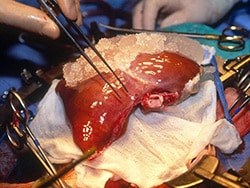 At this year's Liver Meeting, we were pleased to hear of the success of a number of somewhat interrelated strategies designed to achieve a better balance between organ supply and demand. The first strategy was reducing the demand through more effective treatment of liver disease, whereas the second relies on expanding the supply of donor organs via the use of livers that would have been previously discarded and the increased use of technical variant grafts, specifically "split" livers (in which the organ is divided and transplanted into two recipients).
Reducing the Demand
Waiting-List Data in a New Treatment Era
Decreasing the number of patients with treatable or preventable forms of liver injury would in turn increase the number of donated organs available for patients with other forms of liver injury. For example, direct-acting antivirals (DAAs) have successfully reduced the burden of disease related to hepatitis C virus (HCV) and the rate of progression of HCV-mediated hepatic injury. As a result, there has been a decrease in the need for transplantation and liver transplantation waiting-list mortality for patients with HCV.
Two studies compared liver transplant waiting-list registration trends and survival among adults in the United States with chronic HCV prior to and following the availability of DAA agents.
Using the United Network for Organ Sharing (UNOS) database, Cholankeril and colleagues[1] analyzed waiting-list outcomes in those initially listed during the 36 months before DAAs (pre-DAA) and after the approval of second-generation DAAs (the DAA era). From November 2010 to December 2016, the percentage of waiting-list additions with HCV declined 35% in the DAA era (34% for pre-DAA vs 22% for DAA). Moreover, a significant decline in monthly waiting-list additions for patients with HCV was seen in the DAA era. There was a 16% reduction in the risk for 90-day waiting-list mortality among patients with chronic HCV.
Young and colleagues[2] also noted a decrease in waiting-list additions of patients with chronic HCV after the introduction of DAAs. They reported that liver transplant waiting-list survival among HCV-infected patients is significantly higher with the availability of DAAs. These studies concluded that US national trends in liver transplant waiting-list additions and mortality have clearly improved with the widespread use of DAA agents, thereby reducing the previous burden of HCV on the liver transplant allocation system.
Other Ways to Reduce Demand
DAA-led eradication of HCV has further reduced the need for liver transplants by lessening the risk for hepatocellular carcinoma (HCC).
Ioannou and colleagues[3] identified 62,051 patients in the Veterans Affairs national healthcare system from 1999 to 2015 who underwent a total of 83,695 antiviral treatment regimens (57% received interferon only, 43% received DAAs with or without interferon, and 35% received DAAs only). During a follow-up period ranging from 2 to 18 years, they detected 3271 incident cases of HCC diagnosed at least 180 days after initiation of antiviral treatment.
The incidence of HCC was highest in patients with cirrhosis who failed DAA treatment, followed by those with cirrhosis who were successfully treated or those without cirrhosis and treatment failure. The incidence was lowest among those with no cirrhosis achieving HCV clearance or sustained virologic response (SVR). Achieving an SVR was associated with a similar and significantly decreased risk for HCC (52%-71%), irrespective of the antiviral treatment. The investigators cautioned that patients infected with HCV may have developed cirrhosis or advanced fibrosis before HCV was eradicated, which places them at risk for liver cancer even after successful treatment.
The bottom line is that more patients with HCV are now cured before they develop HCC or reach the need for transplant, and other patients with HCV are able to be removed from the transplant waiting list following cure of HCV.
Another potential benefit of peritransplant DAA therapy is related to graft failure. Historically, there has been a high rate (30%-40%) of graft failure in patients with HCV. When transplanted grafts are lost, another transplant is needed; therefore, a reduction in graft failure rates would allow more organs to become available for other patients.
Cholankeril and colleagues[4] studied the impact of DAA availability on short-term survival rate following liver transplantation, also using the UNOS database. Kaplan-Meier survival analysis was performed to compare posttransplant survival before and after 2014, when DAA agents were approved in the United States. From 2010 to 2016, of 11,223 liver transplant recipients with HCV, the overall 1-year posttransplant survival rate increased 5% to 93% in 2016 and was significantly higher among HCV transplant recipients during the DAA era (89% for pre-DAA vs 92% for DAA). In the pre-DAA era, 6% of patients with HCV experienced acute graft failure, which the investigators assumed was largely a result of HCV infection; this was significantly higher than the 4% rate among uninfected patients.
Medscape Gastroenterology © 2017 WebMD, LLC

Any views expressed above are the author's own and do not necessarily reflect the views of WebMD or Medscape.
Cite this: Reduced Demand, Increased Supply: Innovations Are Brightening Liver Transplantation Outcomes - Medscape - Dec 04, 2017.