Risks Posed by Herbal and Dietary Supplements
In light of new findings reporting hepatotoxicity and acute liver injury due to an expanding spectrum of drugs and herbal products, it is increasingly clear that unregulated dietary supplements pose a risk to consumers. Unlabeled ingredients in various compounds can cause hepatic injury, especially in bodybuilding or weight-loss products. These supplements are not regulated via the same process used for drugs, and they are not tested for safety. In addition, the contents of these unregulated products are often unknown to the patient.
Several presentations at this year's Liver Meeting served to highlight the incidence, increase awareness, and define the risk of these potential hepatotoxins.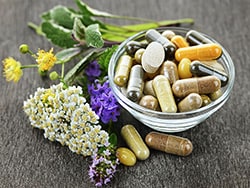 Barring a requirement for US Food and Drug Administration oversight and approval, herbal and dietary supplements could be mislabeled or contain unlabeled ingredients, such as chemical and microbial contaminants, pharmaceutical adulterants, or other compounds with known hepatotoxic potential.
Navarro and colleagues[1] analyzed the contents and determined the frequency of mislabeling in over 340 supplement samples collected in a prospective study conducted by the Drug-Induced Liver Injury Network (DILIN) over their 12 years of existence. The network documented drug-induced liver injury (DILI) in approximately 1800 patients, of whom 375 reported ingesting dietary supplements for which they contributed samples for analysis. The ingredients of each product, as determined through chemical analysis (liquid chromatography and mass spectrometry), were compared with the ingredients listed on the product label.
Mislabeling was frequently detected; in fact, only 44% of the supplements had labels that accurately reflected the contents detected. In addition, the products were found to contain hepatotoxins, such as anabolic steroids or pharmaceuticals.
The authors reported that mislabeling rates were 80% for steroidal products, 54% for vitamin supplements, and 48% for botanical ingredients. On the basis of the purported use, mislabeling rates were most common for products used for bodybuilding (79%), weight loss (72%), "energy boost" (60%), and general health/well-being (51%). Similar rates of mislabeling were found for the products judged to be responsible for liver injury by DILIN investigators through a structured causality assessment process (the Roussel Uclaf causality assessment method [RUCAM]).
Medscape Gastroenterology © 2017 WebMD, LLC

Any views expressed above are the author's own and do not necessarily reflect the views of WebMD or Medscape.
Cite this: Suspect Supplements: Unregulated OTC Meds and Liver Injury - Medscape - Nov 30, 2017.