When Chera Kowalski saw more and more people with opioid addictions overdosing in the bathroom and on the benches by the front door of the library where she works, she became convinced that she and her colleagues could do more to serve their community.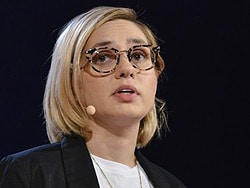 Kowalski and the library staff advocated for training on the administration of naloxone, which rapidly reverses an opioid overdose. In February, they received training from Prevention Point Philadelphia and, 1 month later, Kowalski saved a life.
"What we think of as community support takes on new urgency when you're in the middle of an opioid and overdose crisis," she said at TEDMED 2017 in Palm Springs, California.
The McPherson Square Branch of the Free Library of Philadelphia is in Kensington, one of the lowest-income neighborhoods of Philadelphia. The library is situated in a park widely known as a place to buy and use cheap heroin. Staff could tell by patrons' identification cards that people were starting to come from many states away.
Kowalski said that once a toilet was so clogged — it was full of dirty needles — that they had to shut the library down for 2 days. The number of needles collected by security staff around the front steps and playground grew to nearly 1000 a month, she reported.
Born to Addicted Parents
Kowalski chose to work at the McPherson branch when she was hired in 2013 because, as a child of two parents who started using heroin before she was born — but are now maintaining recovery from their addictions — she knew the despair that drug dependence can bring.
"Every time we were dropped off at my grandparents' house, I would be stuck with the thought that I'd never see them again," she said.
She is one of the people trying to reduce overdose deaths in a crisis that killed an estimated 64,000 people in the United States last year, according to the Centers for Disease Control and Prevention, which far exceeds the number killed in car crashes or homicides.
Other libraries have asked the McPherson branch for help getting their administrations on board, Kowalski told Medscape Medical News. Libraries are expanding the scope of service, and already help with employment, tax-form completion, and even free meals.
But there has been some pushback from critics who say that overdose prevention is not something libraries should get involved in, she reported.
To that she says, "To deny somebody life is beyond comprehension to me. Would we let someone with cancer just die?" Her talk was followed by a standing ovation.
"Chera Kowalski is one of those health heroes and health leaders who saw a problem in her community and saw an approach that others hadn't been thinking about," said panel moderator Rich Besser, MD, president and chief executive officer of the Robert Wood Johnson Foundation.
"It's Not Just People With Degrees in Health"
"You're seeing people stand up from all different kinds of backgrounds," Dr Besser said. "It's not just people who have degrees in health. It's not just traditional healthcare providers. It's everybody in communities looking at this problem and saying, 'How do we get our arms around it?'"
Harm reduction has worked in Vancouver, Canada, Mark Tyndall, MD, an epidemiologist and medical director of the UBC Centre for Disease Control, said during his TEDMED talk.
In 1997, in response to rampant drug use, poverty, violence, and soaring rates of HIV, Vancouver declared a public health emergency, which opened the door for harm-reduction programs, increasing access to methadone, providing clean needles, and opening safe injection sites, he said.
"Twenty years later, harm reduction is still viewed as some sort of radical concept. Recent proposals for supervised injection sites in cities like Seattle, Baltimore, and New York have been met with severe opposition," which goes against everything we know about addiction, he explained.
Critics say that harm reduction doesn't stop people from using. "Actually, that is the whole point," he said. "After every criminal and societal sanction that we can come up with, people still use drugs, and far too many die."
"We Must Keep People Alive"
If recovery is ever to happen, "we must keep people alive," Dr Tyndall pointed out.
In December 2016, because of the overdose crisis, the provincial government allowed overdose-prevention sites to open, essentially ignoring the federal approval process. Community groups opened 22 sites across British Columbia.
"Virtually overnight, thousands of people could use drugs under supervision, hundreds of overdoses were reversed with naloxone, and nobody died," he reported.
More law enforcement is not the answer. "Criminalization is just a way to institutionalize stigma," Dr Tyndall said. "Making drugs illegal does nothing to stop people from using them."
Society sees drug use as a personal failing, he pointed out, but most drug use is a product of abuse, trauma, poverty, or mental illness. And users avoid the health system because they know their supply will be interrupted and they will be asked questions that expose their shame.
The current medical approach to drug use is broken. "Starting with abstinence is like asking a new diabetic to quit sugar or a severe asthmatic to start running marathons or a depressed person to just be happy. For any other medical condition, we would never start with the most extreme option."
Harm reduction is just the start. "We need to have a serious conversation about prohibition and criminal punishment. We need to recognize that drug use is, first and foremost, a public health issue," Dr Tyndall said.
TEDMED 2017. Presented November 2 (Kowalski) and November 3 (Tyndall), 2017.
Follow Medscape on Twitter @Medscape and Marcia Frellick @mfrellick
Medscape Medical News © 2017 WebMD, LLC

Send comments and news tips to news@medscape.net.
Cite this: Librarians See New Patron Need: Naloxone - Medscape - Nov 09, 2017.