Influenza Vaccines and Older Adults
Many older adults today may feel young at heart, but the truth is that adults aged 65 years or older account for more than one half (50%-70%) of all flu-related hospitalizations and most (85%) flu-related deaths.[1]
Despite the risks that influenza poses for older adults, recently released data from the Centers for Disease Control and Prevention (CDC) show that vaccination rates have remained mostly stagnant over the past 5 years. Rates increased by 1.9% in the 2016-2017 season to 65.3% among those aged 65 years or older, but coverage still remains below US public health goals. The Advisory Committee on Immunization Practices (ACIP) and the CDC continue to recommend routine annual influenza vaccination for all individuals aged 6 months or older, with licensed, injectable age-appropriate influenza vaccines. This season, there is no preferential recommendation for one injectable influenza vaccine product over another.
For adults aged 65 years or older, safe and effective influenza vaccines, licensed specifically for this age group by the US Food and Drug Administration, are available for the 2017-2018 season. The age-related weakening of immunity reduces responsiveness to the standard influenza vaccines. As such, these vaccines, including high-dose and adjuvanted formulations, are designed to provide protection against influenza in older adults by creating resistance to immunosenescence.
Both the increased likelihood of chronic conditions with age and the effects of immunosenescence result in an elevated risk for complications from influenza in adults over age 64 years. Even if they recover from the virus, older adults may never fully regain their preinfluenza health and abilities, significantly affecting their lifestyle.
Increasing Flu Vaccine Uptake in Older Adults
All healthcare professionals play a vital role in ensuring that patients aged 65 years or older understand the risks associated with contracting influenza and take steps to protect themselves and others, including annual influenza vaccination. Even if the vaccine is not provided in the office, a recommendation is essential to ensuring patients are protected, as adults are more likely to get an influenza vaccine if it is recommended by a physician.
To help protect this vulnerable population, the National Foundation for Infectious Diseases (NFID) created the Care For Older Adults? Care About Flu! toolkit, designed specifically for healthcare professionals to engage with patients aged 65 years or older about the importance of annual flu prevention. The toolkit makes it easy for healthcare professionals to learn about the risks for flu-related complications in the age-65-or-older population and promote the importance of annual influenza vaccination.
The toolkit includes a fact sheet about the risks associated with influenza in older adults, an infographic to illustrate the unique risks and potential complications in this group (Figure), customizable scripts to help guide conversations with patients, a 30-second animated public service announcement video, and additional resources to ensure that patients get the protection against influenza that they deserve. To access the toolkit and related resources, visit the NFID.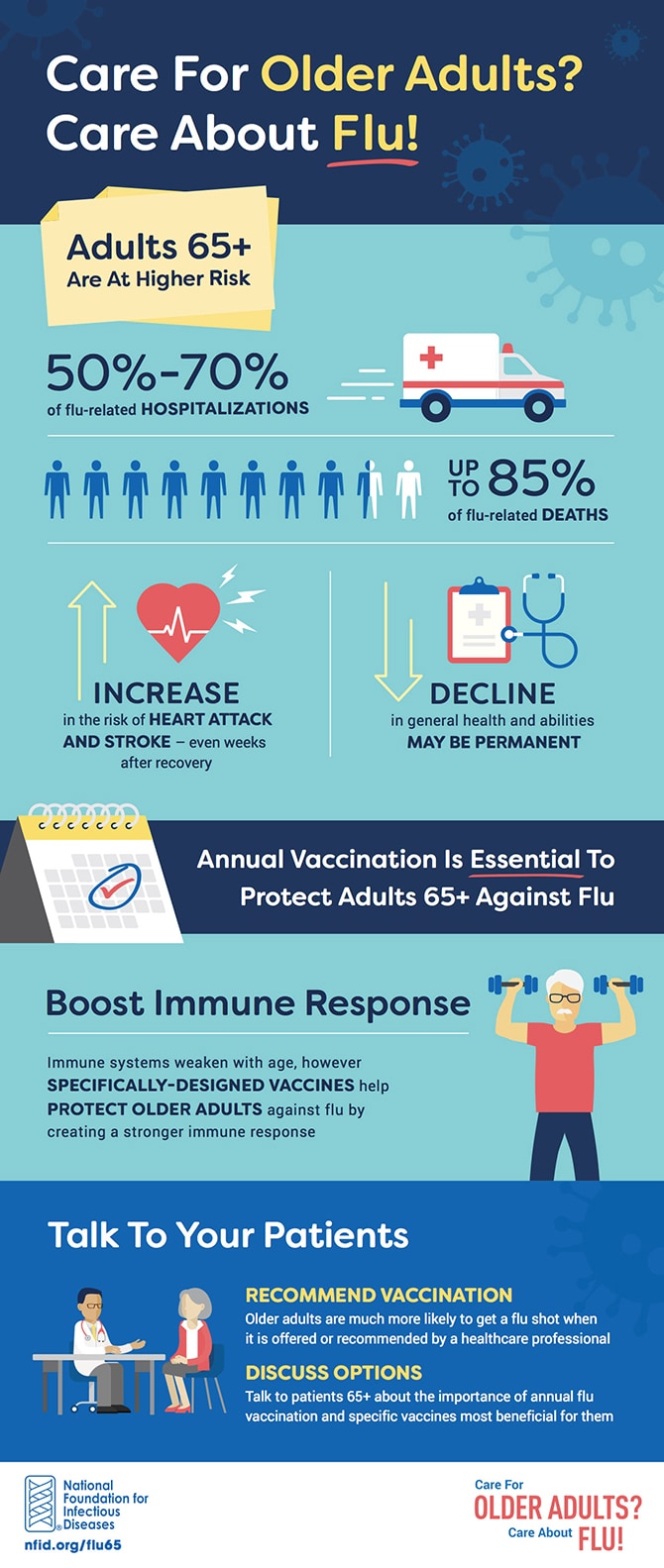 Figure. Infographic from Care For Older Adults? Care About Flu! toolkit.
As leaders in the community, healthcare professionals play a key role in protecting older adults against influenza. NFID and CDC are committed to providing easy-to-use education materials for healthcare professionals to aid in the prevention of influenza in the vulnerable 65-or-older population.
Public Information from the CDC and Medscape
Cite this: Preventing Flu in Older Adults - Medscape - Nov 01, 2017.