SAN DIEGO — When used as part of the clinical management of chronic inflammatory pain, Flavocoxid (Limbrel, Primus Pharmaceuticals), a medical food, appears to reduce pain without the need to increase opioid dosing, new research suggests.
"We found that about 50% of patients in total — and also in the elderly — reported their pain improved at 6 months," so they were either much better (≥3-point increase on a 10-point visual analog scale [VAS]) or better (1- to 2-point increase), study author Lata Handiwala, PharmD, a consultant to Augur Health, an agency engaged by Primus Pharmaceuticals, told Medscape Medical News.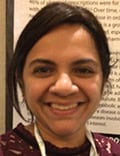 The study was presented here at the Academy of Integrative Pain Management (AIPM) 28th Annual Meeting.
Need for Opioid Alternatives
There's a growing need for alternatives to opioids in the management of pain, especially among patients aged 65 years and older, a population that has multiple comorbidities and is at increased risk for polypharmacy.
Flavocoxid is a proprietary blend containing flavonoids, baicalin, and catechin. It acts as a balanced inhibitor of cyclooxygenase (COX)-1, COX-2 enzymes, and 5-lipoxyenase enzyme activity. It's also a potent antioxidant that reduces production of inflammatory molecules derived from oxidation of preinflammatory fatty acid molecules.
"It's the active ingredient in a medical food that is available only through prescription," said Dr Handiwala. The product, which in the study was used in pill form, has achieved GRAS (generally recognized as safe) status, a category of safety recognized by the US Food and Drug Administration, she added.
The analysis was a retrospective chart review of 108 patients, mean age 77 years at the Mays and Schnapp Pain Clinic, in Memphis, Tennessee. About 70% of the study subjects were elderly (65 years or older).
Among the elderly patients, the mean number of comorbidities was five. These included hypertension, arthritis, depression, and hypercholesterolemia. On average, these patients were taking about 10 prescription medications.
In the total population, 70% were taking opioids at baseline. This percentage was 73% among the elderly.
Using the VAS, study participants rated their pain at 6 months compared to baseline. Their pain was categorized as "much better" (an increase of 3 or more points), "better" (1- to 2-point increase), no change, "worse" (1- to 2-point decrease), or "much worse" (a decrease of 3 or more points) compared with baseline.
After 6 months, 25% of patients overall indicated that their pain was "much better" and 22% were "better." Pain scores did not change for 20% of patients.
Improvements in pain were "slightly better" in the elderly, said Dr Handiwala. In this group, pain was rated as "much better" for about 27% and "better" for 24%, while there was no change in 20%.
In both the total and elderly populations, the average baseline pain score was reduced from 6.5 to 5.1 after 6 months.
The analysis also found that after 6 months, most patients didn't see an increase in their opioid dosing (83% in the total population and 84% in the elderly patients).
Among the elderly, more patients saw a decrease in opioid dosing (23%) than an increase (16%). A similar percentage in the total population had an increase or decrease.
It's difficult to draw "concrete conclusions" from the analysis because it didn't have a matched control group, said Dr Handiwala.
"Our main goal for the next step is to see if there are additional investigations that we could do that might replicate this data, using maybe a matched control."
Important Clinical Implications
Commenting on the study, AIPM President W. Clay Jackson, MD, clinical assistant professor of family medicine and psychiatry, University of Tennessee College of Medicine, Memphis, was enthusiastic.
"This is a promising study because it shows that we may be able to reduce opioid use in the elderly through a nondrug therapy [or medical food] that actually steers the body away from inflammatory molecules," Dr Jackson told Medscape Medical News.
But although the research is "exciting" and the results have "important implications" for pain patients, Dr. Jackson noted that like other nondrug pain treatments, flavocoxid may not be covered by many health insurance plans.
Dr Handiwala reports she is an employee of Primus Pharmaceuticals. Dr Jackson has disclosed no relevant financial relationships.
Academy of Integrative Pain Management (AIPM) 28th Annual Meeting. Abstract 21. Presented October 20, 2017.
For more Medscape Neurology news, join us on Facebook and Twitter
Medscape Medical News © 2017

Cite this: Medical Food May Help Control Inflammatory Pain - Medscape - Oct 24, 2017.