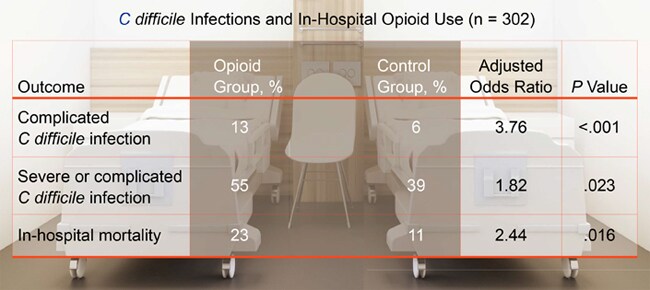 ORLANDO — For patients infected with Clostridium difficile, significant opioid use appears to be associated with increases in the severity of infection and in-hospital mortality, new research suggests.
"As physicians, when we see someone in pain, we often will default to opioids. This study raises awareness that, in C difficile patients in particular, opioids should be avoided," said Elizabeth John, MD, from Rutgers University in New Brunswick, New Jersey.
Opioid use has not been typically associated with C difficile infection. However, in a preliminary study, Dr John and her colleagues found an association between opioid use, longer hospital stays, and higher white blood cell counts in infected patients (Gastroenterology. 2017;5[Suppl 1]:S347).
In a follow-up study, which Dr John presented here at the World Congress of Gastroenterology 2017, the researchers reviewed the medical records of 302 adults with clinically diagnosed C difficile infection. All patients were hospitalized for a minimum of 3 days.
Patients who were dispensed a morphine-equivalent dose of an opioid of at least 10 mg during their hospital stay were assigned to the opioid group. All other patients served as the control group. Regression analyses controlled for the previous use of antibiotics, the use of acid suppressive medication, the source of infection (hospital vs community), comorbidities, and demographic characteristics.
Severe or complicated C difficile infection was more common in the opioid group than in the control group. And the rate of complicated infection alone was higher in the opioid group.
Average hospital stay was longer in the opioid group than in the control group (25 vs 15 days; adjusted incidence rate ratio, 1.46; P = .03). And the in-hospital mortality rate was higher in the opioid group.
Now I know we are on to something.
"I was surprised by how strong the findings were," Dr John told Medscape Medical News. "They make sense to me, but after seeing them validated in a large sample population, now I know we are on to something."
Because opioids are known to slow the gastrointestinal tract, they might increase the absorption of C difficile bacterial toxins, she suggested.
"Given the opioid abuse epidemic, this study highlights another reason for patients and their healthcare providers to carefully consider alternative agents to opioids," Keith Obstein, MD, from Vanderbilt University in Nashville, Tennessee, said when asked to comment by Medscape Medical News.
Dr John and Dr Obstein have disclosed no relevant financial relationships.
World Congress of Gastroenterology 2017: Poster P103. Presented October 15, 2017.
Follow Medscape Gastroenterology on Twitter @MedscapeGastro and Damian McNamara @MedReporter
Medscape Medical News © 2017 WebMD, LLC

Send comments and news tips to news@medscape.net.
Cite this: Opioids for C diff Pain Connected to Worse Outcomes - Medscape - Oct 17, 2017.