What Is a Clinical Nurse Leader?
The clinical nurse leader (CNL®) role was launched by the American Association of Colleges of Nursing (AACN) in 2007. The CNL was specifically developed in response to the growing need for redesigned care delivery systems that are client-centered and consistently generate higher-quality outcomes.[1] The primary goal of the CNL is to promote safe, quality healthcare with the aim of applying excellence in nursing practice.
A clinical nurse leader is a master's-prepared registered nurse (RN), equipped for comprehensive practice across the continuum of care within any healthcare setting.
Primary functions of the CNL include the following:
Oversee care coordination;

Put evidence-based practice into action;

Ensure that patients benefit from the latest innovations in care delivery;

Evaluate patient outcomes;

Assess cohort risk; and

Collaborate with multiple disciplines to develop, implement, and revise the patient's plan of care.[2]
According to the Commission on Nursing Certification (CNC), CNL practice is growing across the nation. As of 2017, there are 5500 CNLs in the United States. CNL practice has also begun in Japan and other countries. Although CNL practice started primarily in the acute care setting, it has spread to other areas, including primary care, hospice, surgery, and long-term care.
Becoming a CNL
CNL education programs can be found at both the master's and post-master's levels. Examples of courses that comprise the CNL curriculum within a typical master's program include leadership, advanced patient assessment, healthcare policy, research, healthcare finance, advanced pathophysiology, and pharmacology. This education gives CNLs a unique skill set that prepares them to assess the units or microsystems under their leadership and implement best practices to enhance care delivery in their work areas.
After completing this education, the nurse who wishes to become a CNL must pass a certification test, administered by the CNC. Candidates who meet all eligibility requirements and pass the CNL certification examination will earn the credential of CNL.
The CNL Role
The implementation of the CNL role varies across settings, but it is not one of administration or management. The CNL is a generalist, in contrast with the specialized focus of clinical nurse specialists and nurse practitioners. The CNL functions within a microsystem and assumes accountability for healthcare outcomes for a cohort of clients within a unit or setting through the assimilation and application of research-based information to design, implement, and evaluate client plans of care. The CNL is a clinical expert who works closely with front-line staff to ensure safe and efficient patient care. The CNL designs, implements, and evaluates client care by coordinating, delegating, and supervising the care provided by the healthcare team, including licensed nurses, technicians, and other health professionals.[2] The role provides a higher level of knowledge and participation in patient-centered care, patient services, and patient satisfaction. CNLs have lowered healthcare costs while simultaneously improving quality healthcare and increasing patient satisfaction at the unit and facility levels nationwide.
What Do CNLs Do?
Above all, the CNL supports and implements evidence-based practice to ensure quality and safety of care. The CNL collaborates with the interprofessional team to work in a coordinated fashion toward achieving common goals for the complex patient. The CNL is that extra pair of eyes to help prevent fragmentation in care and keep the complex patient from falling through the cracks. The CNL turns current facts into well-considered and sound action plans to produce highest-quality outcomes.
Examples of initiatives led by CNLs:
Reduction of healthcare associated infections, such as catheter-associated urinary tract infections, ventilator-associated and hospital-acquired pneumonias, and Clostridium difficile infections;

Fall reduction;

Reduction in hospital-acquired pressure injuries in acute and long-term care;

Decreased length of stay in acute care;

Reduction in readmission of patients with complex conditions, such as chronic obstructive pulmonary disease, congestive heart failure, or diabetes;

Reduction in sitter use;

Reduction in no-show appointments in the outpatient setting;

Reduction in staff turnover on a medical surgical unit; and

Increase in nurse and patient satisfaction.
The healthcare world today is a complex, fast-paced, high-tech environment. Healthcare providers will make complex decisions to deliver safe and effective patient care. The CNL can help support today's healthcare systems to deliver safe care while greatly reducing hospital costs.
Want to find out more about what it's like to be a clinical nurse leader? Read our companion piece, A Day in the Life of a Clinical Nurse Leader.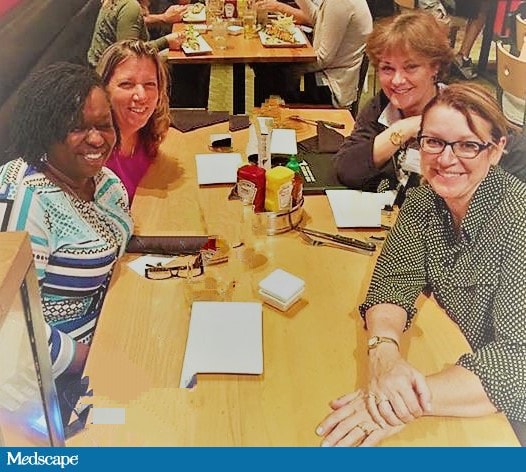 Clinical nurse leaders relaxing during a break at the 2017 CNL Summit and Research Symposium. Pictured clockwise from lower left: Sonya Curtis, Kim Bruno, Lorraine Kaack, and Linda Borns. Courtesy of Lorraine Kaack.
Medscape Nurses © 2017 WebMD, LLC

Any views expressed above are the author's own and do not necessarily reflect the views of WebMD or Medscape.
Cite this: The Clinical Nurse Leader Role - Medscape - Oct 18, 2017.