Only 12% of registered nurses (RNs) belong to a union, but in 2016 they earned $11,000 more on average than their nonunion peers, according to Medscape's third survey on nurse compensation.
However, union representation is just one reason for the earnings gap, economists say.
Compensation for union RNs in 2016 was $90,000 compared with $79,000 for nonunion RNs. For all full-time RNs, average earnings amounted to $80,000, a 2.6% increase over $78,000 in 2015.
Regional variation in compensation generally followed the percentage of union RNs by region. RNs in the most heavily unionized (40%) part of the country ― the Western states of California, Alaska, and Hawaii ― reported the highest income nationwide ($103,000). In contrast, the lowest level of compensation ($71,000) was in the North Central region, tied with the South Central region as being the least unionized (2%).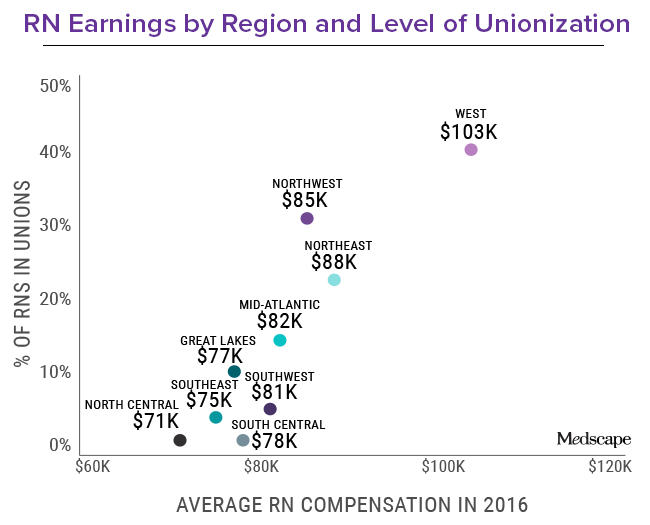 The survey finding that 12% of RNs belong to a union seems too low to labor economist Joanne Spetz, PhD. "It's more around 20%," said Dr Spetz, a professor at the University of California, San Francisco, in an interview with Medscape Medical News.
Dr Spetz said the union card alone doesn't fully account for the pay differential between union and nonunion RNs. For example, unionization rates are higher in hospitals than other work settings, she said, and hospitals generally offer RNs the best compensation. That's borne out by the Medscape survey, which found that union RNs (48%) were more likely than nonunion RNs (37%) to work in a critical-care hospital, which shared first place with occupational health as the most lucrative setting for annual RN pay ― $84,000 in 2016.
Regional variation in the cost of living ― a dollar buys more in Birmingham, Alabama, than it does in San Francisco, according to a CNN calculator ― partially explains why RN compensation roughly correlates to unionization on a regional basis, she added.
Michael Ash, PhD, an economist at the University of Massachusetts–Amherst, agrees. "For example, higher housing costs tend to necessitate higher wages and salaries," Dr Ash told Medscape Medical News.
Still, when one controls for factors such as cost of living and work setting, belonging to a union translates into higher pay for RNs, according to Dr Spetz. Most studies put the actual unionization "premium" between 5% and 10%, she said. "If you belong to a union, you'll probably get paid more."
In the Medscape survey, union RNs earned 14% more than nonunion RNs, but the difference doesn't reflect any controlling for other factors.
Carrying a union card also appeared to perk up compensation for licensed practical nurses (LPNs) in 2016. The 7% of LPNs who belong to a union reported compensation of $50,000 compared with $45,000 for those who didn't. Average earnings for all LPNs was $46,000, up from $43,000 in 2015.
Less Overtime for RNs Paid by the Hour
Are RN work weeks becoming tamer? The Medscape survey suggests that's the case, at least for the 46% of RNs who are paid by the hour. Thirty-seven percent of them reported working overtime in 2016, down from 47% the year before. In addition, the percentage of RNs who put in 6 or more extra hours per week decreased from 47% to 41%.
The trend toward less overtime could reflect any of several reasons ― an improved economy, better staffing, or a desire simply to slow down. Some survey findings make a case for the economic explanation. Only 16% of RNs who worked overtime in 2016 said it was strictly mandatory. Fifty-seven percent said it was voluntary, while another 27% said it was an even mix of both. So most of the overtime could be construed as a way to fatten paychecks. And the percentage of full-time RNs who think they're compensated fairly has been steadily rising ― from 53% in 2014 to 55% in 2015 and 58% in 2016. So perhaps RNs feel less hard-pressed to work longer weeks to boost their income.
Overtime for RNs varies considerably by sex. Fifty percent of male RNs reported working overtime compared with 35% of female RNs. And male RNs were more likely to put in serious overtime ― 60% logged 6 or more extra hours per week. Only 38% of female RNs fell in that overtime category.
The Medscape survey was completed online by 5072 RNs and 2034 LPNs; the latter category included licensed vocational nurses. The complete results are available here.
Follow Robert Lowes on Twitter @LowesRobert .
Medscape Medical News © 2017

Cite this: Nurses in Unions Earn More Than Their Peers - Medscape - Oct 04, 2017.