WASHINGTON — Vaccination rates have flattened out over the last few years among healthcare workers, according to data from the US Centers for Disease Control and Prevention (CDC) released today at a press briefing here sponsored by the National Foundation for Infectious Diseases (NFID).
Overall, 78.6% of respondents said they had been vaccinated, according to data published in the September 29 issue of Morbidity and Mortality Weekly Report , an increase of 15 percentage points since the 2010-2011 season. But the percentage was similar to those of the 2013-2014 and 2015-2016 seasons.
Vaccination was highest among physicians, at 96%; 92% of nurse practitioners and physician assistants and 93% of nurses and pharmacists had received a shot, compared with 80% of other clinicians, 69% of assistants and aides, and 74% of nonclinical healthcare staff.
Ninety-two percent of those working in a hospital setting had received a flu shot, compared with 76% of those in an ambulatory setting and just 68% of those in a long-term-care setting. When the employer mandated vaccination, rates were higher — 97% compared with 45% in settings where vaccination was not required, promoted, or offered on-site, said the CDC.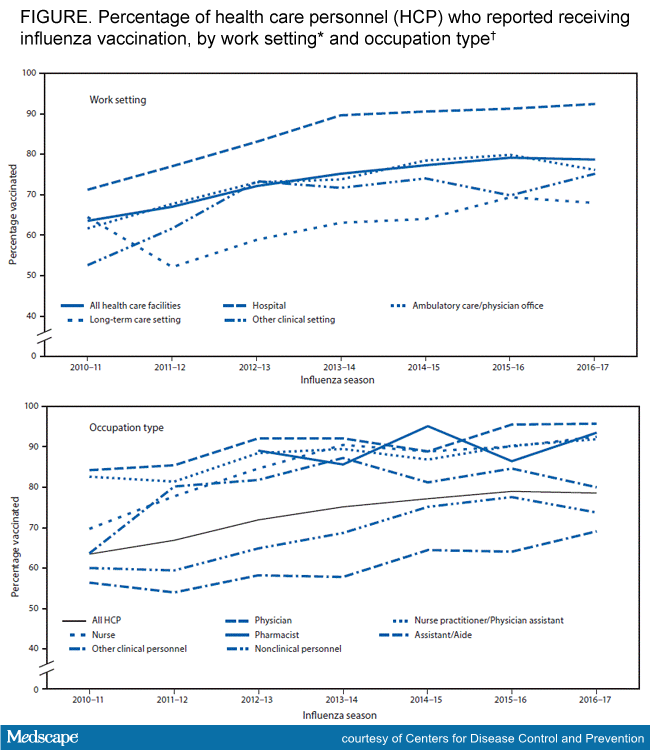 Improving access to vaccination at healthcare sites — and making it mandatory — usually increased vaccine uptake, two experts at the press briefing said.
Kathleen Neuzil, MD, MPH, director of the Center for Vaccine Development, University of Maryland School of Medicine, Baltimore, Maryland, said that employers (such as hospital systems and medical practices) need to do a better job of educating nonclinical workers and others who might not see themselves as needing to be vaccinated. "We need to make it easy for them to get vaccinated, the same way we have for the doctors and the nurses," said Dr Neuzil.
Human concerns might also inhibit flu vaccine uptake rates, said Patricia Stinchfield, RN, MS, CPNP, CIC, senior director of infection prevention and control and pediatric nurse practitioner at Children's Minnesota health system in Minneapolis. "It's a shot, and even grown-ups don't like shots," she said, adding, "Healthcare professionals actually have needle phobia just like the general population does."
But healthcare providers need to get on board, said William Schaffner, MD, the NFID's medical director, and professor of preventive medicine and infectious diseases at Vanderbilt University School of Medicine in Nashville, Tennessee. "It's a patient safety issue. We don't want to give the flu to patients for whom we're providing care," he said.
Dr Neuzil also notes that if healthcare practitioners don't believe in vaccination — or get it themselves — it might lead to lower rates in the general population.
"It's been shown over and over again that a strong provider recommendation is the most important element for an individual to get a flu vaccine," Dr Neuzil told Medscape Medical News. "That means that the healthcare practitioner has to believe in that flu vaccine."
The CDC got an estimate of vaccination coverage for the 2016-2017 influenza season by commissioning an online survey of almost 2500 healthcare providers by Abt Associates Inc between March 28 and April 19, 2017. Healthcare professionals, including physicians, nurse practitioners, physician assistants, nurses, dentists, and pharmacists, were recruited through Medscape, while assistants, aides, and nonclinical personnel were recruited from general population Internet panels operated by Survey Sampling International.
HHS Head Urges Vaccination for All
As the nation's top health official received an influenza vaccination during the press briefing today, he urged that all Americans older than 6 months be vaccinated, noting that new data shows that vaccination rates for the 2016-2017 season were disappointingly low, with only 43% of adults getting a flu shot.
The CDC estimates that, since 2010, flu-related hospitalizations have ranged from 140,000 to 710,000 a year, causing anywhere from 12,000 to 56,000 deaths annually, said Health and Human Services (HHS) Secretary Tom Price, MD, at the press briefing.
"These [hospitalization and death] numbers are far too high, especially when we consider that there's a vaccine that could prevent a significant portion" of influenza-related illness and death, said Dr Price.
According to new data from the CDC, vaccination rates have plateaued over the last several flu seasons. Just 43% of Americans aged 18 years or older received a flu vaccine in the 2016-2017 season.
The good news is that 76.3% of those aged 6 to 23 months were vaccinated, exceeding the federal "Healthy People 2020" goal of 70%.
"However, this is the only age group of children, and in fact, the only age group overall, that met the goal," said Stinchfield.
Adults aged 18 to 49 years had the lowest vaccination rates, with only 34% having received a shot in 2016-2017, the same number as in the two previous seasons.
A little less than half of all adolescents aged 13 to 17 years were vaccinated, while 50- to 64-year-olds also had disappointingly low rates, with only 45% being vaccinated.
Just about two-thirds of Americans over age 65 were vaccinated — around the same rate for children aged 2 to 12 years.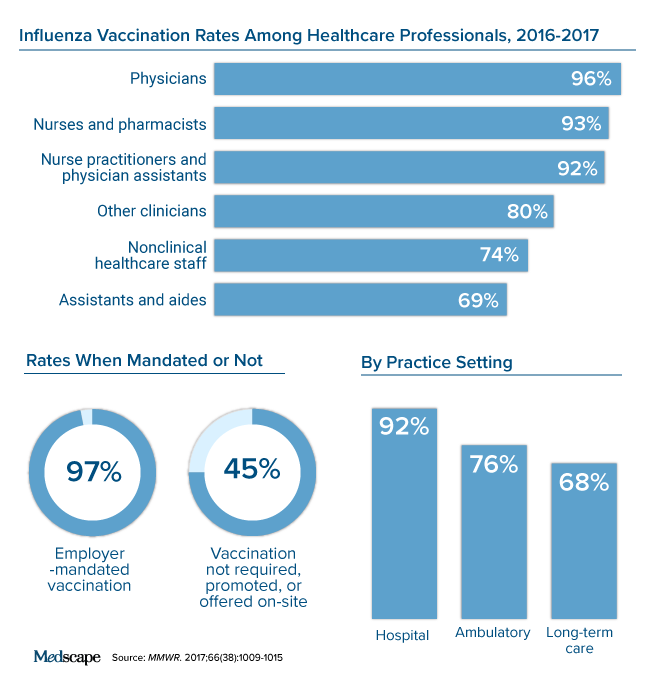 Children and the elderly are of special concern when it comes to influenza because they are more likely to experience severe illness, hospitalization, and death. Recent research adds to growing evidence that vaccination can reduce flu sequelae.
A study published online in Clinical Infectious Diseases in May this year demonstrated that adults who received a flu vaccine had a lower mortality rate, fewer intensive care admissions, and shorter lengths of stays, said Dr Neuzil. Vaccinated adults were 52% to 79% less likely to die than unvaccinated flu-hospitalized patients, according to the CDC, whose researchers conducted the study.
The 65% vaccination rate for older Americans "is a C or a D in my book," Dr Neuzil said at the briefing. "We really need to try to get an A for influenza vaccine coverage."
Another study published online in Pediatrics in May found that vaccination cut the risk for death by 65% in healthy children and 51% in those with an underlying condition that put them at high risk for complications.
"Children who have one or more missed opportunities to vaccinate had more severe illness," said Stinchfield at the NFID briefing. "Let's make sure we, as clinicians, don't have missed opportunities," she said, noting that every office visit during flu season should prompt a nudge toward vaccination.
Survey responses from healthcare professionals were gathered via Medscape.
MMWR. Published online September 29, 2017. Full text
Medscape Medical News © 2017

Cite this: Flu Vaccination Rates Among Healthcare Workers Have Plateaued - Medscape - Sep 28, 2017.