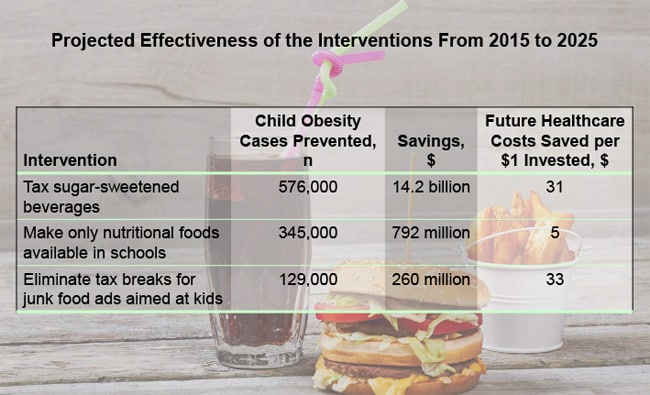 CHICAGO — Three inexpensive programs have proven to be the most cost-effective ways to reduce childhood obesity rates, results from the Childhood Obesity Intervention Cost-Effectiveness Study (CHOICES) show.
The work has provided clear evidence that the interventions save more than they cost to implement, said investigator Steven Gortmaker, PhD, from the Harvard T.H. Chan School of Public Health in Boston.
"That's extraordinary," he said here at the American Academy of Pediatrics 2017 National Conference and Exhibition. "These are actual cost-saving interventions."
Dr Gortmaker and his colleagues assessed more than 40 programs on the national agenda by examining evidence reviews from some 130,000 peer-reviewed publications. The team used big data and microsimulation models to project the impact of interventions and their cost-effectiveness over the decade from 2015 to 2025, taking into account trends across states and populations.
The first intervention is the imposition of an excise tax — $0.01 per ounce — on sugar-sweetened beverages. This has been shown to reduce consumption and is inexpensive to implement because tax systems are already in place. Projected savings of about $14 billion come from the slower rise in obesity rates induced by the tax, and do not include the expected $12.5 billion increase in national tax revenue.
These are actual cost-saving interventions.
The second, the Smart Snacks program, operated under the umbrella of the Healthy Hunger-Free Kids Act, sets a nutritional bar that must be met by any food or beverage available to children during school, outside of lunch. It is projected to save $792 million.
The third, the elimination of tax breaks for companies that advertise junk foods and beverages to children, is projected to save $260 million.
"These three interventions are also examples of strategies that work to improve population health equity while they improve population health overall," said Dr Gortmaker.
Success will come with close monitoring of the interventions, said Margaret St. John, MD, from the University of the West Indies Faculty of Medical Sciences in Barbados, who is a fan of the three interventions that came out on top, particularly the sugary-drinks tax.
"As Dr Gortmaker stated, success toward stemming the public health epidemic of obesity largely depends on close follow-up to see that measures commenced are, in fact, followed through with regularity for the long term," she told Medscape Medical News.
The CHOICES program is funded in part by the Robert Wood Johnson Foundation, the Centers for Disease Control and Prevention, the CDC Nutrition and Obesity Policy Research and Evaluation Network, and the JPB Foundation. Dr Gortmaker and Dr St. John have disclosed no relevant financial relationships.
American Academy of Pediatrics (AAP) 2017 National Conference and Exhibition. Presented September 18, 2017.
Follow Medscape Pediatrics on Twitter @MedscapePeds and Marcia Frellick @mfrellick
Medscape Medical News © 2017 WebMD, LLC

Send comments and news tips to news@medscape.net.
Cite this: New Rules Required to Curb Childhood Obesity - Medscape - Sep 21, 2017.